Love You, Love Me Valentine's Day Gift Guide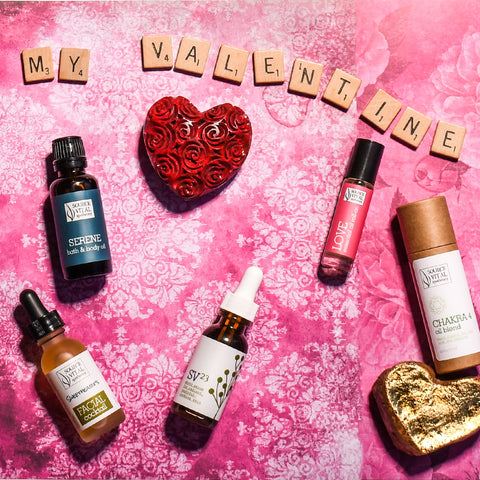 Treat your sweetheart (and yourself!) to gifts that pamper and care for body, mind and spirit this Valentine's Day.
There is something for everyone - from your mom to your bestie, a favorite coworker to that special someone. Explore our lovely collection and share the love!
NEW! Valentine's Day Gift Sets
Love Essential Oil Blend
Unscented Massage Oil
Makana Rosewater Candle
This gift set is just the thing to create a romantic evening with your love.
Start by lighting the Makana Rosewater candle, then mix a few drops of our special Love Essential Oil Blend with the unscented massage oil and treat your sweet to a relaxing, massage.
Single? Pamper yourself to some self-care that will open the heart to all sorts of love.
Love Essential Oil Roll-On
Attraction Essential Oil Roll-On
Euphoria Essential Oil Roll-On
In love, or looking for love, this trio of essential oil rollerballs is just what cupid ordered!
Featuring three lovely aromatherapy blends created to heighten the senses, open one's heart and build confidence. 
CLEANSE Seaweed Cleansing Face Paste
SHAVE Natural Shaving Cream
SOOTHE After Shave Lotion
He needs some pampering too! Perfect for any well-groomed man, the traveler, or someone looking to upgrade their daily routine.
Customized Gifts
Handcraft a unique and thoughtful gift for those who need a little extra "me time" or love a personal touch. 
Custom Bath Salts
A personalized gift that works for pretty much anyone. From stress management to easing sore joints and muscles to improving dry skin.
With a great price point, custom bath salts are sweet gifts for coworkers, teachers and those who you want to show some gratitude.
Customized Facial Cocktails
A great gift for even the hardest to shop for. Made to order, with your intended's name and one-of-a-kind formula. These facial serums are one of our most popular products. 
Busy mom who needs a quick and effective skin care routine? The Custom Facial Cocktails are wonderful multitaskers that combine three steps into one. 
Custom Facial Masks
Did somebody say, "Galentine's Day?" This Make Your Own Mask kit is perfect for a girls night in. 
Hand pick your favorite ingredients, then mix up four fresh face masks, sit back and relax. It's like a mini spa vacation without having to leave the house.
Custom Beard and Face Oils
For that special someone who regularly shaves or wears a beard, handcraft them a special beard oil to make their grooming ritual feel more special than ordinary.
Luxurious Bath & Body
Because nothing beats a relaxing aromatherapy bath and touchably soft skin!
Choose from our versatile Bath & Body Oil 5-Pack, a Body Oil & Dead Sea Salts combo, delight in our lovely rose-scented Camellia Rose Body Lotion, Rose Patchouli Body Wash, and much more.⠀⠀⠀⠀⠀⠀⠀⠀ ⠀⠀⠀⠀⠀⠀⠀⠀⠀⠀
Top Shelf Skin Care
For the beauty obsessed, nothing beats our incredible SV23 Phyto Serum for glowing, ageless skin. Pair with a Rose Quartz or Jade Facial Roller and Gua Sha stone for the ultimate top shelf gift.
Or shop our full skin care collection and mix and match your own amazing gift.
Romantic Aromatherapy
Essential oils can have powerful effects on the mind, body and senses. Valentine's day is the perfect time to explore the sensual side of aromatherapy.
May we suggest the Seduction Essential Oil-Roll-On for an exotic, sensual personal fragrance.
Set the mood by creating your own love potion with a mix of oils like Sandalwood, Jasmine or Ylang Ylang. Diffuse before a special outing or before your sweet arrives to infuse your space with romantic vibes.
Our new Love Essential Oil blend will also do the trick, and it's already blended - ready to go!
Teen Valentine
Want to give a little love to the teen in your life? We have lots of great options!
Pair an essential oil roll-on like Mental Clarity, which is great for studying or classic calming Lavender, with a 4Ocean Bracelet that helps to save the Sea Turtles and other sea life, and a USDA certified organic lip balm.
It's a thoughtful gift that isn't too mushy or embarrassing.
Gift Certificates
Still unsure - purchase a gift certificate or e-gift card and let your love choose something special for themselves.
Need more ideas? Visit our full Valentine's Collection by clicking here or scroll down. Let us know how we can help you create your own Valentine's Day bundle.
Read More Article Like This:
Shop the Valentine's Day Collection
---