Lovely, Holistic Gift Ideas for Your Valentine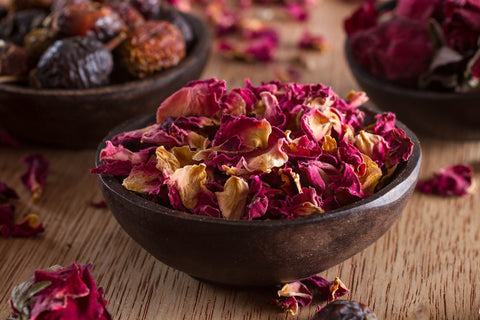 Love is in the air and that has everything to do with Valentine's Day quickly approaching! If you're in need of a few gift ideas for your valentine, consider these three DIY, holistic and homemade Valentine's Day gifts to give your sweetheart (or perhaps as a secret admirer) on the 14th!
DIY Rose and Chamomile Bath Bombs
These rose and chamomile bath bombs are perfect for a romantic night in. Their "fizz" makes a great pairing with a glass (or two!) of champagne. They are quick and easy to make as well! You will need:
Combine the items and set into molds or cut out with the cookie cutter. Let them dry over night. Call yourself Cupid! It's that simple.
Vegan Cranberry Shortbread Cookies with Chocolate Drizzle
Made with love! Gift something sweet to your sweetie. Baking these vegan treats from scratch will show how much you care. Recipe via Vegan Yack Attack! 
Romantic Rose and Vanilla Soy Candles
Happiness is homemade. Light up the night with these romantic rose and vanilla soy candles. You will need:
Natural soy wax flakes

Candle-making pitcher

6 oz. candle tins

Candle wicks

25 drops of

Source Vital Rose Essential Oil

Five drops of vanilla extract

Optional: dried roses
Fill candle-making pitcher two-thirds full of wax flakes to make seven 6-ounce candles. Place the pitcher inside a pot of boiling water or double boiler over low heat (about 150-180 degrees Fahrenheit). Stir frequently until wax has fully melted. Mix in drops of rose essential oil, vanilla extract, and optional dried roses. Dip the metal bottom of the wick in the hot wax and place into tin to secure the wick. After the wax bottom of the wick has dried, carefully pour wax into tins and be sure wicks stay upright. Allow candles to cool for a few hours before using.
Pair this gift with our Valentine's Day kit or Valentine's Day gift certificates – the perfect treat for your sweet.
For more holistic ideas and insights, check back on our blog and be sure to follow us on Twitter and like us on Facebook!
---