4 DIY Essential Oil Blends That Are Beyond LOVELY!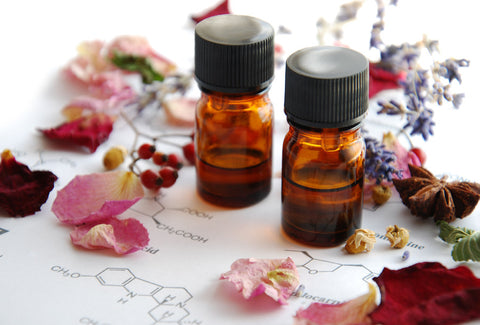 Ahhh, February the month of love. If you can't feel the love in the air, let us help you smell it. Just in time for the most romantic holiday of the year, we've concocted four recipes of lovely essential oil blends. Perfect for gifts or a romantic night at home, give these DIY blends a try!
Note: Remember to dilute essential oils in a carrier oil like Safflower or Jojoba when applying to the skin. It's a good idea to always patch test for irritations first.
Awaken your senses.
This easy to mix blend of essential oils offers a sweet and floral aroma. The combination of these lovely oils can help heighten your senses, enhance intimacy and make handling emotions easier.
Add your blend to a small glass bottle or roll on bottle to give a heartfelt gift. Rub this lovely blend onto your pulse points to awaken your most intimate senses. If you want to diffuse the blend in your home using a water diffuser or vaporizer use the same recipe just omit the Jojoba oil, as carrier oils can clog up diffusers.
Love bigger.
Sometimes all you need to do to show your love and affection is to relax. This blend helps to relieve the feelings of tension while lifting the spirit and enhancing your dreams. You'll be amazed by how easy it is to dream bigger and love fuller when your mind is calm and stress takes a back seat.
Add a drop or two on your pillow to enhance your dreams or diffuse and breathe deeply.
A loving touch.
One of our favorite Valentine's Day gift ideas is a massage from a loved one. Make your romantic massage even more meaningful with a homemade massage oil blend.
Blend these oils together, light a candle and enjoy a romantic massage with that special someone!
Find your inner goddess.
Sometimes Valentine's Day is less about sharing love with someone special and more about giving yourself a little extra TLC. This lovely blend will help you find the goddess within yourself so you can receive all that you deserve.
Diffuse this blend and say hello to your most confident self! The mix of luxurious Sandalwood and Jasmine oils go great with the happy citrus oils.
Whether you're looking to give a Valentine's Day gift that truly shows your love or diffusing a romantic blend for date night at home, our DIY lovely essential oil blends are perfect for feeling the love in the air!
What's your favorite romantic essential oil? Tell us in the comments below.
---
2 comments
---
---