Celebrate Your Girls this Galentine's Day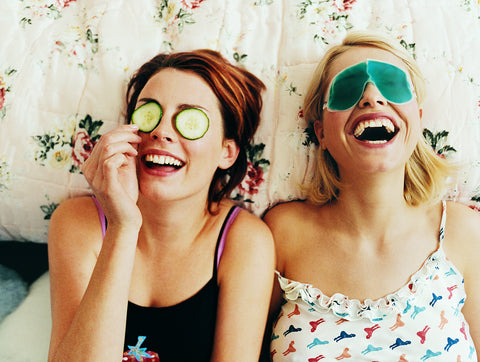 Source Vitál Apothecary's guide to the perfect girls' night in
There's no question that the month of February is synonymous with Valentine's Day. But since the Parks and Recreation episode "Galentine's Day" first aired in 2010, the unofficial holidays has transcended from cable, into our hearts, and onto our calendars. This month we're not only celebrating romantic love, but also the love shared between besties.
What better way to celebrate your girlfriends than a girl's night in? Grab your best gals, your fluffiest slippers, and your favorite luxurious skin care goodies. Whether this is your first time celebrating Galentine's Day, or you're an aficionado, here's our guide to throwing your best Galentine's Day yet!
Set the Scene
Get yourself and your guests into the festive spirit by taking the time to set out a few fun decorations – now is the time to show off your DIY chops! If your besties are a crafty bunch, this can be a fun activity to do together before the festivities begin.
Another key part of setting the ambiance is scent! As one of our most powerful senses, setting the right scent can make or break the mood. For Galentine's Day we recommend diffusing our special "Inner Goddess" essential oil blend: 
The mix of luxurious Sandalwood and Jasmine oils pair nicely with the bright citrus oils. Diffuse this blend in a tea light diffuser or in an electronic mist diffuser and say hello to your most confident self!
Cozy Up
One of the best parts of a girl's night in is that you can enjoy the evening in comfort! Swap your heels and going out attire for house slippers and your favorite pajama set. Having a few cozy throw blankets and pillows available will make your space all the more inviting to your guests.
Pamper Sesh
We would be remiss if we didn't include a pamper session in our girl's night in guide! From DIY mani and pedis to at-home facials, you've got plenty of options.
Every good girl's night in needs a little DIY! We suggest an at-home spa party with our new Make Your Own Facial Mask kit. The kit is easy to customize for your individual skin care needs and comes with the tools and ingredients you need to mix up a mask in the comfort of your own home.
Each box comes with enough ingredients to make 4 masks:
Seaweed powder
Vital Extracts Blend
Facial Infusion (you selected during the order process)
Any additives, such as the exfoliants and botanical "shots"
Mixing bowl
4 wooden stirrers
2 facial sponges
In addition to the seaweed powder base, skin care infusions and exfoliants that come in the kit you will also need:
Warm to hot water (think tea-hot, not scalding)
Measuring spoons (optional, but they help with portioning out ingredients)
Sink area to rinse away the mask
Towels to dry the skin and for easy cleanup
Use these steps to prepare your mask. Please, note these directions are designed to make one single-use mask.
Add 2 teaspoons, or approximately ¼ of the jar, of the Seaweed powder into your mixing bowl
Add 10 drops of your Vital Extracts Blend into the bowl
Add 15 drops of your Facial Infusion into the mixture
Add 10 drops of any other liquid additive (oil blends in the small vials)
Using the tip of the wooden stirrer, add about ¼ of any dry additives (such as activated charcoal and exfoliant) into the bowl.
Slowly add about 5 tablespoons of hot water into your mixture. Use the wooden stirrer to fully incorporate the ingredients. If you selected to add an exfoliant to the mask, add an additional tablespoon to the mixture.
Note: Make sure to break up any clumps of seaweed powder.
When mixed together, the mask should be the consistency of pancake batter. Make sure the mixture isn't too hot before applying to the skin.
Using your fingers apply the mask to the face, neck and chest area – avoiding the eyes. It is recommended that you wash your face prior to masking to make sure there is not makeup, dirt or grime on the skin.
Leave the mask on for about 20 minutes. You can apply refreshing cool compresses over the mask for an added benefit.
To remove your mask, use wet sponges or a soft wash cloth to gently cleanse away the mask mixture. If you made your mask a scrub, wet the fingers and use gentle, circular motions to buff the skin before rinsing.
Finish off your facial with a protective moisturizer or keep the customization going with one of our Customized Facial Cocktails.
Learn more how to Make Your Own Mask here or check out this blog from our friend Cori Scherer to see how she and her bestie Karinn spend their girls night in.
For head-to-toe pampering, don't forget to cap off your night of beauty with our Lemongrass Mani/Pedi Cream.
Whatever you choose, take this time to celebrate the special love shared between girlfriends. Relax, enjoy, and happy Galentine's Day!
---