How To Stress Less This September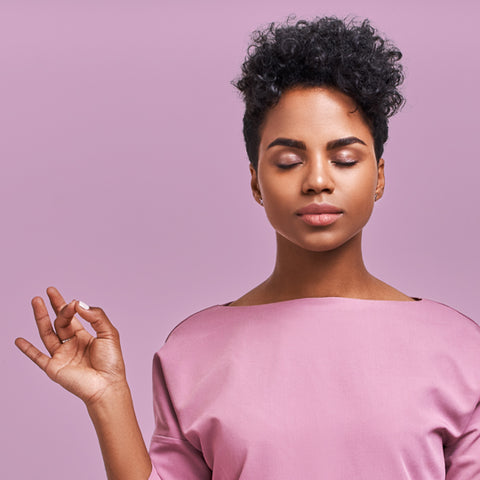 Our Best Tips to Manage Stress and Anxiety
Whether you're dealing with the continued challenges of working from home, seeking a new career, or sending your children back to school, it's safe to say our lives have been turned upside down over the past few years.
Managing the mental and physical impacts of stress are crucial to living a healthy and happy life.
Below, you'll find our favorite ways to stress less this September and find some peace, no matter what life throws at you.
Breathe - The Simplest, Easiest, Thing You Can Do For Your Health
Breathing- a task that costs nothing, can be done anywhere, and doesn't take extra time. Yet, sometimes, when we're caught up in the stress of day-to-day, we tend not to take the time to pause and just breathe.
The benefits of deep breathing are tremendous:  Reduced blood pressure, better sleep, calms the body and mind, and can even improve your mood.
Our favorite stress-reducing breathing exercise:
Alternate Nostril Breathing
Also referred to as yogic breathing, alternate Nostril Breathing is a method to help you destress and clear your energy by breathing in deeply from one nostril and then exhaling out through the other side. You can use your thumb and ring finer to close the alternate nostrils as you breathe in and out. 
Doing this for a few minutes can be a quick way to calm yourself before a stressful event or after a tense moment.
Click here for three more breathing exercises to help you banish stress. 
Stress Management for Mom
Mother's Day isn't the only time of year moms need a break – duh! While moms are especially feeling the brunt of balancing work and family responsibilities right now, the tips in this article are beneficial to everyone experiencing the weight of the moment.
Constant stress-whether from traffic or a heavy workload can lead to physical effects on the body and turn into a variety of health issues. 
This tip proves to be a bit more difficult, but if you can master it, you'll surely reap the rewards.
Unplug
While technology is a great way to communicate and stay connected, unplugging from your phone for a few hours can really improve your stress levels. It's easy to lose touch with reality and feel too wired. It's important to take some time and do something for yourself that isn't related to browsing the Internet or related to your kids.
With all the stress of everyday life, personal wellness can go out the door. Let's change that! By taking time for yourself, it helps you to be a more present mom, wife, friend and engaged professional.
Make it a priority to unplug ALL electronics for a few hours and have an at-home spa day. Shower, shave your legs, put on a face mask or hair mask, read a book, drink a glass or wine or sparkling water and just RELAX! This can do wonders for the mind and body, leading to a happier you.
For more ways to help mom relax, check out our blog by clicking here. 
Self-Care Rituals to Show Yourself Some TLC
Self-care is something we all could use a bit more of right now. When our mental, physical, and emotional health are jolted, our mood can suffer, and anxiety may occur.
Good self-care "refuels" our empty gas tank and improves the relationship with oneself.
Self-care means different things to different people, and can take just a few minutes, or a few days.
Below, is one of our more indulgent rituals.
De-Stress & Let Go Aromatherapy Bath
Nothing can reset your day like a relaxing aromatherapy bath. It can transform your home into a spa-like oasis. 
In as little as 15-20 minutes a luxurious bath can make a profound difference in your well-being.
For a relaxing and beneficial aromatherapy bath you will need:
Use this recipe to uplift your spirits after a long, stressful day.
Lavender and Marjoram Bath
6 drops Marjoram Essential Oil
6 drops Lavender Essential Oil
1 oz. Carrier Oil such as Safflower or Apricot Kernel
*Always blend your essential oils with your carrier oil before adding to the bath to ensure essential oils are able to dissipate in the water.
To make the experience even more sensual, try steeping some fresh Marjoram and Lavender in warm water for 15 minutes and then adding the herbs and some Dead Sea Salts to the bath water. Add in your oil blend, light a candle and feel renewed.
Click here for more self-care rituals.
How do you plan on stressing less this September? Leave your ideas in the comments below!
 ABOUT THE AUTHOR
Tr
acey Ellis is a beauty enthusiast with over a decade of experience in the beauty industry. You can find her in the lab, manufacturing Source Vitál Products. Tracey is a New Yorker living in Texas and spends her time cooking and spoiling her miniature husky, Tabasco.
More Articles Like This
---