5 Ways to Help Mom De-Stress this Mother's Day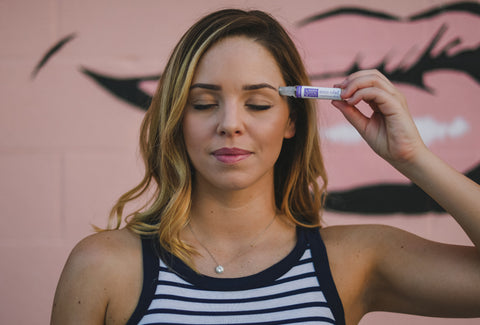 Stressed? You're not alone. From work and kids to errands and exercise, life for mother's can be pretty stressful at times. Constant stress-whether from traffic or a heavy workload can lead to physical effects on the body and turn into a variety of health issues. 
Over 70% of moms in the U.S. say mothering is incredibly stressful, so this Mother's Day, Source Vitál Apothecary's mission is to help moms everywhere chill out. Help us help you by following these surefire ways to de-stress, relax and unwind.
1. Aromatherapy
At Source Vitál we believe in the power of aromatherapy to positively influence your physical and spiritual health. Especially when life gets hectic, an aromatherapy break, even for just a few minutes, can really help turn around a bad day.
One of the easiest ways to change the mood in a room is by diffusing some of your favorite essential oils. Diffusion allows you to enjoy the benefits of the oils without any mess. All you need is a method to vaporize or aerate the oils so their aroma fills a room with not only a lovely natural fragrance but good-for-you properties as well .
Our noses are a much more powerful tool than we realize. Certain smells can send messages to our brains telling it to release stress and promote a feeling of calm. 
Whether you use a tea light diffuser, Electric Diffuser or simple reeds, diffusors are a helpful way to decompress with ease. Just use a few drops of your favorite essential oils, breathe deeply and let the scent bring you to your happy place.
We recommend trying the Stress Relief Essential Oil Blend, which combines multiple essentials oils known for their calming and relaxing properties. But be warned, sometimes type-A personalities can be turned off from this blend as something deep inside prevents them from letting go. Surrender from that urge and teach yourself to enjoy the feeling of relaxation. 
2. Take a Relaxing Bath
The stress and strain of constantly being "on" can take a toll on your life and well-being. Taking a bath is one of life's simple pleasures, simply lie back, let your body soak and feel your stress melt away. A weekly bath can quickly become a relaxing ritual that you won't want to miss.
Next time you dip into the tub, we recommend adding bath salts or bath oils, such as our Serene Bath Salts or Serene Bath & Body Oil for a calming, sedative experience.
Think of the Serene blend as you aromatherapy glass of red wine. These products truly help you to unwind and promote an uplifted state of mind. You'll be kicking negative thinking to the curb in no time.
Consider swapping your next shower for a mindful soak instead. You won't be disappointed.
3. Time Out for Mom
A five minute break to fix your attitude isn't just good for kids. One way to rest your day is to take a five minute meditation break. 
Find a quiet place, in your office, home, even the bathroom and take a pause to gather your thoughts. Studies show taking five minutes once or twice a day to meditate can drastically improve stress levels.
Meditation doesn't necessarily mean you need to light some incense, cross your legs and anoint your pulse points with essential oils (though that's not a bad idea) and chant mantras. All you really need is take a few minutes to sit, stand, or close your eyes and breathe. Focus on taking full, deep breaths that fill your entire body, lungs, muscles, and limbs with oxygen. When breathing out, visualize releasing your stress and anxiety. This is a quick and easy relaxation technique you can do almost anywhere.
You can also try counting backwards. Take a few moments to count backwards from 10 to one. Take deep breaths while you count. If you're extra stressed or anxious, count backwards from 20 or even 100. Once your are done you should feel lighter, ready to take on the day.
4. Exercise + Eat Well 
At the end of a long day working out can often feel like the last thing we want to do. However, it's the best thing for us! Exercise and physical activity produce endorphins, a.k.a. chemicals in the brain that act as natural mood enhancers.
Put your worries to rest and break a sweat. It doesn't have to be much; even a 10-minute walk around the office or neighborhood can help. Increased physical activity can lead to improved sleep, improved focus and concentration and reduced stress. 
Keep yourself feeling fresh and energized while you stay active with our After Workout Kit. It's also the perfect travel companion after a sweaty play day at the park. Use the natural products on you and your child to smell clean and feel great.. Don't skip your workout today; your body and mind will thank you! 
Stress can make you crave high-sugar foods and can slow your metabolism. That's why making stress management a part of your personal wellness routine is so important. It will help us to combat those stress-induced cravings that can often make you feel even worse.
When you dedicate yourself to your health, your whole body and mind will reap the benefits.
5. Unplug
While technology is a great way to communicate and stay connected, unplugging from your phone for a few hours can really improve your stress levels. It's easy to lose touch with reality and feel too wired. It's important to take some time and do something for yourself that isn't related to browsing the Internet or related to your kids.
With all the stress of everyday life, personal wellness can go out the door. Let's change that! By taking time for yourself, it helps you to be a more present mom, wife, friend and engaged professional.
Make it a priority to unplug ALL electronics for a few hours and have an at-home spa day. Shower, shave your legs, put on a face mask or hair mask, read a book, drink a glass or wine or sparkling water and just RELAX! This can do wonders for the mind and body, leading to a happier you.
Have any other tips and tricks for de-stressing? Comment your thoughts below! 
---