10 Ways to Enjoy the Holiday Scents Gift Set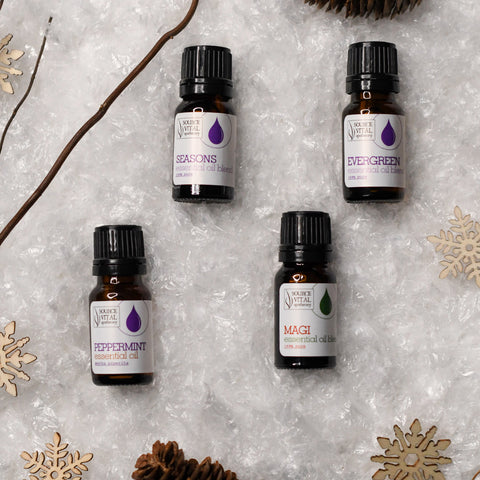 Aromatherapy to Help You Survive the Holidays
The holidays should be a time of celebration and making memories with friends and family. In reality it can feel a bit overwhelming.
That's where aromatherapy can make a big difference. Studies have shown that the aromatic properties in essential oils can have positive impacts on the body, mind and soul. 
To help you experience more joy during the holidays, we've compiled 10 ways to use our Holiday Scents Kit.
Not only does it make a great gift, this selection of 100% pure essential oils and handcrafted oil blends makes it easy to incorporate aromatherapy into your daily life. 
The Holiday Scents Gift Set Includes:
·      Evergreen Essential Oil Blend (0.4 fl. oz.) – It isn't Christmas without a tree. Here it is in a bottle, no sticky sap or dry needles.
·      Seasons Essential Oil Blend (0.4 fl. oz.) – 'Tis the season to be yummy! Spice from Nutmeg and Cinnamon, the tangy citrus of Tangerine and a little hit of Spruce is reminiscent of holiday baking.
·      Peppermint Essential Oil (0.4 fl. oz.) – What could be more Christmas than Candy Canes? Peppermint is a fresh, uplifting oil with many wonderful benefits.
·      Magi Essential Oil Blend (0.4 fl. oz.) – Our exclusive holiday blend (limited availability!), we pay homage to the Three Wise Men's gifts to the Christ Child. This meditative and traditionally sacred scent features Frankincense and Myrrh. For the Gift of Gold, we have added Liquidamber Oil that is a perfect fit to this blend.
How to Use Holiday Scents
1.  Evergreen: Create and Instant Forest
It isn't Christmas without a Christmas tree! Have an artificial tree but miss the smell of a fresh cut tree? Evergreen Essential Oil blend is just what you need to infuse your home with the refreshing, uplifting scent of Fir, Spruce, Juniper and Cedarwood.
Diffuse in a tea light burner, electric aromatherapy diffuser or sprinkle a liberal amount on pinecones and use to adorn your tree - you'll catch the scent when you walk past, just like a real Christmas tree, without the needles, sticky sap or clean up!
2. Seasons: Smell Like a Great Baker (even if it's store bought)
Set the mood before a holiday party with the Seasons Essential Oil Blend. This mix of pure essential oils will make your home smell like fresh-baked holiday goodies. 
Add a few drops to an AC air filter for a subtle aroma or use an electronic atomizer to infuse your space with pure oils. Atomizer diffusers won't dilute the natural aromas of the oils in water, like most diffusers. 
Use 10 minutes before guests arrive to get the cozy holiday vibes going. One warning though, this blend might make you hungry!
3. Peppermint: To Fight Holiday Exhaustion
Unlike the other oils in the Holiday Scents, Peppermint is the only essential oil that isn't a blend of other oils. With it's crisp, fresh and minty candy cane aroma, it is about as traditional of a holiday scent as you will find.
Peppermint is known as an energizing oil. It stimulates the mind and adds some extra pep in your step when inhaled. So, if the hustle and bustle of the season has you feeling a bit down, take a few deep breaths of Peppermint to energize the mind, body and spirit.
Either hold the bottle of peppermint a few inches under the nose and take a deep breath or add a few drops to a tissue and inhale from there. 
4. Magi: To Meditate on the Deeper Meaning of the Holidays
Inspired by the Three Wise Men's gifts to the Christ child, our limited edition Magi Essential Oil Blend features legendary Frankincense, Myrrh and Liquidamber essential oils, plus an additional proprietary blend of oils. The result is a soft, woody aroma that makes one think of the incense used in traditional religious services.
It's easy to get caught up in the material aspect of the holidays, Magi encourages a deeper connection with the friends, family and allows you contemplate the real meaning of Christmas.
Use Magi to take a few moments to give thanks for the blessings in your life.
Add 5-10 drops to a tea light burner or mix with a carrier oil, like Safflower and anoint your pulse points before meditation. This scent will help you feel more grounded and focused.
5. Evergreen: For Healthy Breathing During Cold & Flu Season
You know that feeling you get when walking through a cool, crips evergreen forest? You want to breathe in the fresh, healthy scents. 
This oil blend can also promote that feeling of easy breathing too. Especially during the cool winter months when cold, flu and allergies can cause the feeling of sluggishness and congestion.
If you are fighting congestion, try taking a relaxing aromatherapy bath with 20-25 drops of Evergreen Essential Oil Blend. The warmth from the water, combined with the aromatherapy benefits of the oils will create a vapor that can help ease the discomfort of the congestion.
You could also add a few drops to a steaming mug of hot water and take long deep breathes of the steam. Just be careful not to get too close to the hot water, to avoid burning your skin or taking in too much of the oil vapors.
6. Seasons: Give Holiday Cards an Aromatherapy Boost
Add a special touch to your holiday cards with Seasons Essential Oil Blend.
Mix a few drops of Seasons to a spray bottle filled with water or cheap Everclear liquor (it is colorless and doesn't have any odor). Shake up and lightly mist cards or envelopes. Make sure you do this before writing on the cards to avoid blurring any ink. 
Another great idea is to include a small piece of tissue paper with a few drops of the oils added. When your  friend or family opens the card they will get the pleasant surprise of the delicious Seasons blend.
7. Peppermint: Calm Upset Tummy's After a Holiday Party
Christmas parties can be a lot of fun, but over indulging on holiday treats can leave your stomach feeling a bit grumbly.
One of the aromatherapeutic benefits of Peppermint Essential Oil is it can comfort the feeling of an upset tummy. Just smell it straight from the bottle and take some slow, cleansing breaths.
If you are experiencing a headache as a symptom of your respiratory issues, massage a few drops (diluted with a carrier oil) to the back of your neck and to the temples. You'll get the benefit of the minty aroma and feel the cooling sensation of the mint.  
8. Magi: Use in Your Holiday Facial Routine
Frankincense and Myrrh, two of the main oils used in the Magi Essential Oil Blend, contain a lot of wonderful benefits for the skin. 
Give your nightly facial serum a boost with a drop of Magi. Wake up to skin that looks more refreshed.
9. Evergreen: Make Your Own DIY Kitchen Cleaner
The fresh and clean scent of Evergreen is the perfect oil blend to add to a DIY all-purpose kitchen cleaner. Use the recipe below to make your own all-natural surface spray.
1 cup white vinegar
1 cup distilled water
15 drops Evergreen Essential Oil Blend
Add all ingredients to a spray bottle and shake well to combine. Spray on surfaces and wipe clean with a microfiber cloth or paper towel. Spot test on surfaces made from delicate materials such as marble, wood, etc.
10. Peppermint: Soothe Tired, Achy Feet
Shop til you drop, or just been on your feet all day cooking and getting ready for holiday celebrations? You can use the Peppermint Essential Oil to calm and soothe sore, achy feet.
Peppermint is good for the temporary relief of sore muscles, while leaving a feeling of tingly, coolness on the skin.
Mix a couple drops of peppermint into your favorite foot cream and massage onto the feet. You can also add to a carrier oil such as coconut oil and use that to hydrate and renew the feet. Make sure you add on a pair of socks to avoid slipping! 
Have any other great ideas for the Holiday Scents kit? Let us know in the comments section below.
More articles like this:
Shop Our Most Popular Essential Oils and Oil Blends
---