6 Ways to Conquer Holiday Stress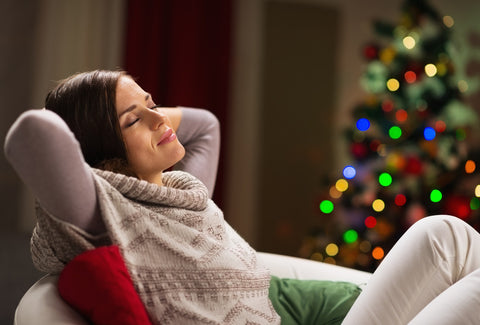 The holidays are supposed to be the 'most wonderful time of the year" but with all the parties, family gatherings, baking and budgeting for gifts its often the most stressful time of the year.
So are you handling your stress levels? Remember stress takes its toll on your mind and body.
Common symptoms of stress on your body, mind and behavior can include:
Headaches
Muscle pain
Fatigue
Insomnia
Anxiety
Lack of focus
Sadness
Anger
Over or under eating
Simply recognizing that you're feeling more Grinch than Jolly is the first step to managing the unpleasant effects of stress. Allowing yourself to take the time for some much-needed self-care is the second important step.
Here's some of our other favorite holistic methods to conquer holiday stress.
Remember: the secret to happiness is experiences not things

Take some time to do the things you love the most with friends and family. Bundle up with your kids and watch your favorite Christmas movies, enjoy a Christmas concert or ballet, meet up and watch your favorite sporting event or book a spa day with you best girlfriends. Or make a date to decorate Christmas cookies.

Spending quality time with the people who you enjoy most is the best way to lift the spirits.


Focus on Breathing

Deep, focused breathing utilizes the entire diaphragm, encouraging full oxygen exchange in the lungs. Focused breathing can stabilize your heart beat and lower blood pressure. Try breathing in for 10 seconds, holding for just a moment and then exhaling for 10 more seconds.

The best thing about focused breathing – you can do it anywhere! At home, in the office, while sitting in traffic, in between meetings. Develop these habits and practice 10-20 minutes a day for noticeable tranquility.

Source Vitál Apothecary Tip: Add some beneficial essential oils to your deep breathing by adding a few drops of your favorite oil to a tissue or breathing in straight from the bottle. You can also try one of our Aromatherapy Inhalers. Tranquil is the best for releasing the feeling of tension.


Stretch

Holiday shopping can be strenuous on the body. Toting heavy bags, standing in long lines, dealing with other shoppers who haven't yet discovered their Christmas cheer. Online shopping has become so popular for a reason! 

Take a moment before and after your holiday haul to stretch and prevent sore, achy muscles. Soreness develops from lactic acid build-up in the muscle. Loosening your muscles and allowing adequate blood flow can help prevent excessive achiness and will also relieve the stiff discomfort from stress-related tension.

Click here for a few easy seated yoga positions to help loosen up the muscles.


Take A Dead Sea Salt Bath
Add two to three tablespoons of our 100 percent pure Dead Sea Salts and 25 drops of your favorite bath oilto a warm bath and soak for 20-25 minutes.

Completely relax, enjoy your "me time," and let any built up stress float away. Want ideas to customize your bath? Check out our recent blog about creating the perfect bath.


Tea Time
Nothing is more calming than cozying up next to your fireplace with a warm cup of mint, ginger, or chamomile tea – all of which have anti-inflammatory components. A great book is a good companion too!

Take a timeout and steep two tablespoons of loose tea in warm water, then strain into your favorite holiday cup. Don't forget the honey! You can also do this with coffee or hot cocoa but try to not add in too much sugar.


Take a Walk

All you need is a good 5-15 minutes. Walking will get your blood flowing and help to clear your head from those nagging worries. Take a walk around your building at work or a brisk walk on a trail, either way the benefits will be felt immediately.

I like to listen to my favorite podcast, play holiday tunes or even listen to an audio book on walks. It helps me to quite the mind chatter.
Take advantage of your time off this holiday season by going into full-relaxation mode. Don't strive for perfection, strive to be present and have a happy, stress-free holiday season.
---