Best Gift Ideas for Christmas 2019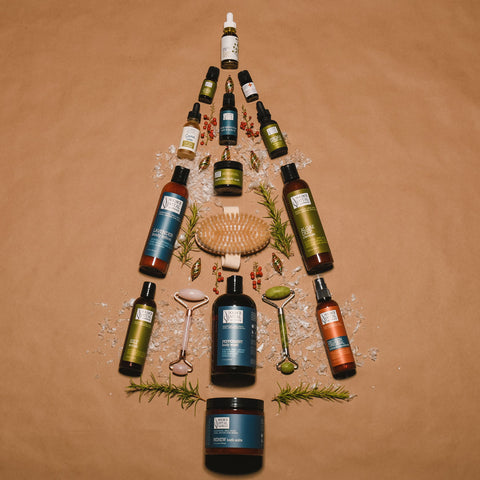 Source Vitál Apothecary Gift Guide for Everyone on Your List
The best gifts come from the heart. What a better way to show your love than with the gift of self-care - handcrafted with clean and safe ingredients - good for the mind, body and spirit.
That friend who has it all, your mother-in-law, that special teacher, the hostess with the mostest, husbands, brothers - we've got a gift idea that will surprise and delight nearly everyone on your Christmas list. Or treat yourself!
Holiday Gift Sets (Starting at $17.95)
Curated with our most popular aromatherapy scents and good-for-you formulas, our holiday gift sets are great stocking stuffers, thank-you presents, hostess gifts, secret Santa gifts, and perfect for travels. 

Nestled in a festive drawstring bag and in TSA-friendly packaging, our holiday gift sets fit snuggly in your suitcase for those celebrating the holiday on the road.
Our selection of holiday kits include options for the skin, bath and body, aromatherapy and even for him. Plus, they are reasonably priced to fit nearly any budget. 
Source Vitál Apothecary Holiday Gift Sets - Available for a Limited Time Only!
For Mom, Best Friends and the Skin Obsessed
Warning - you may find it difficult to part with these gifts. That feeling of leaving the spa with beautiful, glowy skin. That's what you're giftee will enjoy everyday with our most luxurious skin care products and tools.
SV23 and Facial Roller + Gua Sha Duo
SV23 Phyto Serum is loaded with 23 of our very best botanical oils and essential oils. It smells divine and gives any skin type a healthy boost. Maybe not the fountain of youth but the next best thing.
For a truly amazing gift, pair SV23 with our Facial Roller + Gua Sha Duos. Made from all natural jade or rose quartz stones, these facial tools improve the look of line and wrinkles, eliminate the look of puffiness, promote a more radiant, glowing complexion and work with your skin care products to make them even more effective. 
They look elegant on your shelf and upgrade the daily skin care routine into a special beauty ritual.
PMD Pro Smart Facial Cleansing Tool
This is hi-tech skin care. For that person who always has the latest in skin care, they will love the PMD Pro.
Featuring ActiveWarmth and SonicGlow technology, this tool breaks down dirt and oil in pores with 7,000 vibrations per minute, the perfect frequency to also lift, firm and tone the skin. The warming sensation of the rose quartz crystal ensures optimal absorption of serums and facial oils. Even better, there is no need to change the brush heads like other electronic facial cleansers.
Pair it with our popular Lavender Cleanser for an amazing aromatic experience. Your loved ones will be beyond the moon receiving this gift.  
For Anyone With a Beard
Custom Beard and Face Oil
Who doesn't love a gift handcrafted just for them? Our new Custom Beard and Face Oil is made-to-order according to your specifications.
Those with just a little scruff or with big bushy, lumberjack beards can use a customized beard oil to care for their whiskers and the skin underneath. Choose the beard goal, skin type and favorite scents. There are more than 29,000 combinations. 
Not sue what to blend for your favorite bearded loved one? We can help. Send us an email at sales@sourcevital.com or give us a call at 800.622.1591 to speak to one of our skin care experts. 
For the Over Stressed

Let's face it, we all could use a lot less "go" in our lives and a lot more rest.
Give the gift or relaxation with specially-blended aromatherapy formulated to promote a feeling of calm, soothe anxious feelings and encourage deep, restorative sleep.
The following gift ideas are thoughtful ways to add some balance to even the most type-a personalities.
Stress Relief Trio
Make your own stress relief gift set with a trio of products featuring our popular stress relief blend made with Lavender, Marjoram and Petitgrain essential oils.
This combination cuts through the stress of overwork and is especially good for those who have trouble letting go. With the trio of Stress Relief Bath & Body Oil, Stress Relief Body Wash and the Stress Relief Essential Oil Roll-on, your giftee will feel like a weight has been lifted from their shoulders with every use.
If you are looking for products to encourage a good night's sleep, try our Serene products like Serene Bath & Body Oil, Serene Bath Salts, Serenity Essential Oil Roll-On and more.
Another great option for the person who needs a blissful moment is a customized bath soak. Custom bath salts are a personalized gift that feel extra special.
Choose from expertly blended aromatherapy blends, formulas to help with achy muscles, stress relief, dry skin and more.
For the "Natural" Obsessed 
You know those friends and family members who only want the cleanest and safest products to cross their thresholds - these gifts are for them.
Essential Oil Starter Kit + Seascape Diffuser
Essential oils are a must-have for anyone trying to rid their home of conventional chemical-heavy products. Oils are great alternatives for home fragrancing, making your own DIY house cleansers and helping with common ailments such as skin breakouts, congestion and feelings of stress.
Our Essential Oil Starter Kits feature 100% pure and natural oils and are perfect for budding aromatherapists and those who are oil savvy. Choose from the 6-pack or 10-pack, complete a selection of our most popular and versatile oils.
Pair with the beautiful SeaScape Aromatherapy Diffuser for an easy and efficient way for your aromatherapy lover to enjoy their essential oils. 
These hand-poured, 100% soy wax, lead-free wick candles are free of phthalate fragrances, enhancers, colorants, filler waxes and made with pure essential oils.
All ingredients are sourced in the USA and are vegan and cruelty free. Choose from two sizes and six scents, including one seasonal Balsam & Cinder Scent.
For Teens
Give the teen in your life an accessory that gives back. Each purchase of 4Ocean bracelet helps to clean up one pound of trash from the ocean and coastlines.
The bracelets are adjustable, come with a stainless steel charm and have a stylish, unisex design. Each color supports a different effort from restoring coral reefs, research into endangered leatherback turtles, saving sharks as well as other marine life.  
Add-Ons & Perfect Stocking Stuffers
Got a gift but still need a little extra to make it complete? Don't waste it with something that will end up in the junk drawer. Instead, grab some all-natural personal care products.
The ultimate aromatherapy on-the-go. Made with 100% pure essential oils blended with hi-oleic Safflower oil, we have more than 50 blends to hand pick for your giftee.
Choose from lovely aromatherapy scents like Lavender Tansy or Cedarwood Vetiver, functional aromatherapy to alleviate the feeling of stress, headaches, difficulty sleeping, and natural elixirs that can support your loved ones during difficult times such as mourning the loss of a loved one.
There is a blend for everyone and every occasion. Love the idea of essential oil rollerballs? Give one of our curated 7-pack collections.
USDA Certified Organic Lip Balms
100% organic lip balms are made with beeswax, coconut oil, vitamin E and calendula to keep lips moisturized and protected against the elements. Available in 3 all-natural flavors: Vanilla, Citrus and Peppermint.
Small and compact, our inhalers pack a powerful dose of aromatherapy anytime you need it. Tranquil is perfect to keep next to the bed for a good night's sleep, Respiratory is a must-have for easy breathing during cold and flu season, and Pep (Happy) uplifts the spirits anytime things get tense.
Our most popular product deserves a spot in your gift-giving line up. Great for teens, those who are looking to go more "natural" in 2020, athletes and more. Choose from three all-natural scents and two easy-to-use formulas.
Forget the smelly, aggressive drug store body sprays and throw a bottle of Deozein in that stocking!
Travel Sizes
Nearly all of our products are available in travel sizes. Perfect to try something new, fit into a stocking or to create a special travel set for those jet setters. 
Want more gift ideas for the traveler in your life? Click here.
E-Gift Cards & Gift Certificates
Not sure what to get? Give your loved one an e-gift card or gift certificate and let them pick out something for themselves! It's versatile and convenient.
Just choose a dollar amount that best fits your budget and how you want the gift delivered.
No time left? The e-gift card will be delivered straight to your giftee's inbox. No postage necessary, no worrying about if it will get there on time!
Shop Our Full Collection of Holiday Gifts and Stocking Stuffers 
---