Get Your Home Holiday-Ready With These DIY Seasonal Essential Oil Blends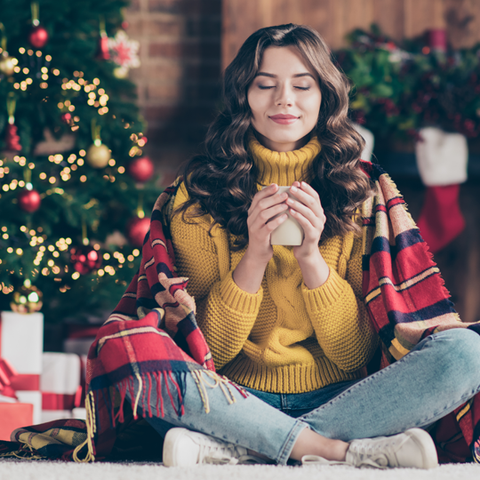 It's hard to believe that we are already in the thick of the holiday season. Although holiday celebrations may look and feel different this year, there are still some simple ways to infuse your home with a festive spirit.
One of the easiest ways to transform your home environment is with aromatherapy. Good for the mind, body and soul, essential oils are fun, natural and effective way to find joy this holiday season.
Below are a few of our favorite festive essential oil recipes that you can diffuse throughout your home – including your home office.
Seasonal Aromatherapy Blends
Cozy Autumn Blend
Grounding, slightly spicy, and just a little bit earthy, use this blend to feel more rooted and comfortable in your space.
Love this blend? You can dilute it with a carrier oil to add to your bath or add to an unscented body wash to make your own fall-scented shower gel.
Warm Chai Latte Blend
For those who feel like PSL (pumpkin spice latte) is a little too basic, this delicious blend instantly inspires warm, comfy, cozy feelings or security and calm.
This blend is packed with essential oils known for their powerful purifying benefits – great to use to cleanse the air and support good health or try adding to a DIY surface cleaner (just be sure to spot test before using on delicate surfaces).
Caution: These are very potent, spicy oils. We do not recommend using these oils topically unless they are heavily diluted.
Christmas Tree Blend
Bring the smell of fresh cut Christmas Trees into your home without any of the needles, sap or clean up!
This blend is another great option to mix into your unscented shower gel for a refreshing bathing experience, or to make your own natural home fragrance spray.
Candy Cane Blend
It's not the holiday without candy canes. This blend refreshes the mind and sharpens focus – perfect to diffuse while you work from home!
Have a tummy ache? Peppermint and Spearmint oils are known for helping to ease the discomfort of digestive issues and can also improve the feeling of a headache.
Festival Of Lights Blend
Light, bright and happy, you'll be feeling the joy of the season with this festive essential oil blend.
3 drops Lemon Essential Oil
2 drops Fir Needle Essential Oil
2 drops Mandarin Essential Oil
1 drop Frankincense Essential Oil
At the first sign of holiday stress diffuse this combo of happy and supportive oils. Breathe deeply, play your favorite holiday tunes and take a moment to reflect on all the blessings in your life.
Source Vitál Apothecary Holiday Scents Kit
Not into DIY? We've got you covered too.
Check out the Holiday Scents Gift Set, which features Magi, a limited edition essential oil blend; pure Peppermint oil; and two of our proprietary diffuser blends to brighten your holiday spirits. 
 ABOUT THE AUTHOR
Tr
acey Ellis is a beauty enthusiast with over a decade of experience in the beauty industry. You can find her in the lab, manufacturing Source Vitál Products. Tracey is a New Yorker living in Texas and spends her time cooking and spoiling her miniature husky, Tabasco.
Shop Holiday Scents Kit
---