Best Advice, Blogs, Tips & Tricks from 2016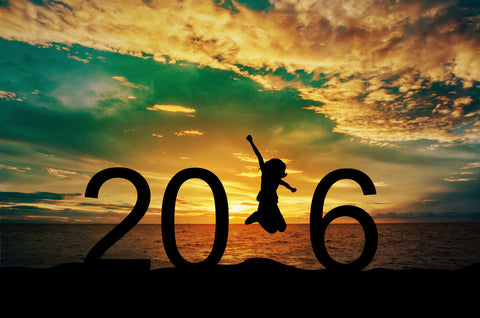 It seems to be a consensus that people are ready to say goodbye to 2016, with hopes of a more positive, harmonious 2017. But before we do that, we wanted to reflect on the past year and take the good with us – good tips for holistic health and beautiful skin that is!
Learning from the past can help us move forward with the wisdom of experience. So, here's a retrospective of tips, tricks and tid-bits from some of your favorite posts from Source Vitál Apothecary.
Our best tip to scrub off 2016 is to exfoliate.
It's one of the most effective ways to jump start our skin's natural regenerative processes. When you see regenerative, think healthy, new, younger-looking skin. It's the key to a complexion that's clean, smooth and appears to defy age.
Dry skin can cause congestions, break outs and make the skin look dull and lifeless. So, let's kick dry, flaky, dead skin out to the curb along with 2016.
To do that without wrecking your skin in the process, here's our favorite technique for safe & gentle results:
Massage, Don't Scrub
Gentle is the key. We are treating our skin, not scrubbing pots and pans! Red, raw skin is never the goal with exfoliation.
When exfoliating, you want to think about lightly massaging the skin, using small, circular motions. This movement helps to stimulate the skin, encouraging blood flow and the delivery of oxygen our cells need for good health.
Essential oils are a fabulous gift from nature. If we started outlining all their powerful benefits we'd be here until 2018.
To summarize why we believe essential oils are so, ahem – essential – in skin and body care, here's a quote from the blog, "The use of [essential] oils helps the body create the healthy, ageless person we want to be."
If that's not enough, check out this breakdown of the primary properties in essential oils:
Hydrating/Remineralizing– Botanical essential oils contain the nutrient composition of the original plant, thus providing minerals the body needs for proper hydration.
Oxygenating – Essential oils contain a concentrated form of chlorophyll which has been shown to increase the oxygen levels in bodily tissues that allows them to function more efficiently.
Detoxifying – Using essential oils to cleanse, exfoliate and massage promotes a feeling of renewal for the body.
Immune Support –As the largest organ in the body, the skin is our first line of immune defense. By helping to cleanse and protect, essential oils work to fortify the skin and support the immune system.
Cocktailing skin care products and ingredients is going to be big in 2017. It's a way to customize skin care routines that are unique to an individual's specific needs. Think hydrating, protecting and treating the skin in a single step, using several key products.
The Source Vitál Apothecary cocktail is one of our favorite recipes for great skin!
Here's how to mix it up:
Cleanse your face.
Mist your face and neck with Sea Tonic or a light, mineral-rich toner.
Massage in a light-weight facial serum like Algae Serum and then mix in a Face Oil Infusion or other serums that are ideal for your skin type.
For example: if you want to fight against the signs of aging, use a serum that's rich in antioxidants or made to plump the skin. If you're fighting congestion, use a serum that's formulated to balance the skin's natural oils and clear up break outs and inflammation.
Repeat, everyday morning and night or morning or night depending on your skin type. Play around with your cocktail until it's just right.
The combination of ingredients in this recipe provides nutrition and intensive care for the face. The hydrating properties in the serums and infusions also make a great moisturizer.
Over work and stress is an epidemic in today's fast-pace lifestyle. Taking a moment to find your zen can get overlooked when the to-do list gets too long.
One of our favorite tips to enjoying life comes from the recent blog about conquering the effects of stress during the holidays: the secret to happiness is experiences not things!
We are going to try a little harder to enjoy the small moments in life like laughing with a good friend, the joy of experiencing a beautiful sunrise/sunset, reading a great book or taking some time for "self care."
And speaking of self care, here's a sure-fire way to find a moment of bliss – a warm, soothing aromatherapy bath!
For a relaxing and beneficial aromatherapy bath, here's what you need:
(stock up while exchanging iffy Christmas presents or indulging in post holiday sales)
Once you get a few supplies you can begin to mix and match to create a customized spa experience based on how you want to feel. Want to relax, get a good night's sleep, purify your body from toxins, soothe aches and pains or add some pep in your step? There is a bathing option that fits your needs.
Source Vitál Apothecary Tip: You just need to soak for about 20 minutes, 1-3 times a week, to make a profound difference in your well-being. Bathe in neutral warm – not hot – water for optimum benefits.
Going green has never been a fad for us. From day one we have looked to the sea and the earth to care for our skin, bodies, mind and soul. Essential oils, as we mentioned earlier, are the soul of our formulations – seaweed is our heart.
Seaweed, or algae, is our favorite skin loving superfood. It nourishes, hydrates and helps our bodies to get rid of the toxins that make us feel – and look – sick sluggish and run down.
Algae are one of the most nutrient-dense organisms on the planet. In fact, it is essentially the foundation of every food chain on Earth. So, if this doesn't get you excited about the benefits of seaweed, here's the full list of vitamins, nutrients and trace elements found in seaweed/algae:
Vitamins, especially A, B, C, E and K
Minerals such as magnesium, calcium, copper, potassium, iodine, iron and zinc
Trace elements such as vanadium, chromium, selenium and more
Soluble fiber
Carbohydrates (the good ones)
Antioxidants
Amino acids
Omega-3 and -6 fatty acids
Enzymes
Phytohormones
Alginic acid
– all the elements vital to human bodily functions. The nutrients present in algae are so complete they support entire ecosystems, including the human ecosystem.   
It all comes back to looking and feeling ageless.
Essential oils, seaweed and whole plant botanicals are our ingredients for life and youthfulness. While a magic pill to turn back the pages of time would be awesome, our best tip for an ageless complexion is to use safe, natural and effective ingredients and be consistent.
The blog 5 (Super Easy) Steps for More Youthful-looking Skin spells out the pathway to diminishing the wear and tear of time, but the most important step is to start caring for your skin as early as you can – and don't stop!
#7 Supporting small, local businesses – like ours!
One of our most read blog posts was all about small, independent beauty brands. One of the most important take-aways for us is the personal connection small brands have with their customers.
The needs, wants and feedback from customers are invaluable tools to creating a brand that makes real products people love to use. Plus, the money you spend on products doesn't just go to big budget advertising campaigns, it goes right back into innovating newer and better products.
For the first time, we participated in Small Business Saturday. It was so much fun meeting neighbors and new customers in our hometown.
All Source Vitál Apothecary products are handcrafted, in small batches in, Houston, Texas using intelligent recipes formulated with family, friends and the input from some of our most loyal clients. It's important for us to keep that community, even as we continue to grow and evolve as a company.    
#8 Giving & Creating Holiday Memories
We love the holidays, and it looks like you do too! From shopping local, to avoiding crowded malls and using natural aromas to deck the halls with Christmas cheer, it's great fun to share our holistic philosophy with you all.
This year we introduced a brand new essential oil blend, Magi, based on the tradition of the Three Wise Men and the spiritual side of the holidays, and launched our line of Aromatherapy On-the-Go products. Magi is only available during the holiday season.
Making aromatherapy less woo-woo and more accessible is an important step to helping more people experience the benefits of a more natural, holistic way of life, no matter if you're at home, work or sitting in traffic.
Cheers to a Happy, Healthy 2017
So, as we get closer to ringing in 2017, may we all take some time to breathe deep, wash away the day's struggles, appreciate life's gifts, and come together as a community that celebrates each other's uniqueness and works together to make it a great, prosperous year.
Happy New Year to you and your family. Thanks for being a part of ours.
---