8 Reasons to #ShopSmall on #SmallBizSat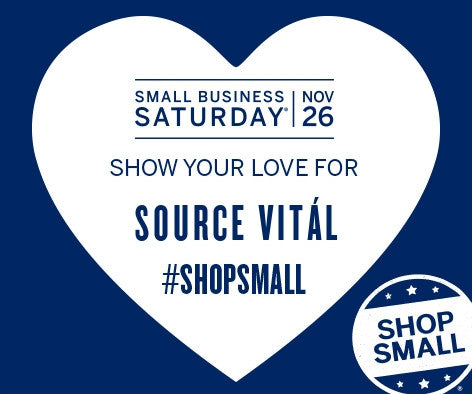 Like turkey and dressing, twinkle lights, decorating Christmas trees, chestnuts roasting on an open fire, Jack Frost nipping at your nose…ok you get the idea, gift giving is a big part of the holiday season. Yes, at time it can feel a bit stressful and not at all personal, but giving can be a special way to come together with friends and family to share your love and gratitude.
Tapping into that spirit of togetherness is one of the motivations driving the shop small movement this holiday season. Small, independent businesses have a huge impact on local economies and by choosing to shop small you are helping to keep money and jobs close to home.
Shop Small on November 26
Small Business Saturday is coming up the Saturday after Thanksgiving on November 26. Thousands of small, independent businesses across the U.S. are participating this year. In fact, the U.S. Senate has recognized Shop Small Saturday as a special holiday for communities to show love for the small businesses that support local economies.
Source Vitál Apothecary will offer 40% off our entire line of natural products for the skin, body and spirit during this year's celebration*.
Our new showroom located at 1291 N. Post Oak Road, near The Galleria and Memorial City Mall, will open its doors from 10 a.m. until 5 p.m.
Stop by to enjoy festive holiday tunes, refreshments and seasonal-themed door prizes. This promotion is only available for in-store customers, but don't worry, if you can't make it we will have online promotions as well.
Why Shop Small
So as you are planning your shopping lists here's some pretty compelling reasons (we think) to bypass the mega malls and participate in Small Business Saturday.
#1 – Money spent goes directly back into the local economy
Small businesses are the foundation of local economies. The Small Business Administration reports that small businesses provide nearly 60 percent of all jobs in the U.S. and account for 54 percent of all sales.
So, community businesses help to give jobs to the people that live there while also reinvesting the money they earn into other local businesses. This may be through purchasing equipment, supplies and/or services. Plus, the tax money stays local.
In 2014 an estimated $14.3 Billion was spent at small, independent businesses on Small Business Saturday. That's money that can help build roads, schools, pay local law enforcement or support a family near you. Think of shopping local as offering a mini economic stimulus package for your home town.
#2 – Get to know your neighbors
As people continue to move toward large, congested urban areas the days of knowing your neighbors seems to be a relic of the past. Add that to an already packed schedule of work, school and other responsibilities, and our lives are increasingly much more isolated.
By venturing out into the independent shops and restaurants in our communities we can try to reconnect with those nearest to us. This helps to strengthen the trust we have in one another and makes us feel like we aren't facing our lives by ourselves.
Like the saying goes, "it takes a village." Building stronger relationships in our communities may also break down prejudices, encourage diversity of opinion and culture, and can even cut down on crime as neighbors are more aware of each other and what's going on in their area.
#3 – Discover unknown gems in your community
It's fun to explore new places, especially when they are close by. Be the first to tell your friends and family about a new neighborhood hangout or special boutique and save time and money from traveling far to other parts of town.
#4 – Find unique, one-of-a-kind gifts
Community businesses reflect a unique culture or style that is specific to their neighborhood. The food, artwork or products they sell can reflect a similar character and craftsmanship that's hard to find in chain establishments.
Additionally, many small businesses take pride in making their products in-house, in small batches using local ingredients and family recipes.
#5 – Avoid the long lines and crowds at the mall and big box stores
One of the most stressful parts of the holiday season is dealing with the traffic and hustle-n-bustle of large shopping areas. No one wants to spend their precious time off fighting for parking spots or waiting in lines. Try a local spot that can get you in and out in a fraction of the time.
#6 – Friendly customer service
Like the old show Cheers, sometimes you want to go somewhere where everybody knows your name. Small, independent businesses offer individualized one-on-one service that big box stores can't compete with. Each sell is important to their overall success and small shops want every customer to leave happy and satisfied.

Also, with smaller inventories, salespeople are well versed in what they are selling and can offer personalized recommendations that build trust and loyalty with clientele.
#7 – Take advantage of special promotions
On Shop Small Saturday many businesses are offering deep discounts and special giveaways to show gratitude for supporting them and their community. So forget Black Friday or Cyber Monday and cross off the names on your list without leaving your neighborhood!
#8 – It feels good!
It's like supporting the American Dream for families in your community. It just feels good to know that you are helping to strengthen the local economy and not just putting more money in some fat cat's pocket. When a small business does well you take part in their success.
Help us to make this year's Small Business Saturday a success. To find local businesses in your area check out shop small map by clicking here. And please don't forget to share on Facebook, Twitter, and Instagram with #ShopSmall or #SmallBizSat.
Let us know how you are planning to #ShopSmall in the comments section below.
*Wholesale and professional customers will receive 15% off retail and professional products on Small Business Saturday.
---