5 (Super) Easy Steps for More Youthful-looking Skin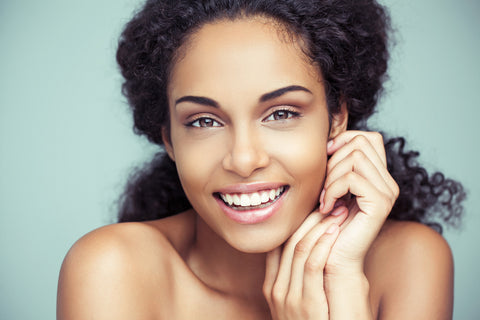 Aging is a natural and beautiful process. However, over time, harsh chemicals, stress and environmental factors can cause lasting damage, intensifying ordinary maturation. At Source Vitál, we're passionate about helping you nurture your unique skin. Here are the products we recommend using in order to retain a healthy complexion—without spending all day in front of the mirror. Together, these products make up your skin's dream team.
1. Cleansing - Lavender Cleanser
Oh, lavender. This aromatic and gentle cleanser is perfectly suited for dry and sensitive skin, but don't be fooled by its calm nature, it is a powerful ingredient. While the cleanser respects your pH balance, it is equipped to remove all sorts of makeup and grime. Use it in the morning and evening for clean and hydrated skin.
2. Nourish/Hydrate - Algae Serum Neroli
If you choose to use only one product on aging, mature skin we highly recommend this serum. Algae extract, green tea, aloe vera and cucumber combine to create an elixir we like to call "liquid gold." Neroli, a precious orange blossom essential oil, has a rich, sweet, citrusy scent and is deeply nourishing for the skin. Simply apply a few drops while your skin is still slightly damp from cleansing. Your skin will visibly glow and feel instantly revived.
3. Eye Care - Jasmine Eye Balm
Our eye balm is designed to soothe and protect the eye area, where aging effects are most noticeable. This cream is made up of 100 percent botanical ingredients, including shea butter, jojoba, rosehip oil, aloe vera, cucumber, meadowfoam, chamomile and carrot seed. Good ingredients do good things.
4. Moisturize/Protect - Soothing Cream
After cleansing and using an algae serum, apply a small amount of this delightful cream. Containing lavender, chamomile, shea butter, aloe vera and algae extract, this solution works wonders at calming a host of skin irritations that can make skin look aged. Emollients work to protect skin, day and night. We're big fans!
5. Exfoliate - Silt Scrub
This effective exfoliant contains freshwater collodial silt, which is rich in naturally occurring humic acids. Simply use one to two times a week for a low commitment and high-reward addition to your skincare regimen. Exfoliation is one of the best things you can do to reveal healthy-looking skin and improve visible signs of aging.
Include these steps in your routine for a quick and effective way to reduce the appearance of  crow's feet, fine lines, wrinkles and other aging effects. If you have any comments or questions we would love to be of service. Connect with us on Twitter at @SourceVital!
---