Holiday Gift Guide 2016 – Natural Edition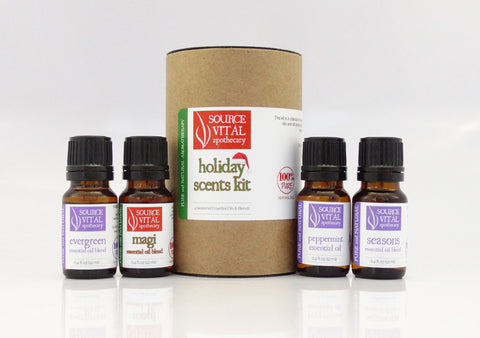 One suggestion for happiness is to invest in experiences rather than objects. That's the idea behind our gift sets.
Using natural, good-for-you ingredients and 100% pure essential oils we want to transport you and your loved ones to a state of peace, purity and serenity wherever you are. The experience of taking a luxurious aromatherapy bath or the feeling healthy smooth skin and spending time to treat your inner self – that's a gift that keeps on giving.
We've curated our gift sets to include skin care, body care and aromatherapy products that work for a wide variety of skin types, lifestyles, and well suited for both men and women. Plus, they make for perfect stocking stuffers or to take along on your holiday travels.
New – For a limited time only!
Magi Essential Oil Blend – $16.95
Our newest holiday blend pays homage to the Three Wise Men's gifts to the Christ Child. Inspired by traditional religious ceremonies and worship services this complex blend of 100% pure essential oils captures the true spirit of Christmas – believing in a higher good, spending time with loved ones, and promoting peace and goodwill.
This meditative holiday scent features the legendary Frankincense and Myrrh. For the gift of gold, we've added Orange and rare Liquidamber oil. Lavender, Vetiver and Cistus round out this unique aroma.
It's only available during the holiday season, so get yours today!
Holiday Scents Gift Set
Holiday memories of food, family, tidings of comfort and joy can be found in this 4-piece essential oil set. Get your home and spirit in balance for the holiday season with these festive scents. No irritating synthetic fragrance or colorants included here!
Gift set includes:
Evergreen Essential Oil Blend (0.4 fl. oz.) – Smells like a fresh-cut Christmas tree – breath deep!
Seasons Essential Oil Blend (0.4 fl. oz.) – Cinnamon, nutmeg & tangy citrus. Holiday baking in a bottle!
Peppermint Essential Oil (0.4 fl. oz.) Fresh & uplifting. What's the holidays without candy canes?
Magi Essential Oil Blend (0.4 fl. oz.) – Limited Edition!
Source Vitál Apothecary Tip: Diffuse these blends in a tea light burner or electric diffuser, add to an unscented lotion/body wash or dilute in a spray bottle and use on linens.
Holiday Skin Care Gift Set
Give the gift of great, youthful-looking skin with this 4-piece kit. These popular and coveted face products made with pure essential oils, whole plant botanicals and mineral-rich seaweed will get your complexion glowing with holiday cheer – no cocktail needed!
Gift Set Includes:
Algae Deep Cleanse (2.23 fl. oz.) – Amazing peppermint-infused, deep-pore facial wash. One of our most popular products!
Silt Scrub (2.23 fl. oz.) – Get your scrub on with our #1 exfoliant.
Toning Infusion (0.4 fl. oz.) – Add an extra boost to your complexion with this nutritious face oil.
Moisture Cream (4.4 oz. net wt.) – Perfect moisture to smooth & soothe!
Holiday Bath & Body Gift Set
With our Holiday Bath & Body kit pamper your loved ones – or yourself – with these luxurious products.
Enjoy silky smooth skin, banish feelings of holiday stress with an aromatherapy oil that promises the ultimate bath, stay alert with the perfect body cleansing 'pick me up', and don't sweat the small stuff with our top-selling aluminum-free, natural deodorant.
Gift Set Includes:
Lavender Body Lotion (2.23 fl. oz.)
Stress Relief Bath & Body Oil (0.23 fl. oz)
Peppermint Body Wash (2.23 fl. oz.)
Deozein Natural Deodorant (1.01 fl. oz.)
Shop Till You Drop Holiday Kit
It's most wonderful time of the year, but with all the shopping, the holiday's can be more stressful than joyful. Our solution is to offer some deeply relaxing pampering with this 5-piece kit. 
Gift Set Includes:
Serene Bath Salts (4.4 oz. net wt.) – Soak your tired Christmas spirit in these soothing salts.
Stress Relief Bath & Body Oil (0.23 fl. oz.) – Massage into skin and breathe deeply to settle down for that long winter's nap!
Tranquil Multispray (2.23 fl. oz.) – Create a silent night when you spray this relaxing mist on bed linens.
Lavender Body Wash (2.23 fl. oz.) – This hydrating & comforting body wash will make you feel like it's the most wonderful time of the year.
Lavender Body Lotion (2.23 fl. oz.) – Baby it's cold outside, wrap yourself in soothing Lavender!
Our newest line of products make it easy to get the benefits of aromatherapy anytime, anywhere you need them.
Created to assist with a multitude of feelings including stress, fatigue, brain fog and stuffiness, these small, portable, yet effective products are perfect to throw in your purse, keep at your desk or use as a stocking stuffer to add a little extra goodness.
Choose from:
Pep Aromatherapy Inhaler – Instant pick-me-up
Respiratory Aromatherapy Inhaler – Breathe easier during cold & flu season
Tranquil Aromatherapy Inhaler – Relax on-the-go!
Clear Mind Essential Oil Roll-On – Banish brain fog
Stress Relief Essential Oil Roll-On – Kick negative feelings to curb anytime they creep in
Vigor Essential Oil Roll-On – Refreshes and revives the spirit
And for a gift that fits any taste or budget (and is delivered straight to your inbox) chose a Source Vitál Apothecary gift card. Check out our entire holiday collection by clicking here or visiting SourceVital.com.
Need more ideas? Leave us a question in the comments below or feel free to call us at 1-800-880-6457.
---