Best Advice, Blogs, Tips and Tricks for Ageless Skin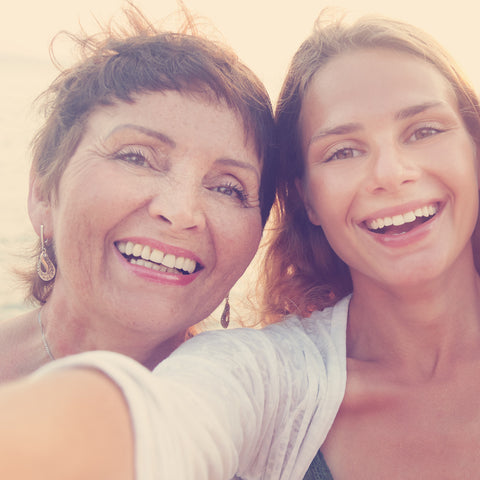 The secret to looking youthful is a quest that spans the globe and time itself.
It's not hard to find someone that has a beauty tip that's been passed down from a grandmother or another wise woman in their life.
Similarly, we've amassed a collection of knowledge, expertise and advice (and product collections) dedicated to keeping the signs of aging at bay. Here's a roundup of some of the best "anti-aging" tips we've shared over the years.
Advice from Skin Guru Brea Gratia - Founder of Santuary Spa Houston and Source Vitál
Of course we have to start with skin care advice from our very own Brea Gratia.
With 40-plus years of experience in skin care and creating innovative treatments to enhance skin health, anyone who has been lucky enough to experience one of her life changing facials understands there are few that know more about skin than Brea.
Her key to aging gracefully includes "taking great care of your skin" through:
A deeply nourishing skin care routine
Effective exfoliation
Getting regular facials
and Maintaining a healthy weight
Just as nutritious food helps our body to be healthy, nourishing skin care products can do the same for the health of your skin. 
Maintain radiant healthy-looking skin by using products that offer high concentrations of active ingredients, like our Active Silt Mask.
Packed with freshwater colloidal freshwater silt, sea buckthorn oil, prickly pear oil, green tea, cucumber, bentonite clay and activated charcoal, this mask imparts the skin with a burst of skin-loving ingredients that helps to stimulate the skin, purify pores, promote the look of plumped skin layers and support healthy cellular renewal.
On exfoliation Brea recommends Fango Facial Scrub, which she says offers the skin similar resurfacing benefits as a microdermabrasion treatment.
Exfoliation Matters!
Keeping the focus on exfoliation, here's our top tips to keep your skin soft and smooth without any aggravation.
When it comes to exfoliation, more is not necessarily better.
Gentle is the key here. You are treating your skin, not scrubbing pots and pans! Red, raw skin is never the goal with exfoliation.
Tip #1: Massage, Don't Scrub
When exfoliating, you want to think about lightly massaging the skin, using small, circular motions. This movement helps to stimulate the skin, encouraging blood flow and oxygen the cells need for good health.
Tip #2 Support the Skin
When exfoliating, try not to pull or overly stretch the skin, especially the delicate area around the eyes. Start working with small areas, use one hand to support the skin while the other hand performs the massaging technique above.
For more exfoliation tips, read more here: Your Guide to Achieving Ageless Skin Through Proper Exfoliation
Wash Your Face!
From our blog 10 Bad Skin Care Habits to Break Now, the number one bad habit is not washing your face at night.
It may seem like a, "no duh," but it's one of those skin care no-no's that many of us are guilty of committing. It gets late, you get tired, it's cold out , etc.
Cleansing the skin at night removes not only oil that's built up but other grime - like free radicals - that can destroy healthy skin cells, lead to irritations and premature aging.
For those who wear makeup it's even more important. Makeup can settle into pores and cause blockages that can lead to acne and other skin problems. 
Tip: For those nights you, "just can't," Micellar Cleansing Water is your best friend. It removes surface debris, excess oil and the grime of the day without the need to rinse the face with water.
Keep a bottle and a few cotton rounds (or a reusable washcloth) next to the bed for lazy-proof face cleansing. 
If you're interested in going all-in. give our Double Cleansing blog a read by clicking here.
Ageless Eyes
One of the first parts of the face to start showing the signs of aging can be the eyes.
The skin around the eyes is thinner and more sensitive than other areas of the face, and therefore more susceptible to damage.
Add to that the amount of times we squint in the sun, rub our eyes, or even laugh (not that you should ever stop laughing!), it's easy to see how fine lines can start to settle in.
Keeping the skin around the eyes well-hydrated will make lines less pronounced and protect the skin from further damage.
A good rule of thumb for applying eye cream is to pat it on the orbital bone that surrounds the eye by using your ring finger. Generally speaking the ring finger is a bit weaker, ensuring a light touch. Avoid tugging or pulling on the delicate skin around the eye whenever possible. 
For more eye care tips, read our blog: Say Goodbye to 5 Major Signs of Premature Aging with These Expert Tips
Use an Ice Roller
Protecting your skin against aging doesn't start at age 50, 60 or 70. It should start as soon as possible, whether that's wearing sunscreen as a teenager or establishing a good skin care routine in your 20s.
It's much easier to prevent than erase!
We love this self-care tip from our friend and lifestyle influencer Cori Scherer.
In her guest blog, 5 Ways to Start Caring for Your Skin in Your 20s she shares the benefits of adding an ice roller into your skin care routine.
She writes, "I've honestly never found a tool so inexpensive that I love so much for my skin."
An ice roller can help to improve the look of puffiness, and stimulates blood flow, which is needed for cellular rejuvenation. Plus, it feels amazing on the skin and is a great way to wake you up in the morning.
"An ice roller is especially helpful any morning when I feel puffy, haven't slept well, or feel any inflammation," Cori continues. "It feels amazing on the skin and really relieves puffiness quickly. I roll it all over my face and make sure to roll under my eyes and down my neck as well."
If you don't have an ice roller, you can store a jade or rose quartz facial roller in the fridge for a similarly refreshing treat.
Serum Love!
When it comes to skin care multitasking is a good thing. When life gets busy those skin products that can care for a multitude of issues are invaluable.
Serums are a way to pack in powerful antioxidants, hydration, and nourishment, all in one product. They easily layer well with your other products in your beauty ritual or can stand on their own, when called on.
From everything oils like our fabulous SV23 Phyto Serum to more focuses concentrated serums such as our Face Oil Infusions, serums are the MVPs of keeping your skin looking and feeling ageless. 
Here are some testimonials from real customers who are hooked on facial serums.
Customer Reviews for SV23:
"The product makes my skin feel soft and improves the look of my 64 year old wrinkles."
-Debra R.
"I was a little skeptical in buying the SV23 because of the price but I can tell you it is worth the money. My skin tone all around looks better. I feel like I have had a facial every day :)."
-Jennifer R. 
Customer Reviews for Algae Serum: 
"I've been using the algae serum, soothing cream, and algae deep cleanse for eight years and have definitely seen a difference in my skin. I live in a very dry area, so the serum gives my face the moisture it needs to stay healthy looking. At 72, I credit these products with reducing my wrinkles and keeping my face and neck moist and soft."
-Franni F.
"My face soaks it up. I have had Algae Serum Neroli in the rotation for 14 years (and it shows)!! Mother Nature provides for us - my skin has never looked better since I stopped using chemically manufactured cosmetics and lotions."
-Teresa M. 
"I really notice great hydration and a pretty glow from a combination of Restorative Infusion and Neroli Algae Serum. I love this stuff!!!!!"
-Tammy W
Self-Care
Research has found that chronic stress can cause you to age prematurely by physically altering your DNA. Additionally, stress releases hormones in the body that cause "fight or flight reactions" that can also have negative biological impacts on the body.
There's no way around it, managing stress is crucial to your health now and as you age.
To round up our look back at our favorite strategies to fight the signs of aging we want to highlight the importance of self-care and taking the time away from the daily grind to relax and refresh the mind, body and spirit.
From our blog, Self-Care for the Working Gal there are three tips we think are also great for anti-aging.
1. Eat Well
Too much sugar in your diet may actually give you wrinkles. Just one of many reasons to keep a balanced diet!
2. Express Gratitude
You feel happier when you regularly show gratitude and appreciation. And people who smile more look younger too!
3. Take Social Breaks
Put down the smart phones and actually connect with friends, family and others you come in contact with. It helps you to be more present and build a stronger social net. Plus, looking down at the phone all of the time can give you tech neck - no thanks!
Age is more about attitude than appearance, but that doesn't mean you can't spend some time pampering your skin along the way.
Do you have any great anti-aging tips? Share with us in the comments section below.
---