Caring for Your Eyes - Say Goodbye to 5 Major Signs of Premature Aging with These Expert Tips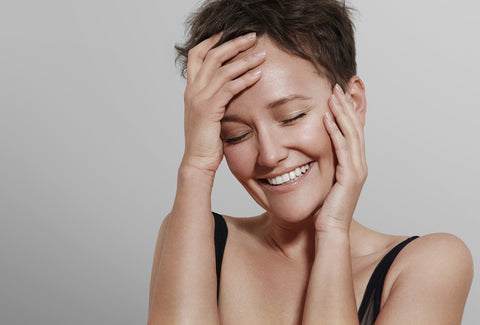 Aging is a process we can't stop. Or can we? While growing older is inevitable, preventative measures are key to warding off premature skin aging and keeping the complexion looking its best. One of the most sensitive areas where the signs of aging are the most noticeable is the skin directly around the eye.

This skin is thinner, more delicate around the eyes and can show signs of aging that take a longer to become as noticeable on other parts of the skin. Plus, the eyes are always a focal point.

By giving the eyes some special care you can start to counteract these five areas that can make you looker older than your years:
1. Crow's Feet: Youthful skin is smooth, there are no folds, so keeping the complexion plumped is a must!
2. Puffiness: Plumped doesn't mean puffy. Puffiness looks unhealthy, like you were just drying or getting over a bout of allergies. Keeping puffiness at bay often starts with nutrition but can be counteracted with the right ingredients.
3. Discoloration: Dark circles, like puffiness indicate a lack of something, like sleep or diet or can show the wear and tear of overdoing it. If you are combating dark circles you will not be able to pull off a bright-eyed appearance. 
4. Saggy Skin: Elastin and collagen are the keys to youthful skin. Don't only give your body the right nutrition, but feed your skin with vital nutrients it needs to support its natural efforts to regenerate.
5. Dehydration: Dry, crepey eye lids make the eyes appear sunken in and smaller. Hydrate, hydrate, hydrate and moisturize, moisturize, moisturize to keep eyes plump and supple. 
A consistent skin care regimen, sun protection, a healthy diet and lifestyle all contribute to the look and feel of our skin. But if you have neglected some of these skin care rules, there are some techniques and protocols you can employ to care for the delicate skin around the eyes and battle the signs of aging.
Aging Skin
Smoking, drinking and consuming too much sugar all lead to premature aging. Thankfully, there are ways to undo some of the damage and keep some signs of aging at bay. As we get older, collagen production slows and skin's elasticity begins to break down. This causes a deflated, saggy look. Dark spots and discoloration appear, along with fine lines and wrinkles.
Caring for Skin Around Your Eyes
Because the skin around your eyes is thinner than other areas of the face it shows veins and darkness more easily. It's also more prone to puffiness and wrinkling, and it may be more difficult to treat dryness here as well. Follow these tips to help your eyes look their best:
Get plenty of rest. An adequate amount of sleep will prevent skin from looking pale – one of the signs of fatigue.
Always remove makeup. Try using our Micellar Cleansing Water with a cotton ball to cleanse the face and remove makeup. This is a light, delicate blend of micellar water, seaweed, and herbal extracts that gently dissolves and removes makeup.
Delicate skin needs a gentle touch, so be gentle around the eye areas. Never tug or pull on eye skin. Whether you are applying or removing makeup, scratching, or applying lotion, the skin around the eye is thin and sensitive and overactivity can contribute to unwanted signs of aging.
Hydrate the under eye by applying an eye cream daily. Make sure to pat your eye cream on with your ring finger – this finger is the weakest, and ensures a light touch. A good rule of thumb for applying eye cream is to pat it on the orbital bone that surrounds the eye.
An easy expert tip to help with puffiness it to keep your eye cream in the refrigerator. The cold temperature is a cool treat for tired or puffy eyes and helps you to look like you are well rested.
Protect with sunscreen. Regardless of your skin type or complexion, the sun is one of the largest influences on premature aging, not to mention skin cancer.
Eye Creams
There are natural ingredients that can hydrate and help give the appearance of plumped skin, even skin tone and softened lines. Most eye creams are formulated to be extra gentle on this sensitive area and typically come in several formulas, specially blended to address specific problem areas.
Fine lines: Ingredients that smooth the skin will diminish the appearance of lines. Lightly hydrating oils are perfect for softening lines and nurturing delicate skin.
Wrinkles and Crow's Feet: When dealing with wrinkles around the eyes you need ingredients that are gentle, yet powerful. Rich plant oils and butters help hydrate and plump the skin. Apply a nourishing cream at night to repair skin while you sleep.
Dark circles: Often hereditary, dark circles can also be caused by lack of sleep, dehydration, medications or illness. An eye cream made with natural brighteners, like caffeine or Cypress oil, work well to combat under eye darkness.
Puffiness: While heredity comes into play here too, eye puffiness can also be brought on by overindulging in alcohol or junk food. A gel eye treatment that cools and tightens skin will tone down swelling. Cucumber extract is particularly good for treating puffy eyes.
In general, lightweight gel formulas are perfect for the daytime. They soak in quickly and often have ingredients that depuff, brighten and hide signs of overwork. Target the area under your eyes where dark circles and bags may be most prominent. If you are battling deeper wrinkles and crow's feet, a rich, creamy eye cream is a good idea. Concentrate it on the outer corners of the eye area near the orbital bone.
Your eyes can make you look years younger – or older – than you really are. So give them some extra TLC and you will look and feel more refreshed and youthful.
---