Dare to go Bare this Summer with Our Double Cleansing Technique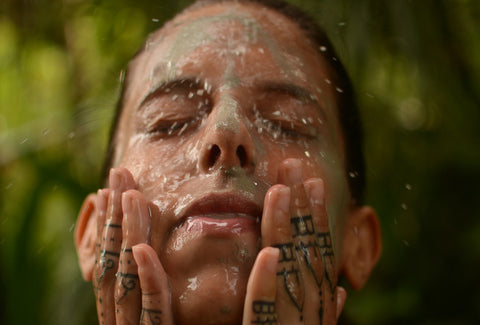 During the hot, sticky summer months, the feeling of heavy makeup dripping down your face is the worst! But for many, the thought of going out bare-faced can be a bit scary.
The key to feeling confident and letting your natural beauty shine starts with your skin care routine and the products you're using to clean, prep and protect your skin. The most important of these begins with cleansing.
We deep clean our homes, sometimes even our souls, when in need of a fresh start. That feeling of renewal is hard to beat, but when it comes to washing our face at night before bed or first thing in the morning, some of that vigor gets lost in the routine. But truth is, proper cleansing is goes a long way to helping you get the complexion of your dreams.
To drive home the point, here is a look at some of the benefits of washing your face.
Removes dirt, oil and grime that can clog pores
Prevents breakouts
Keeps skin looking clear and even toned
Encourages cell turnover
Prevents premature aging
Allows better penetration of serums, moisturizers and other products
Ritual cleansing triggers the brain to wake up or get ready for a good night's sleep
Double Cleansing
Is your skin sallow or breaking out? Notice more wrinkles or clogged pores? Could be how you are cleansing. No matter your lifestyle or skin type there is a facial cleanser and technique that works for you.
One of our favorite ways to add a boost to your skin care routine is through double cleansing. Double cleansing is a method that cleans the skin deep down, clearing pores and removing debris. This goes beyond your daily face wash. Think of it like a mini facial, without a trip to the spa.
The method has gained attention in the recent years with the rise in popularity of multi-step Korean skin care rituals. Luckily, Double Cleansing is pretty simple and delivers results that you can see and feel almost instantly.  
Here's how it's done. 
Step 1 – Begin by warming a small amount of cleansing oil or balm in hands, and gently massage into skin. This will loosen and remove makeup, dirt, and built up sebum, boost circulation, and rev up a nice glow.
Step 2 – Use this time to give yourself a face massage that stimulates the skin while the products works to dissolve the grime of the day. Then rinse with warm water and a soft cloth.
Step 3 – Now it is time for the Double Cleansing. Follow up with a cleanser that best suits your skin type.

Source VItál Tip: Milky, hydrating cleansers are ideal for dry and mature skin types and oily/combination skin works great with a gel-based cleanser. Our Algae Deep Cleanse is perfect for double cleansing on all skin types. You may also want to use an exfoliating cleanser if you are experiencing congestion or extra rough skin.
Step 4 – If you have the time try to leave the cleanser on the skin for a few minutes. This allows it to work more like a mask and penetrate deeper into the facial tissue.
Step 5 – Using warm (not hot) water, gently rinse away all of the product and pat dry skin.
Skin should feel squeaky clean but not tight or uncomfortable. You'll notice pores appear smaller and the skin will radiate a healthy glow. 
Double Cleansing is perfect to add to your night time regimen. If that's too much try incorporating it once or twice a week.
For best results finish this technique with your favorite face oil serums and moisturizer to protect the skin and lock in hydration.


Our Customized Facial Cocktail is the perfect follow up to his mini at-home facial. It serves as your toner to calm and bring about a sense of balance to the skin. Provides essential nourishment and protection from breakouts and the look of premature aging and wraps the skin in lightweight moisture. The best part, you get to personalize the formula based on your individual skin care needs.  

Remember to always wear a good natural sunscreen during the day to protect your skin from damaging UV rays.
Do you Double Cleanse? Let us know about any tips or tricks you've tried in the comments section.
---