Treat Yourself to the Kooky Southern Aunt Body Care Ritual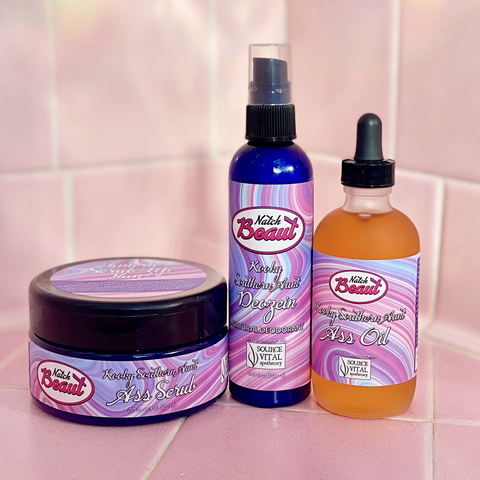 How To Self-Care Like a Kooky Southern Aunt
We recently partnered with Natch Beaut's Jackie Johnson to create the Kooky Southern Aunt Collection, named after one of her many colorful nicknames.
The Kooky Southern Aunt is a woman who is confident, real and not afraid to get a little silly. Laughing and not taking yourself too seriously is a great way to feel young on the inside and out.
Our Source Vitál x Natch Beaut collaboration includes aromatherapy-infused body care products specially designed to promote self-love, inspire confidence in every body, and celebrate the sexy, sassy, "kooky" inside us all.
The 3-product collection includes:
The collection is available to purchase separately or you can save 10% when you buy the Kooky Southern Aunt 3-product bundle.
Kooky Southern Aunt Self-Care Ritual
To help you get the most out of our Kooky Southern Aunt collection we've developed a few tips and tricks to encourage you to slow down, take some me-time, and show all your curves some love.
As Jackie J. says, "It's time to scrub up hun, oil up your ass, and keep those pits fresh!"
Step 1: Dry Brush is a Must!

Start your ritual in the shower. Before using the Ass (and Body) Scrub awaken the body with a quick dry brush treatment.
Dry brushing is an excellent holistic beauty technique that can:
Soften the skin

Encourage healthy blood flow

Promote a feeling of detoxification and the elimination of toxins in the body

Improve the look of bloating, cellulite and uneven skin textures
It only takes a few minutes and can make a big impact on the look and feel of the skin while giving your mind and body a pick-me-up.
The basic of dry brushing include using a natural bristle bath and body brush and gently brushing dry skin with short quick strokes towards the heart.
Typically you start at the feet brushing upwards toward the heart, the focus on the back side, abdomen, and then the arms and chest switching to a downward motion towards the heart. 
After dry brushing your skin will have a subtle rosy flush and you may feel a little tingle as your blood flow is stimulated.
It's good to do in the shower so any dead, flaky skin that comes off can be easily washed away during your shower.
For a more detailed explanation about how to dry brush click here to read our step-by-step blog.
Step 2: Get your scrub on.
Now is the time to further soften and smooth the skin.
Use the Kooky Southern Aunt Ass Scrub in the shower to gently cleanse the skin, buff away rough skin textures, and leave skin feeling silky soft.

Scoop out the scrub into the palm of your hand and start gently exfoliating the feet and legs using vigorous circular motion, sweeping up towards the heart.

Then focus on giving your bum some love. Giving it a rub starting from where the legs meet the bottom of the butt cheek and scrub upwards to the small of the back.
Be sure to say a few words of appreciation for the lusciousness of your backside!
Maybe it's just singing your favorite booty shaking song - "Bootylicious" by Destiny's Child or "Juice" by Lizzo are some of our favorite body positive tunes.
Or practice a simple mantra such as, "I love the way my body looks" or "I am so happy with my (curvy/lean/strong - fill in with what works for you) figure." 
Then, keep moving upwards, exfoliating your abdomen, chest arms and back.
Finish by rinsing off with warm water for a relaxing shower or use cool water to give an energy boost and encourage healthy blood flow.
Step 3: Oil up your ass.
After your shower gently pat dry the skin. While the skin is still damp use the Kooky Southern Aunt Ass Oil to nourish and moisturize.
Drop 10-20 drops of the ass oil into your hand and massage all over the skin.
Again, focus on giving yourself some self-love affirmations as you apply the oil - thank your arms for being strong and working hard, admire all your curves, and be sure to oil up your ass to show off all its plump perkiness.
Concentrate the oil on collar bones, shoulders and any parts of the skin you are showing off to give it a lovely healthy glow.
Step 4: Keep your pits fresh.
Finish your ritual with a few sprays of the Kooky Southern Aunt Deozein Natural Deodorant.
This clean, non-toxic natural deodorant is good to use on the underarms and to use as an all over body spray.
Take a moment to breathe in the rich, exotic scent and remind yourself that you look hot and smell amazing!
The Kooky Southern Aunt deodorant spray is also effective to use before a stressful event to prevent sweaty palms and is a great hack to keep shoes smelling fresh.
Just add a few sprays into your shoes and let them air out to prevent unwanted odors.
If you really love the scent you can also use it as a linen spray, just be sure to spot test before you get your spray on.
More Ways to Pamper Yourself Like a KSA
DIY Kooky Southern Aunt Mani/Pedi
The Kooky Southern Aunt Ass trio is a great option to use for an at-home main/pedi.
The sudsing and exfoliating formula of the Ass Scrub cleanses and smooths hands and feet without drying or irritating the skin.
The Ass Oil hydrates and softens, and the deodorant keeps feet smelling clean and fresh.
Set up your work station with your KSA products, towels, water for soaking and rinsing hands and feet, and any other products or tools.


Start by filling large bowl or pedicure basin with lukewarm water. Add 1/4 cup Dead Sea Salts or our Algae & Dead Sea Salts combo for an extra nourishing skin-loving foot bath.


Before soaking feet add a healthy amount of the Ass Oil into the palm of your hands and massage into feet focusing on the heels, callouses, cuticles and any dry spots.


Apply the Ass Scrub on top the the oiled feet and scrub.
Note: For feet that are extra rough use the Ass Scrub directly on dry feet, scrubbing hard textures and giving the feet a tension-busting massage.


Then rinse and soak feet for 10-15 minutes. If you don't want to soak you can remove the scrub with damp, hot towels.


While the feet are soaking, rub and massage hands with the oil then apply the scrub and remove with warm towels.


Pat dry hands and feet and add another application of the Ass Oil to rehydrate and soften. For hands or feet that need more hydration top with our rich Lemongrass Mani/Pedi Cream.
If you have the time cover hands and feet with warm towels or socks/gloves to allow the moisture of the oil and creams to fully penetrate the skin and nails.


Finish with a quick spray of the KS Deozein Natural Deodorant to the bottoms of the feet - make sure to let everything absorb before trying to walk.
 
Now that the feet and hands a re clean, soft and hydrated use a wooden stick to push back cuticles and shape nails.
Note: If you plan to polish nails, use a small amount of nail remover on the nail to remove excess oil and cream and allow the polish to stick.
Relaxing Kooky Southern Aunt Bath
There is nothing like a warm, comforting bath to reset a stressful day. It makes you slow down and submit to the healing waters, letting your worries float away.
The Kooky Southern Ass Oil doubles as a bath and body oil that offers a soothing aromatherapy benefit to your bath and rich, nourishing oils that hydrate the skin.
To take your bath to another realm we suggest adding our Algae & Dead Sea Salts soak to your bath. The salts and algae combo deliver skin-loving nutrients to the skin and provide an extra dose of calming goodness to hardworking muscles.
Set up your work station with your KSA products, towels and any other products or tools.


Light a few candles and put on some of your favorite relaxing tunes.


Draw a lukewarm bath, adding 20-30 drops of the KSA Ass Oil and 1/2 cup Algae & Dead Sea Salts (or use Dead Sea Salts or Epsom salts if that's what you have handy) while the tub fills.
Note: Avoid hot to scalding hot water as it can actually leach moisture from the skin leaving it dry and irritated.


Add a layer of the KSA Ass Oil to your skin before getting into the bath. Just be careful not to slip or drop your bottle!


Emerge your body into the water, lean back and rest for 10-15 minutes.


Finish your bath by simply pat drying your skin. Avoid rinsing off or using soap as they will inhibit your body absorbing the nourishing oils and salts from your bath. If needed pre-shower to cleanse the skin before getting in the bath.


While the skin is still damp massage in another coating of the KSA Ass Oil to rehydrate and lock in moisture. If you need more hydration top the oil with a moisturizing body cream like our Nourishing Body Cream.
For more information about other ways to enjoy your Kooky Southern Aunt collection visit their products pages for more tips and tricks.
If you have a special hack or way you love embracing your inner Kooky Southern Aunt let us know in the comments section below.
Shop Kooky Southern Aunt Collection
---