Why Dry Brushing is Essential for Holistic Health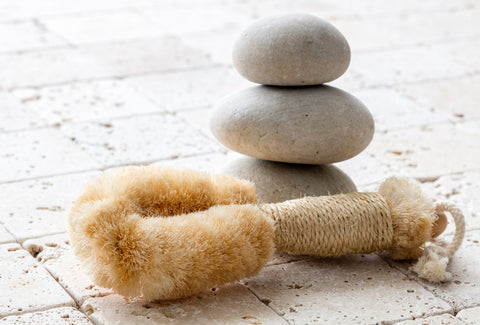 Go Beyond Exfoliation
From celebrities and models to holistic health practitioners and beauty bloggers, dry brushing is all the rage. We all (hopefully!) brush our hair and teeth on a regular basis, but brushing our skin?
While the idea of dry brushing might sound odd on the surface, it has proven to be surprisingly therapeutic, and it offers a multitude of benefits, both internally and externally. If you're not dry brushing already, it's important to understand why you should adopt this daily practice.


 Dry Brushing as a Vital Part of Your Skin Care Regimen
 As our largest organ, our skin is responsible for:
Protecting our internal organs
Regulating our body temperature
Perceiving sensations such as touch, pain, and temperature
Elimination of toxins via sweat glands
Dry brushing assists the body in its natural elimination process by encouraging exfoliation, but additional paybacks also include:
Removal of dead skin from the body to reveal healthy, glowing, and touchable soft skin
The unclogging of pores and elimination of toxins from the body
Stimulation of the lymphatic system and increased circulation
Temporary plumping of the skin, which reduces the appearance of cellulite
Increased retention of moisture and other nutrients
The stimulation of both the nervous system and the lymphatic system is crucial, especially the latter which impacts your body's immune system and plays a major role in helping the body to detoxify itself naturally. A healthy lymphatic system is critical to your body's ability to naturally detoxify, drain excess fluids, renew tissues, filter out free radicals and toxins, and maintain a high-functioning immune system.
The Dry Brushing Basics
Have we made you a believer? Excellent! Get started with dry brushing using these few simple techniques.


Before you begin
Brush: You will need a natural, non-synthetic bath and body brush. It is important to use natural bristles, as synthetics can be too harsh for the skin, leaving micro-cuts. You may want to use a smaller, softer brush where the skin is most delicate like the face, neck, and breast area.
Shower: Due to the nature of exfoliation, we suggest dry brushing in your tub or shower.
     a. Bring a stool into the shower or sit on the side of the tub, if you need more stability.
     b. Do not turn on the water before you begin. You want dry skin and a dry brush for this treatment.
     c. The time of day just depends on when you prefer to shower. However, because the process can be quite stimulating, you may not want to do it right before bedtime
Body Moisturizer: Have a rich emollient body cream or body oil handy to seal in moisture after you rinse off.
     a. We suggest our Nourishing Body Cream.
     b. High in minerals and enriched with laminaria (algae) extract, this cream supports the skin's natural collagen and elastin production which helps to strengthen the skin.
     c. It works on all skin types and leaves the skin feeling plumped and healthy, plus it's a great treatment for dry, rough skin and skin prone to cellulite.
Exceptions: Do not dry brush on top of open sores.
     a. If you have chronic dry skin conditions such as eczema or psoriasis, proceed with caution and brush around outbreaks
     b. If you have varicose veins, brush around the affected vein. It is OK to brush above the vein.
How to dry brush


The most important dry brushing step is to always bush in strokes directed toward the heart – do not use back-n-forth motions. Use of medium length, smooth strokes give the best results. Think of it as sweeping water. You want to keep pressure on the skin and then release it.

Complete 3-4 strokes in place before moving to the next position. Remember, this isn't scrubbing – it's gentle and comforting exfoliation. And remember, you always brush towards the heart.
Feet up the legs.
     a. Start with the top of the left foot and brush up the leg. You can do the front of the leg and then the back or work in a spiral pattern around the leg working upward.
     b. Repeat with the right leg.
     c. Pay special attention to any rough areas (heels of the foot, knees).
     d. Gently brush in an upward motion.
Hands up to the shoulder.
     a. Once you are done with both legs move to the hands dry brushing toward the shoulders.
     b. Again, pay special attention to brush toward the heart.
Torso
     a. Start by brushing up the rib cage.
     b. On the sides, focus on exfoliating from the hip up to the arm pits.
Buttocks. This is the one place you work downward. Start at the waist and brush toward the side of the buttocks on the left side and then the right.
Back. Start at the waist and work upward toward the shoulders
Chest.
     a. Once you have finished with the body, you can go back gently over the roughest areas.
     b. The chest is the other area that you work slightly downward. Work from the center of the chest outward toward the arm pits.
     c. Take special care around delicate breast tissue.
Shower and moisturize


The entire dry brushing process should take about 10 minutes.
Take a cool shower. The cool temperature of the body will further stimulate the skin and encourage the release of toxins
When you are finished, pat yourself dry.
While the skin is still damp follow up with a moisturizer or body oil.
Our Fluid Reduction Bath & Body Oil or Renew Bath & Body Oil are excellent options to use after dry brushing because they are specially formulated with active essential oils that promote the body's natural efforts to reduce excess fluid and release toxins.
Cautions & Considerations

The aim of dry brushing isn't harsh exfoliation, which can be highly damaging to all skin types. Be sure you pay attention to the following:
Your brush shouldn't be too stiff.
You shouldn't apply too much pressure, as dry brushing should never be uncomfortable.
You should expect your skin to be slightly pink after dry brushing, but it should never be red or irritated.
In addition, never dry brush broken, burned, irritated, inflamed, or infected skin. If you find that dry brushing irritates your skin, you may be using too much pressure. If irritation persists, stop immediately.
Remember to wash your brush with soap and water weekly, drying in the sun to avoid mildew accumulation.
As bristles begin to wear, we recommend replacing your brush every 6-12 months.
With a little practice, dry brushing will become a regular part of your bathing. In fact, it could even become the skin care ritual you look forward to the most, as it leaves you feeling feel clean and energized.
---