How to Beat the Post-Holiday Blues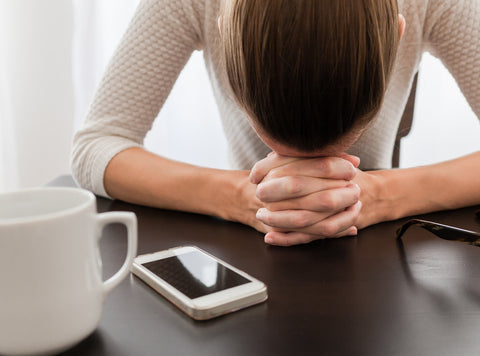 After weeks (or maybe even months) of shopping for the perfect gifts, baking, entertaining and decorating, it can feel like that once the holidays are officially over and the calendar flips to  January, it seems as though things can come to a screeching halt. Getting motivated and back in to the swing of things may be difficult once the decorations have come down, gifts put away, and tables are a bit emptier.
People who suffer from the post holiday blues may experience lethargy, irritability, or even just a general lack of joy or enthusiasm over anything. Know you're not alone-it is incredibly common to feel sadness after the busy holiday season. 
The good news- there are ways to help cope with your feelings. Read on to learn on how to get over the hump, and start feeling a little bit happier each day.
Take Care of your Body
The holidays typically mean indulgence for many of us: rich foods and alcohol, not enough time to get proper exercise, and just generally going non-stop to get all we need to get done accomplished. This is also not limited to just physical health-those who are more introverted typically need a reprieve from the craziness of the holidays too.
Although it can feel impossible, doing things like exercising (even just a quick walk around the block.) If you're having trouble getting motivated, consider diffusing our
Citrus Essential Oil Blend
or rolling on our
Citrus Essential Oil Roll-On
to give your spirit and instant uplift.
Feeling sluggish after all that rich food and drink? One of our favorite ways to feel just a bit lighter is by applying our
Renew Bath & Body Oil.
The combination of Cinnamon, Rosemary, and Sage essential oils comforts potential digestive issues, combat inflammation and puffiness, and provides a stimulating and warming. Massage 6-15 drops into your lower abdomen for a little bit of relief.
Look Forward (& Hit Reset)
After the holidays and with the start of a New Year is the perfect time to start anew and look forward to consider all the new opportunities that are coming your way. When you are looking forward instead of backwards, the shift to the day-to-day won't feel nearly as intense. Making both short and long term plans can bring some excitement in to your life- whether it's daydreaming about your perfect vacation, trying to make a dish you've been dying to make, or something as simple as looking forward to some serious self care, like a luxurious bath. 
If you're looking to hit the reset button, there is no better time to re-align and unblock your chakras and get the positive energies flowing again. Chakras are the seven energy centers in the body, positioned from base of spine to crown of head, They influence bodily processes, both physical and emotional. You can read more about balancing chakras here. Our
Chakra Oil Kit
is the perfect way to instill a feeling of balance and control back in to your life. And that luxurious bath we were talking about? Our new
Chakra Bath Salts
are a great way to unwind.
Practice Gratitude
One of the best ways to unwind after a long day and encourage better rest is to reframe the mind and focus on the things in life that you are grateful for. Buy yourself a beautiful journal (one you look forward to using!) and write three to five thing down that you appreciate in your life each night. The post-holiday blues can make it hard to find meaning in life and can make you feel like there is no point in trying or achieving anything, but by shining a spotlight on the positive things in your life, you'll also be able to better see all that you have to be thankful for. 
Practicing gratitude daily may help your mind relax as well, which is ideal right before bedtime. But, if you need a little boost to more restful sleep, consider adding some aromatherapy to your bedtime routine. Several spritzes of our
Tranquil Multispray
on your bed linens or pillow or lighting our T
ranquil Aromatherapy Candle
can calm your mind, thanks to Lavender and Blue Tansy essential oils. For extra calm, add a few drops of our
Serene Essential Oil Blend
to your favorite unscented body cream or lotion, and feel a wave of peace wash over you.
What are some of your favorite ways to get over the post-holiday blues? Let us know in the comments!
---