Happy 34th Birthday to Source Vitál Apothecary!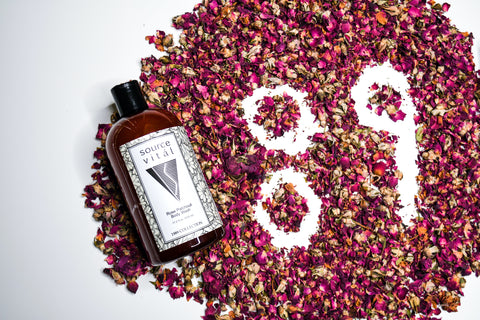 Back in 1989, when natural skincare was practically unheard of, Jerry Pope and Brea Gratia embarked on a mission to create a holistic product line that could deliver real results. They turned to the bounty of the ocean - marine algae - and combined it with whole plant botanicals and essential oils, creating something truly unique and innovative.
With a deep commitment to natural ingredients, Source Vitál was born. Their aim was to provide products that were not only effective but also pure and honest - a rare find in a market filled with synthetic chemicals and artificial additives.
Over three decades later, Source Vitál has become a household name among those who value natural living. From a humble kitchen creation to a thriving family-run business, our journey has been driven by our passion for empowering others to live healthy and peaceful lives. We believe that by harnessing the healing power of nature, we can inspire others to do the same and make a positive impact on the world around us.
Our loyal customers have been with us every step of the way, sharing our journey and spreading the word about our products. We are proud to be a part of their lives and grateful for their support. As we celebrate our 34th birthday, we remain committed to our principles and dedicated to creating products that nourish the skin, body, mind, and spirit.
The Year 1989: A Look Back
The year 1989 was a significant one in many ways. Here are some major world events, movies, and music that dominated the year 1989.
-It marked the end of the Cold War and the fall of the Berlin Wall, which had divided Germany since 1961.
-In the United States, George H.W. Bush was inaugurated as the 41st President, succeeding Ronald Reagan. 
-In terms of culture, some of the biggest movies of the year included "Batman," "Indiana Jones and the Last Crusade," and "Dead Poet's Society." 
-In music, artists like Madonna, Janet Jackson, and Paula Abdul were dominating the charts. -The world of entertainment was also buzzing with the premiere of "The Simpsons" on television, which would go on to become a cultural phenomenon that is still popular today. 
The Source Vitál Apothecary 1989 Collection
To mark our 30th Anniversary, we released our 1989 Collection - a curated assortment of limited-time skin, body, and aromatherapy products. Drawing inspiration from the 90s and featuring exclusive, unreleased formulas, this collection captures both a sense of nostalgia and a timeless appeal. Through the 1989 Collection, we celebrate our roots and look forward to the future.
Inspired by
Mar Gelata
, a retired product from the 1990s, this multipurpose facial treatment product is a serum, leave-on mask, and moisturizer. MerGel is loaded with Algae, Hyaluronic Acid, Green Tea, Sea Buckthorn, and Essential Oils.
Reminiscent of one of our original body wash scents (Rosewood & Patchouli) this body cleanser couples two beautiful essential oils for a rejuvenating and balancing shower or bath.
This body lotion utilizes an essential oil bathing blend from the Source Vitál archives called Ritual Rose. Not only does it smell amazing, but this moisturizer nourishes and hydrates your skin with rich Shea Butter, Red and Brown Algae, and nourishing Camellia, Abyssinian, and Argan oils.
Formulated and named by founder Jerry Pope years ago, t
his essential oil blend was 
never 
released. He expertly blended Lime, Sandalwood, Vetiver, and Cedarwood for a unique masculine scent.
Our original natural perfume
is
in
an
easy-to-apply, roll-on
bottle.
The beautifully formulated blending of Sandalwood, Jasmine, and Vetive
r is our passion perfume
. Everyone will be asking "
W
hat are you wearing?"
From the archives of Source Vitál's unreleased essential oil blends, Reflections takes us back to positive memories using Bergamot, Ho Wood, Cedarwood, Sandalwood, and others.
This is the
perfect blend to create a peaceful, uplifting environment.
Who Else is Turning 34 in 2023?
Happy 34th birthday to other 1989 babies!
-Taylor Swift, Singer, born December 13th
-Daniel Radcliffe, Actor, Harry Potter Movies, born July 23rd
-JJ Watt, Former NFL Houston Texans Defensive End, born March 22nd
-Lily Collins, Actress, Emily in Paris, born March 18th
-Alexandria Occasio-Cortez, Congresswomen, born October 13th
-PewDiePie, YouTuber, born October 24th
-James Harden, Pro Basketball Player, born August 26th
Continuing Our Legacy
We're constantly searching for cutting-edge, innovative ingredients to formulate products you'll be sure to love. Curious about what we've been up to? Check out a few of our new additions:
Custom Body Cocktail
A customized experience, our
Custom Body Cocktail

 
allows you to create a formula that is specific to your skin's needs. This blend of 100% natural botanical oils can help you to address all of your intentions and concerns in one bottle.
Select from some of our f
avorite
facial
essential oils blends. Simply follow our easy 4-step process to choose the selections that best match your needs.
MultiSprays
We've given our collection of beloved MultiSprays new packaging, and we've added a few new scents to the mix. Feeling like you need a dose of calm and relaxation? Check out our
Lavender MultiSpray.
Seeking to be transported deep into the woods? Our
Cedarwood Vetiver MultiSpray
is for you! Need a boost of self-confidence?
Attraction MultiSpray
is perfect for getting you to open up. In need of some grounding? Choose our
Balance MultiSpray. 
Marigold Barrier Serum
Do you feel like your skin is always irritated and prone to problems? Well, there's good news! The Marigold Barrier Serum can help solve those issues with its powerful blend of calming and strengthening ingredients. By incorporating this botanical serum into your regular skincare routine, you'll notice a visible improvement in the health of your skin's protective barrier. It can also enhance the elasticity of the skin's surface capillaries and improve vascular integrity. This serum is suitable for all skin types, including those with couperose and rosacea skin. If you have weakened skin that requires extra support and protection, the Marigold Barrier Serum is the perfect solution. Additionally, it can instantly revive your skin's vibrant appearance.
Cheers to 34 Years of Source Vitál! Here's to many more years of natural beauty!
---