How to Make Your Own Facial Mask from Source Vitál Apothecary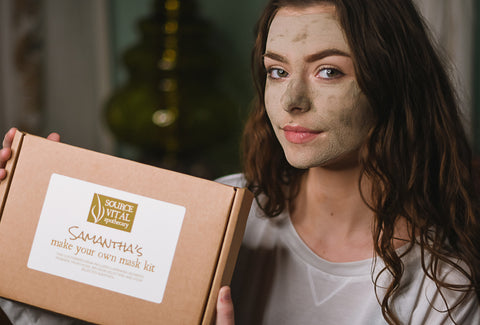 Everyone's skin is different. Genetics, lifestyle, diet, climate can all impact your complexion. However, most skin care products are made to try to meet a broad range of skin care needs. Your skin isn't like anyone else's and should be treated to fit your unique needs.
The good news – now there are options that allow you to make a skin care solution that's just for YOU.  
Introducing, Source Vitál Apothecary's Make Your Own Facial Mask. Formulated specifically for your skin type and lifestyle, this system allows you to personalize your skin care routine in three easy steps. These customized facial masks include specially selected natural ingredients that best fit your skin. No longer do you have to settle for a prefabricated skin care formula.
Each Customized Face Mask is tailored, using a simple 3-step process, to the skin type and concerns of the user. Each mask starts off with a seaweed powder base of 100% pure Laminaria Digitata, a skin-loving superfood which offers vitamins and minerals that support healthy skin function and the ability to improve the appearance of all skin types.
To that base we add our special Vital Extracts blend of cucumber, green tea and aloe vera extracts to calm, moisturize and offer amazing anti-oxidants to prevent free radical damage. Remember, when you prevent free radical damage you prevent the look of premature aging! 
Now it's time to personalize your mask. Simply make your selections using our online order form and Source Vitál will ship your customized kit to your doorstep.
Step 1: Select one Face Oil Infusion - based on your main skin care goals
The first customization step includes choosing the face oil infusion to "care" for your main skin care issues. These serums combine powerful essential oils and pure botanicals to assist with a variety of skin types and issues. Begin improving your skin's appearance with these formulated blends:
Acne & Blemish: For skin prone to breakouts, acne or cystic acne.
Fortifying: For redness and uneven skin tone; Not for active rosacea.
Hydrating: For normal to dry skin in need of a bit of moisture. 
Oil Control: For oily, T-zone or combination skin; Balances oil production. 
Restorative: For aged, premature aging or sun damaged skin. 
Soothing: For sensitivity, easily irritated or rosacea-prone skin.
Toning: For tired skin, skin lacking firmness and elasticity;
NOTE: This formula is active and will tingle. 
Step 2: Make your Mask an Exfoliating Scrub 
If you are ready to buff away dead skin and dullness and want baby smooth skin, consider adding an optional exfoliant to your mask to simplify your routine. This takes your mask up a notch, making it a two-in-one product.
Often exfoliating is an overlooked step in many people's skincare regimens. However, it is just as important as cleansing and moisturizing. Get bright, glowing skin by adding one of these options below:
Rosehip Seed Powder: Gentle exfoliation – good for sensitive and aging skin. High in AHA's (alpha hydroxy acids) to exfoliate both chemically and manually, leaving the skin ageless and luminous.
Jojoba Seed Powder: Medium exfoliation – for all skin types. Offering high vitamin and mineral levels to smooth your skin. 
Pumice: Most aggressive exfoliation – for all skin types except sensitive skin. Perfect for normal to acne prone/oily skin to absorb excess oil. Derived from volcanic ash.
Step 3: Add more Oomph to your Mask (Choose up to 3 "shots")
Want to add a little extra boost of potency to your mask? Include personalized "shots" into your concoction. Choose up to 3 of the following:
Abyssinian Oil: Hydration; High level of natural hyaluronic and fatty acids adding excellent hydration and quick penetration. Will not clog pores.
Ageless Oil Blend: Improves the appearance of fine lines, wrinkles, sun damage, suppleness and elasticity. Supports the production of your skin's collagen. Antioxidants (Chlorella and Prickly Pear) help protect skin cells from showing the signs of the aging process. High in vitamins A, C, E, K, this blend improves the appearance of dark circles and uneven skin tone. Contains Chlorella Gold Oil, Prickly Pear Oil and Apricot Kernel Oil, for their nourishing properties. 
Activated Charcoal Powder: Purifies; Improves the look of large pores by assisting in the removal of dirt, grime and pollution from pores. Good for all skin types. Derived from coconut. 
Hemp Seed Oil: High in vitamins, minerals and fatty acids, this oil contains all 21 of the known amino acids, as well as essential omega fatty acids needed to assist in healthy skin. Best for acne-prone skin and beneficial for all skin types.

Copaiba Balsam Oil: Protects and calms the skin, as well as improves the appearance of scars and skin lacking tone and firmness.
Lavender Tansy Oil Blend: Good for all skin types but particularly effective for sensitive skin. Soothes, purifies and moisturizes. Calms skin and creates a barrier to block free radicals. Improves appearance of fine lines and wrinkles. Combination of Lavender and Lavender Absolute Essential Oils and Blue Tansy oil. Not only is this effective but it smells heavenly and has a beautiful deep blue color.
At-Home Use
Your personalized Make Your Own Facial Mask kit contains enough ingredients and supplies to make four masks. Make sure to follow the instructions included to ensure you mix in the proper amount of each ingredient.
What's in Your Box:
Seaweed Powder
Vital Extracts Blend
Face Oil Infusion of your choice
Additive "shots"
Bowl
4 Wooden Stirrers
2 Facial Sponges
Other Items Needed:
Hot Water (hot tea temperature)
Towel to dry
Sink area to rinse for removal
OPTIONAL: measuring spoons
Mixing Your Mask
To begin, Measure 2 teaspoons of the Seaweed Powder into your mixing Bowl. Then add the following ingredients in this order.
Add 10 drops of your Vital Extracts Blend
Add 15 drops of your Facial Infusion
Add 10 drops of each liquid "shot" additive
Portion out ¼ of the dry additives such as the the exfoliating scrubs or Activated Charcoal, and use the tip of the wooden stirrer to scoop into the bowl.
Slowly add 5 tablespoons of hot water (similar to the temperature of hot tea) to your mixture. Make sure to break up any lumps of powder and stir slowly.
Note: If you selected a scrub, add an additional tablespoon of hot water (totaling 6 tablespoons of warm water).
When your mixture is the texture of cake batter, it is time to apply your mask. Take note not to apply a scalding hot mask to your face. Once your mask is mixed check the temperature to make sure it is warm, not hot.

Source Vitál Expert Tip: Your mask is most effective when applied to freshly cleansed skin. Use your fingers to apply a thick layer of mask on your entire face, avoiding the eye area. Don't forget your neck and chest, the area where the first signs of age appear first! 
Leave the mask on for 20 minutes. You can also apply cool compresses with a wet towel for added benefit. This will stimulate blood flow and allow your mask to penetrate deeper into the skin.
To Remove the Mask
If you added a scrub to your mask, wet your fingertips enough to dampen the mask and gently massage your face and neck using circular motions.
Lastly, wet the sponges in warm water and use to remove the mask. These can be washed and reused as desired.
Finish your at-home facial experience with a Source Vitál toner, your Customized Facial Cocktail and moisturizer.
Now you have it! Your very own customized facial mask. Take personalization to the next level, and quickly begin to experience the feeling of beautiful, healthy-looking skin that is all your own.
---