12 Essential Oils to Help You Enjoy a Happy Holiday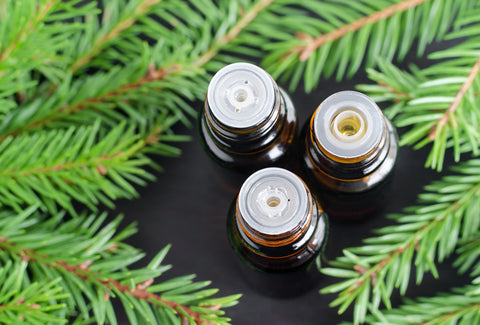 Can Essential Oils Improve My Holiday Spirits?
Feeling down or blue? Is the stress of the holiday season weighing you down where you can't enjoy the friends, family, and frolicking of the season? Have you just not caught the Christmas spirit?
If you aren't feeling so jolly at this time year, this list of our favorite essential oils blends is just what you need to turn that "bah! Humbug!" into "Ho-Ho-Ho!"
Whether you use them at home, at work, or on-the-go, our essential oils can fill a world with a wonderful aroma and put you in the mood to promote goodwill toward your fellow humans.
So, if you're trying to wind down for a long winter's nap or you're on the hunt for a thoughtful gift for a loved one, these essential oils are sure to make your holiday season merrier!
Holiday Nostalgia

Sacred Woods Essential Oil Blend


Filled with sacred oils mentioned in the Christian Bible, this blend will fill any room with a warm, holiday scent.
Woodsy smell that will remind you of church or a winter party
Add a few drops of this essential oil blend to a spray bottle for a great air freshener
 Who doesn't love the smell of fresh-cut Christmas trees this time of year?!
Includes a blend of Cedarwood Texas, Spruce, Juniper, and Fir
Smells like a morning walk through the woods – use it to start your day!
Smelling like baked goods in a bottle, this blend of cinnamon, nutmeg, and tangerine is perfect for creating a warm and cozy feeling to any area.  
A near-perfect holiday scent
Use this oil right before a party so your guests will enter your home feeling comforted and happy
One of the gifts the Magi gave to the Christ Child, myrrh is perfect for meditation and serious relaxation.
Known to brighten the appearance of dull and aging skin
Leaves your skin feeling rejuvenated and hydrated
Mix with a carrier oil and add to a warm bath for soft skin  
Stress Relief
Let this oil serve as a reminder to make time for yourself this holiday season.
Heady aroma that has the effect of an herbal cup of tea
Use in our ArmomaMist Aromatherapy Diffuser (which is now on sale!) before meditation to help bring you to an extra-calm state
Stress Relief Essential Oil Blend


One of our most popular essential oils, this is the perfect answer to a stressful day of holiday shopping.
Respiratory Essential Oil Blend


If you've been feeling under the weather with all the recent temperature changes, this essential oil will do wonders to battle any respiratory issues.
Chamomile is for more than just tea. It's a long-standing folk remedy for treating stress, making it perfect oil to use in any occasion (but especially when battling the winter blues).
Use as an essential oil or add it to lotions, soaps, and perfume
Add one drop of this oil with ten drops of Clary Sage Essential Oil to help you feel calm and relaxed
Mood Boosters
The perfect scent for the holiday season, the stimulating aroma of Peppermint will help you get ready for all your holiday events!
One of the most universally-loved scents that all your loved ones or guests will enjoy
Not only a great scent but a natural insect repellant you can use at a holiday party around an outdoor fire
With blends of citrus and florals, this essential oil will make any room feel fresh and clean.
Combination of rosemary, lavender, geranium, and lemon will create a fresh and vibrant scent for any room
Add to unscented lotion or body cream to add a boost to your moisturizing routine
Millennium Essential Oil Blend
Our most popular blend, this essential oil will be sure to rejuvenate you!
A blend of ten oils, each from a different decade
Add a few drops to your air filter to make the smell permeate throughout the house!
Jasmine is known for its mood-lifting and confidence-building effects!
Sourced from India, this oil is known to boost self-esteem and energy levels
Add a few drops to your hair conditioner for extra moisture
With so many different oils and blends, you can even match an oil based on your needs or the taste of the recipient. Giving these oils as a gift encourages your loved ones to enjoy a little T-L-C. 


Check out our full inventory of essential oil blends as well as our Holiday Scents Gift Set filled with four holiday-specific scents.
---