Best Skin Care Tips for Winter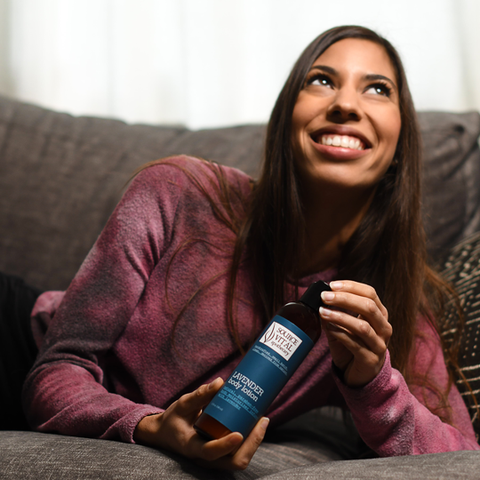 5 Ways to Keep Skin Healthy and Glowing During the Winter
When cooler weather arrives that means it's time to rev up your skincare routines. Serious comfort and nourishment is what's needed to both prevent dry, chapped, red, irritated skin or to bring skin back from the brink.
Below, we've compiled our favorite tips from over the years to help you achieve your best skin this winter.
#1 Upgrade Your Moisturizer
Moisturize often.
Moisturizing is even more important during the winter because it adds a physical barrier that protects skin from the elements that cause irritation – such as dry heat and frigid temperatures. All skin types, even those with oily skin need extra hydration in the winter.
We recently reformulated our entire line of facial moisturizers to improve skin feel and pack in high quality botanical ingredients to provide lasting hydration and feed the skin the vital nourishment it needs to look and feel healthy.
Two options that are ideal for this time of year include Soothing Cream for dry, sensitive skin and Maximum Moisture Cream for ultra-dry skin or those who live in extremely dry, harsh environments. These formulas can even work well for those with normal, combination skin when used as a night cream.
You can find the right moisturizer for your skin by using our Skin Care Primer or by contacting one of our skin care experts at sales@sourcevital.com
Also, don't forget about the eyes! The skin around the eyes is thinner and more sensitive, so while it is important to hydrate your eye area you don't want to overdo it!
The heat of the skin will help melt eye creams into the delicate skin. Only a pea size drop should get the job done when moisturizing the skin around the eyes. Tap in the cream or gel around the orbital bone (the hard bone that surrounds the eye) and be sure not to tug or pull the skin.
Our Jasmine Fine Line Cream is a great multitasker for the cooler months. It not only nourishes the delicate eye area, but can also be used around the lips, as well as the neck and chest, areas that are often neglected.
For more tips on tackling dry skin, read our blog post on Moisturizing Tips for Dry Winter Skin.
#2 Gentle Exfoliation
To get the most out of your moisturizer and to smooth out rough textures, you need to keep up your exfoliation step during the winter months. However, you want to switch up the heavy-duty scrubs for a gentler exfoliant.
This skincare step is essential in removing dead skin cells and softening those rough patches so your skin can get the most out of your other skin care products – like moisturizer – and allow your healthy skin shine through.
Forget the abrasive scrubs for winter and let natural essential oils do the work. Enter Aroma Peel. That's right, our pure essential oil blend can smooth, soften and give your skin a beautiful glow.
Safe for all skin types, carefully apply about 15-20 of Aroma Peel to the skin and neck (avoiding the eyes) once a week for 6 weeks to get similar results as you would see from a mild chemical peel – without any of the down time.
Aroma Peel instantly brightens the look of the skin and leaves it feeling super soft. Remember, it is important to never exfoliate broken or irritated skin.
Just like switching up your diet from season to season, it is important to do the same for the ingredients you use on your skin. For more tips about which ingredients are beneficial for winter skin, check out our blog post on How to Keep Your Winter Skin Glowing with Healthy Ingredients.
#3 Tackle Sun Damage
During the colder months we tend to spend more time in doors, therefor less time out in the sun. This makes it the best time to work on improving the look of sun damage such as dark spots and hyperpigmentation.
Many of the most effective treatments for these skin conditions can be exacerbated by sun exposure or make skin more sensitive to the sun's rays. That's why winter is the perfect time to work on diminishing the look of discoloration and resurfacing the skin. 
Incorporating a beauty ritual consisting of regular exfoliation like Aroma Peel, paired with a targeted facial product such as Luminous Infusion, into your routine during the winter months will help ensure you emerge from hibernation with more radiant, even skin.
Want more ways to pamper your face while you are stuck inside? Read our blog on Skin Care Tips to Improve Your Complexion this Winter for some great ideas.
#4 Customize Your Skin Care Routine
See the instruction on your specific product to ensure you are using the right amount and do a bit of trial and error on your skin to figure out how much you need.
Everyone's skin is different. Climate, genes and lifestyle conditions means there is no one skin care solution that works for everyone. Sometimes that means you need to practice some trial and error to know what is right for you.
Creating your own Customized Facial Serum is a great way to customize your skin care and reduce your daily skin care ritual down to a few effective steps.
Tips for Making Your Winter Customized Facial Serum:
Use our step-by-step guide to choose the right ingredients for your skin type
Select options that will help restore moisture and hydration like the Hydrating and Restorative Infusions in Step 2
Add shot to boost essential vitamins, minerals and essential fatty acids that will help feed the skin such as Rosehip Seed Oil or Apricot Kernel Oil.
For more details about creating your personalized custom facial oil, read our blog, "Get a glowing, healthy Complexion with a Customized Facial Cocktail."
#5 Enhance your Bathing Routine
Dry skin in the winter isn't just a problem for the skin on your face.
The natural oils produced by your skin are inevitably compromised by colder air and less humidity. Plus, your daily shower or bath can further strip the skin – especially if you aren't using the right products.
Using nourishing bath oils in your bath or topically on your skin before your bathing routine can replenish the loss.
Try adding a few drops of a nourishing oil blend like Serene Bath & Body Oil, to your next soak. It will help keep the skin hydrated, and as an added benefit, these aromatic oils also smell great! The Serene blend is perfect before bedtime to help coax you into a relaxed state, ready to get some Zzzs.
It may be tempting to turn up the temperature in your bath to combat the cold, but very hot water can leech moisture from your skin out further. Stick to warm, not hot, temperatures to maintain skin's integrity.
For more advice on maintaining a healthy glow this winter, check out our blog on Six Winter Skincare Tips.
Read Winter Skin Care Articles Mentioned Here:
Shop Winter Skin Care, Bath and Body, and Aromatherapy Products
---