How to Keep Your Winter Skin Glowing With Healthy Ingredients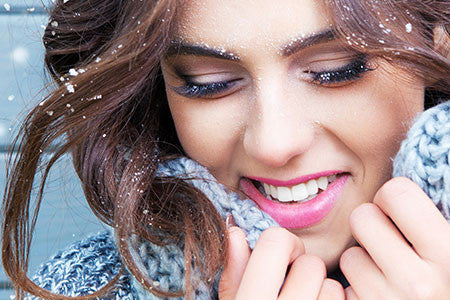 Winter Skin Rescue 101
Glow is the goal year-round, but winter brings skin's radiance level to a new low. Dry air and cold temps are no match for the season's best organic ingredients. Find out what you should be using to keep your winter skin aglow.
As with most healthy lifestyle habits, prevention is the name of the game in caring for winter skin. Not only is dryness a factor during the chilly months, but roughness and redness too. If you are already beyond a few dry patches and solidly in irritation mode, no worries. There are ways to repair damage done and get your healthy skin back.
If you've ever been advised to slather your red, inflamed skin with a petrolatum-based product, you already know the end result. Irritated skin may look better at first, only to return, often worse than it started. This is because petrolatum sits on top of skin, blocking it from pulling moisture from the air and releasing toxins.
Petrolatum is also linked to cancer-causing contaminants, so steer clear of this unhealthy ingredient in favor of healthier skin conditioners.
Skin Type v Skin Issues
Your skin type is the first factor to consider when plotting out your winter skincare routine. Think now that it's winter you have dry skin? Not the case, your skin type stays the same, no matter the season, climate, or conditions. Just because you see more dryness in the mirror does not mean you went from normal (or oily) to dry skin type. Some skin types may even see excess oil this time of year as skin works to keep itself hydrated.
The key is choosing products suited to your particular skin type, adding treatments to your routine that protect skin, and tacking skin issues that arise during the season.
Speaking of issues … do you experience rough skin texture, redness, irritation, itching, flakiness, or inflammation during the winter? These factors can be due to lack of moisture, using the wrong products, or eczema.
Healthy Winter Skin Ingredients
So, which organic ingredients are good for treating winter skin? You want to use those that offer a richly moisturizing feel, prevent the look of wind damage, and give skin a sense of nourishment.
Shea Butter: This ingredient is made for winter skin. Shea Butter is highly emollient, ultra-hydrating, and makes skin feel smooth and soft. A cream rich in Shea Butter is perfect for extremely dry skin, or when treating irritated, inflamed, and chapped skin.
Eyelids can become dry and flaky in wintertime too. Apply a layer of nourishing eye cream at night so healthy ingredients have a chance to sink in.
Hemp Seed Oil: To give the look of instantly glowing skin, use a facial moisturizer with Hemp Seed Oil. This natural oil lends a calming effect to upset skin. Essential fatty acids give a feeling of healthy moisture and antioxidants protect against free radical damage. And use a body cream made with Hemp Seed Oil for skin that feels super soft and supple.
Seaweed: A superfood for skin, Seaweed offers a healthy boost of hydration and protects against the appearance of aging. To give the complexion a balanced look and feel, apply a serum that contains seaweed twice daily. This step is an essential part of a healthy skincare regimen for all skin types.
Pure Botanical & Essential Oils: Certain essential oils are effective in treating winter skin issues. Borage essential oil reduces the appearance of clogged pores and softens the skin. Evening Primrose oil diminishes the look of inflammation and promotes a natural glow. Rosehip oil gives skin a brightened effect and smooth feel. A blend of the three oils are beneficial to skin that is congested, rough, or sallow.
Jojoba Oil: It is difficult to beat this natural beauty in softening and hydrating skin. Jojoba is the oil most closely matched to the skin's natural oils, making it suitable for all skin types. Add an oil blend made with Jojoba and soothing essential oils to your skincare routine for a comfortable, beautiful complexion.
Aloe Vera: This natural skincare staple is moisturizing without feeling greasy and helps to reduce the appearance of inflammation. Remove makeup, dirt, and debris from skin with a creamy cleanser made with Aloe Vera to keep from stripping skin of necessary oils. A nourishing cream mask is a winter skin treat. Skin calming Aloe Vera restores a feeling of health to winter-weary skin. Use the mask once or twice weekly to protect and heal.
Gentle Exfoliants: Skin in need of some decent exfoliation? This skincare step is essential in removing dead skin cells and smoothing those rough patches so healthy skin can shine through. Forget the abrasive scrubs for winter and let natural essential oils do the work. That's right, applying a pure essential oil blend to face and neck smooths and revs up the look of glowing skin. Safe for all skin types. It is important to remember, never exfoliate broken or irritated skin.
Stock up on healthy ingredients and kiss winter skin issues goodbye. People will wonder where you got that glow and you'll be able to tell them … it's all natural.
---