Skin Care Tips to Improve Your Complexion this Winter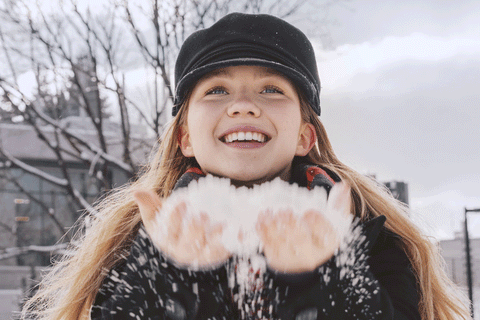 Winter cam wreak havoc on the skin. Cold temperatures, frigid wind and the dry air from heaters are some of the main culprits leading to skin that's dry, rough, red and irritated. 
When it's less than hospitable outside, it's actually a great opportunity to give your skin some much-needed attention. Use these tips and tricks to get your skin glowing before the spring thaw begins.
#1 Calm + Nourish
In the summertime when we think about protecting the skin we go straight to sunscreen. In winter protected skin means, strengthened skin. When skin is properly nourished and strengthened it is more likely to withstand factors that can sabotage the complexion such as dryness and inflammation.
Skin that is already compromised will have little barriers against seasonal environmental difficulties. 
The formula for strong, healthy skin is keeping it calm and well-nourished.
Keeping Skin Calm During the Winter
Calm skin is harmonious skin. Using gentle, hydrating products will help to keep the skin's pH in balance and provide a comforting feel.
Switch out foaming cleansers and gels for creamier formulas that condition the skin while they cleanse. You may also want to forgo any toners that leave the skin feeling fight.
Aromatic Emulsion Balance or Dry/Sensitive are good options because they do not contain any harsh drying ingredients, and work more like a hydrating essence on the skin. 
While the skin is still damp from cleansing and toning, massage in a face oil serum to feed the skin important vitamins and minerals, while adding immediate hydration. Depending on your skin type, finish with a moisture-rich face cream that features ingredients such as Shea Butter to provide a physical barrier against moisture loss. 
NOTE: If you normally don't use both a hydrating serum, plus a moisturizer, the winter may be the time to give it a try. This combo will help to protect all skin types from damage caused by colder temps and dry, heated air.
#2 Fight Sun Damage
During the colder months we tend to spend more time in doors, therefor less time out in the sun. This makes it the best time to work on improving the look of sun damage such as dark spots and hyperpigmentation.
Many of the most effective treatments for these skin conditions can be exacerbated by sun exposure or make skin more sensitive to the sun's rays. That's why winter is the perfect time to work on smoothing the look of discoloration and resurfacing the skin. 
Most spas and doctors who offer treatments such as chemical peels won't even do them during the sunny summer months. So, the autumn and winter months are your only shot.
Exfoliation
Exfoliation is the key step for creating an even skin tone. It is also essential to getting glowing skin in the winter, as exfoliation helps to remove dry, flaky skin that can look dull and keep your skin from fully drinking in the moisture from your other skin care products. 
Proper exfoliation also stimulates the surface of the skin which helps kickstart the body's natural regenerative properties. More efficient cellular renewal will help fight the signs of aging and work to soften any discoloration. 
If the thought of a chemical peel makes you think of super red, irritated skin (re: Samantha from Sex in the City), and days - if not weeks - of downtime, there are several less aggressive options you can do at home to improve the clarity of your complexion.
Aroma Peel is our all-natural alternative to glycolic chemical peels. Made from an active blend of essential oils such as Lemon, Grapefruit, Lavender, Geranium, Rose, Ylang Ylang and Peppermint, this exfoliant works to eat away the bond that holds dead skin to the surface of the face. It is gentle, requires zero downtime and will instantly brighten the skin. Use once a week for a series of six weeks to begin to see great results for your skin. As a bonus, it is also a quick and effective spot treatment for breakouts.
Another natural alternative to a popular spa treatment, microdermabrasion,  is our Fango Facial Scrub. Created for acne-prone and easily-congested skin, this product contains micro-exfoliating particles that smooth out rough textures without damaging the skin. The result is a resurfaced look and feel to the complexion – super soft, smooth and a more even appearance.
The key here is to not scrub too hard. All it takes is a light touch to get the proper amount of exfoliation. Imagine the pressure you would use to apply this scrub to a fully-inflated balloon. For best results, use weekly or bi-weekly and focus on parts of the skin that get clogged and anywhere you may have dark spots.
Silt Scrub is another must-have. A cult favorite among long-time fans, Silt Scrub provides both, a gentle and effective physical (or manual) exfoliation, as well as a "chemical" exfoliation (not to be confused with the chemical peels mentioned above, though there are some similarities).
The magic is in the freshwater colloidal silt, which contains natural properties that work to smooth the skin much like alpha hydroxy acids, but without the irritation.
Consistent use of Silt Scrub will promote a look of smooth, balanced, glowing skin. Use once or twice a week, depending on your skin type.
Tip: We love to keep this in the shower for easy access. Apply at the beginning of the shower and let the steam from the water allow the ingredients to fully penetrate the skin for a deep cleanse. 
To top off your battle against the look of dark spots, try adding Watermelon Oil to your regimen. This is the perfect botanical oil to use on the skin post-exfoliation. Hydrating without adding an oily feel to the skin, it is a good source of Vitamin E and omega fatty acids that are thought to be effective at diminishing the look of hyperpigmentation. And of course, don't forget your sunscreen. Just because it is winter doesn't mean it's ok to forego the SPF.
Caution:
Note of caution, it isn't a good idea to use all of these exfoliation products at the same time. Most skin doesn't need more than two exfoliating treatments a week. You could work in a regimen that consisted of Aroma Peel on, say Sunday and Silt Scrub on Wednesday but you probably don't want to do more than that.
Another other rule to follow is to avoid using abrasive scrubs on skin that is overly red or sensitive. So, if you've spent time out in frigid, windy conditions and your skin feels wind burned, severely dry or is cracking, you will want to hold off on exfoliating until any redness or inflammation has subsided.  
Which bring us to our last winter skin survival tip: Moisturize!
#3 When in doubt, moisturize
Winter is THE SEASON to go all out on moisture. Those rich face creams and serums that seem too heavy during the summer and spring finally get their chance to shine. Even oiler skin types can benefit from some extra protection when it's cold out.
As mentioned previously, it's a good idea to give your skin a protective shield against the drying heat from furnaces and cold temperatures outside. Even if you switch to a creamier, gentle cleanser, it won't stick with you throughout the day.
Layer Moisture
We love the idea of layering moisturizing products during the winter. This provides longer-lasting hydration, an effective barrier against moisture loss, and is easy to customize based on your skin type and climate.
Dry and mature skin types may want to start with a hydrating facial mist (such as Aromatic Emulsion Dry/Sensitive) then use a serum such as SV23 that will comfort and protect the skin, then finish with a heavier facial cream like Soothing Cream or Maximum Protection Cream, which has a high content of ultra-hydrating Shea Butter.
Non-problematic skin, also thought of as normal skin, can typically tolerate a similar regimen by altering the amount of serum being used as well as the texture of the moisturizer that is used last. For skin that doesn't have a lot of issues, climate may be the main factor here. If it's cold and dry, up the moisture but if it's hot and humid, it's ok to use a lighter hand.
Most oily and congested skin types should lay off any harsh acne treatments or drying products to ensure the skin isn't stripped from its natural oils. A facial serum such as our Algae Serum Neroli mixed with our Hydrating Infusion is an interesting combo for the winter. While Hydrating Infusion may seem like the wrong choice for those with oily skin, Hydrating Infusion is actually quite good at helping the skin to look and feel balanced, meaning not too much oil and not too little. Keeping the oily skin in harmony is the goal here!
Creating a Customized Facial Cocktail is also a great option. It is a mutli-tasking product that brings together your serum, toner and hydration. For oily skin there are several options that will protect the skin during the winter without the feeling of heavy creams that can suffocate the skin.  
Moisturizing Masks
Masking has become a mainstay of at-home self-care. Instead of the purifying clay masks, try substituting a comforting hydrating mask. The skin will drink up the moisture and you'll love the soft, plumped appearance that many hydrating formulas provide. 
Ingredients to look for include hydrating laminaria seaweed and calming botanicals like aloe vera and cucumber. After relaxing for 15 minutes with a hydrating mask, we like to massage any remaining product into the skin for a bigger dose of hydration. If there is still too much, tissue off the excess and then pat into the skin as you would your normal moisturizing face cream.
Remember the biggest goal for winter skin care is to Keep Calm and Moisturize!
---