Celebrate Pride Month by Aligning Your Chakras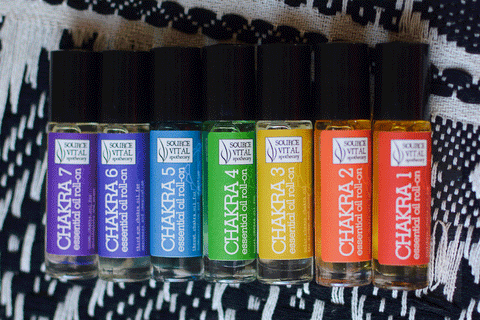 Recognizing and uplifting LGBTQ+ voices is important every month of the year, but celebrating Pride Month during the month of June helps to amplify them. Throughout Pride Month, the LGBTQ+ community and allies gather together for parades, marches, and other events around the world.
Pride Month is certainly a cause for celebration, inspiring those that we love to be their true selves, be respectful of others, embrace our differences, and reflect on the progress and movement of the LGBTQ+ community. At Source Vitál we believe that Love is Love, no matter who you are and how you identify, and above all, Kindness is Everything.
Here are a few ways we'll be celebrating this Pride Month.

A Brief History
Do you know why we celebrate Pride Month? Pride Month was initially inspired by the Stonewall Uprising of 1969 and the work to achieve equality for LGBTQ+ individuals. The Stonewall Uprising occurred on June 28th, 1969 at what was known as the Stonewall Inn, in New York's Greenwich Village. Police raided the inn, sparking a riot among patrons as well as people in the neighborhood, which lasted six days and included violent clashes with the law. 
The following year, many gathered to march on Christopher Street, where the Stonewall Inn was located, marking what is now known as the first gay pride parade in the United States. We celebrate Pride Month in June due to The Stonewall Uprising, and to recognize the impact LGBTQ+ individuals have had around the world. 
Embrace Your Emotions - Chakra 3
Although there are many assumptions that Pride Month is all about having a good time and celebrating, it may not necessarily be that way for everyone, and the emotions that come with it can be difficult.
Practicing mindfulness helps us to be more self-aware and give ourselves permission to feel all of our emotions, without judgment. To get yourself into a more meditative state, create your own Chakra room spray with our Chakra 3 Essential Oil Blend. Add 15-20 drops of our Chakra 3 blend, with 1/4 cup of witch hazel. Our 3rd Chakra, or Solar Plexus, governs our self-esteem, our identity, and our sense of purpose. When it's out of balance, we can feel selfish, lack direction, or generally feel down on ourselves.
Be Authentically You - Chakra 5
Discovery and self-love can be a long journey for many of us. Pride Month is a representation of a time when all of us can bring awareness and acceptance of our own journeys, regardless of LGBTQ+ status, and show compassion for each other on their journey.
If you're having a hard time expressing yourself, find yourself unable to listen to others, or just feel generally out of balance, your 5th Chakra may be out of balance. Diffuse our Chakra 5 Essential Oil Blend or mix a little with our Good Vibes Chakra Carrier Oil to return to a balanced state. Our 5th chakra is positioned at the throat, and when it is in balance we can adequately express ourselves, can communicate more effectively, and bring forth our personal truth. Need a bit of balance on the go? Roll on our Chakra 5 roll-on for a quick pick-me-up.
Be Open and Respectful - Chakra 4
Support, and being an ally may look different for each individual. It can be difficult for people outside of the LGBTQ+ community to understand their experiences, but adding compassion exercises into your daily routine can help you be more present, open-minded, and empathetically not only during Pride Month, but all year long.

To boost feelings of compassion for yourself, or for others, look into your heart, or heart chakra, that is. Our heart chakra, or 4th chakra, governs feelings of love, joy, compassion, and inner peace. The Heart Chakra strongly influences our ability to give and receive love in a healthy way. When it's out of balance, we can feel defensive and isolated. When our heart chakra is in balance, we are more open to being compassionate, more loving, and cultivating inner peace. To unwind, take some time to take a warm bath with our Make Your Own Chakra Bath Salts with our Chakra 4 blend. You can also add a few drops of our Chakra 4 Essential Oil Blend into your favorite body lotion and give yourself a loving massage. 

To learn more about chakras, click here. 

If you have the means, you can also consider donating to reputable LGBTQ+ organizations. If you don't, you can still share these great causes. 
Additionally, Source Vitál has created a limited-edition product in support of June's Pride Month. Spirit is the newest member of the Deozein Natural Deodorant family. This blend of 100% pure essential oils brings enthusiasm and self-esteem to one's life with a rich, exotic scent.

Have a safe and happy Pride Month!
---