5 Ways to help "Restore the Earth" this Earth Day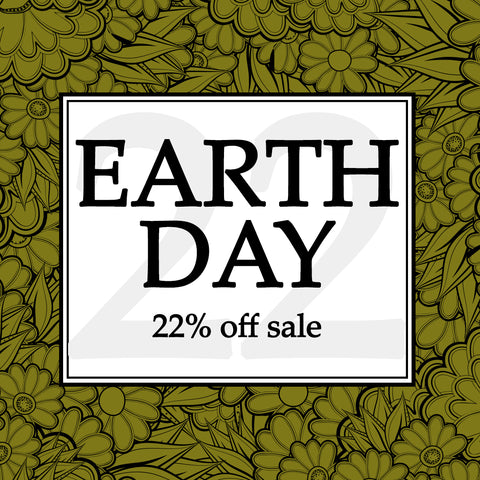 Did you know that this year marks the 51st anniversary of Earth Day?
In celebration, Earthday.org has dedicated their cause to "Restoring the Earth."
Every one of us needs a healthy Earth to support our jobs, livelihoods, health, survival, and happiness. A healthy planet is not an option — it is a necessity. 
Earth day is undoubtedly our favorite Holiday to celebrate at Source Vital, and we are passing on the festivities to you!
Enjoy taking 22% off* (and free shipping on order over $25) all Source Vital Products from April 21-23 with promo code earthday2021. 
Click here to start shopping the Earth Day Sale now!
As a part of our yearly Earth Day promotion, we will also plant a tree through One Tree Planted for every order placed during the sale - read on for more about that, and other ways to honor the blessings our Earth bestows on us.
1. Boost Your Skin with Botanicals
Plant Power! Embracing Mother Earth by upgrading your skincare is a great way to show your appreciation for the planet.
Two of our favorite botanical oils for spring: Hemp Seed Oil (perfect for nourishing maskne-prone skin and Prickly Pear Oil (For improving the appearance of dark spots.)
The Botanical Collection is simple skin care at its best. One hundred percent natural and packed with nourishing vitamins and minerals, they are also easy to add into any skin care program.
Add a few drops to your favorite serum or moisturizer, use on their own to hydrate, try them out as a simple and effective oil cleanser, or use on the skin before a luxurious Gua Sha or facial rolling treatment.
If skin minimalism is your thing, a botanical oil is a must!
Read More about Hemp Seed Oil here and Prickly Pear Oil here. 
2. Recycle (Or Upcycle) Your Beauty Empties
Feel good knowing we always use environmental-friendly packaging that is accepted by most curb-side recycling pick-ups or bottled in glass containers that can easily be reused at home.
We love "upcycling" our glass bottles as apothecary-chic vases for fresh flowers, or jars for holding trinkets, bobby pins, or spare change!
Find out more ways to recycle your beauty products here.
3. Get Crafty - Make Your Own Eco-Friendly Products
There's no better time to embrace Spring Cleaning, and to use safe, natural and clean products while doing it!
DIY cleaners are a breeze to make at home, using minimal ingredients.
Citrus scents, such as Lemon Essential Oil or Grapefruit Essential Oil can make cleaning feel less like a chore - and it will smell a lot better than industrial chemical-heavy cleansers.
Here is one of our favorite recipes to make your own "do-it-all" cleanser for purifying most high-touch surfaces. 
Amazing All Purpose Cleaner (For Use on Most Surfaces)
Add all ingredients to a spray bottle and shake well to combine.
Check out our blog on Making Your Own Surface Cleaners for more DIY health home inspiration. 
4.
 

Bigger Size, Better Value, Less Waste
Most of your favorite Source Vital products come in larger bulk sizes. Instead of purchasing your beloved Algae Deep Cleanse every month or two, upgrade to our larger size, for less waste, and for a more wallet-friendly option.
Love our Deozein Natural Deodorant Spray? Consider buying our refill size and top off that bottle you use on the daily.
Cleaner Hands Spray, Gel and Hand Wash also have larger refill sizes to help you reuse your existing packaging. 
For even more convenience, use our auto-replenish feature, so you'll never run out of your beauty routine again. Check out more on subscriptions here. 
5. Plant a Tree or Let Us Do It for You!
Photo Courtesy: One Tree Planted, Indonesia
The earth is the inspiration at the heart of our entire collection.
From the oceans to the plants that grow from its rich soil, the Earth provides us with an abundance of gifts.
We will plant a tree via One Tree Planted for every order from April 21 – 23, And you get 22% off our entire product line. 
Last year One Tree Planted more than 10 million trees and have pledged to plant 20 million this year. That's an ambitious goal that you can help support just by stocking up on your favorite products for the skin, body, mind and spirit.
 ABOUT THE AUTHOR
Tracey Ellis is a beauty enthusiast with over a decade of experience in the beauty industry. You can find her in the lab, manufacturing Source Vitál Products. Tracey is a New Yorker living in Texas and spends her time cooking and spoiling her miniature husky, Tabasco.
*Earth Day promotion is applicable for retail purchases of Source Vitál and Sir Vitál products. Discount not applicable for tools, accessories, gift sets, starter kits, and gift certificates.
---