Benefits of Prickly Pear Seed Oil for Your Skin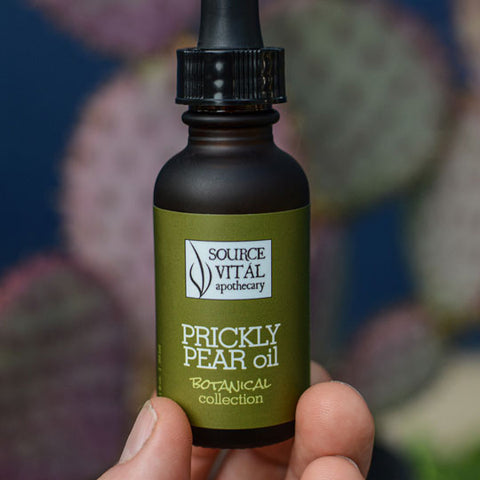 What is Prickly Pear Seed Oil?
This exotic-sounding oil comes from the beautiful prickly pear cactus, specifically, the seeds of the fruit. 
Source Vitál Apothecary's Prickly Pear Oil is sourced from Morocco and is extracted by hand to protect the integrity of the oil. Although one ton of the prickly pear fruit yields only a liter of oil, the process is incredibly sustainable.
For centuries, Prickly pear has been used in both culinary and healing arts, but recently, this ingredient has found its way into skin care, and for good reason. There are a multitude of benefits from this impressive beauty elixir.
How Can Prickly Pear Seed Oil Improve the Look of Your Skin?
Prickly Pear Seed Oil is ideal for all skin types. It is particularly effective for those who are seeking relief from acne, wanting more luminosity to their skin, or coveting a more youthful looking complexion.
Acne-Prone Skin
Prickly Pear seed oil is lightweight, and fast-absorbing, which makes it great for acne-prone skin.
It is high in linoleic acid (omegas 6 and 9 fatty acids) which have an ability to help cut through dirt, oil, and grime, which provides a more detoxed, clarified appearance to the skin.
Skin Seeking Luminosity
Whether you are looking to brighten your overall complexion, help reduce under-eye darkness, or aid in reducing the appearance of dark spots, Prickly Pear oil can be the perfect addition to your skincare regimen.
Prickly Pear is high in Vitamin K, which has been touted for it's brightening properties, and can work with the body to promote more efficient cell turnover, leading to smoother, more luminous skin, and aid in the improvement in the appearance of dark spots, and uneven skin tones.
For More Youthful-Looking Skin
Prickly Pear Seed Oil contains many antioxidants and polyphenols, such as vitamin E (the highest of any botanical oil) which help to fight free-radical damage, protect the skin cells that make collagen and elastin, and is an excellent skin hydrator.
When applied topically, Prickly Pear seed oil can help strengthen the skin barrier and boost the skin's moisture levels – all necessary for a healthy-looking complexion.
5 Ways to Incorporate Prickly Pear Seed Oil into Your Routine
We have made it super easy to make Prickly Pear Seed Oil a part of your skincare routine. Our Prickly Pear Botanical Oil is a combination of Organic Prickly Pear and Grape Seed Oils, combined with high-quality Sunflower and Apricot Kernel Oils.
Use alone as a moisturizer, applying several drops to the skin morning and evening after cleansing and toning.


Use as a booster to your moisturizer or mask by adding a few drops.

You can find prickly pear seed oil in our Active Silt Mask. This nourishing mask supports the body's natural ability to replenish the skin's collagen and can reduce the look of sunspots and hyperpigmentation.


Gently pat this oil underneath the eyes to help you look more rested and wide-eyed.

Additionally, you'll find Prickly Pear in each of our eye creams. Cucumber Rose Eye Cream, is a cooling, gel-like eye cream that helps brighten tired, puffy eyes, and Jasmine Fine Line Cream tackles signs of aging and dryness around the eyes, lips, and neck areas.


Try Prickly Pear as a spot treatment on spots of concern, combining with your normal acne spot treatment to reduce the look of inflammation and prevent the appearance of scarring and dark spots on the skin.

For additional prickly pear benefits, check out Clear Skin Cream, which will help reduce redness and irritation associated with acne-prone skin.


Use prickly pear oil as the ultimate multitasker- try it on dry cuticles, hair, and lips.
Have you tried our prickly pear seed oil? What are your favorite ways?  Let us know in the comments!
 ABOUT THE AUTHOR
Tr
acey Ellis is a beauty enthusiast with over a decade of experience in the beauty industry. You can find her in the lab, manufacturing Source Vitál Products. Tracey is a New Yorker living in Texas and spends her time cooking and spoiling her miniature husky, Tabasco.
Shop Prickly Pear Seed Oil
---