Benefits of Hemp Seed Oil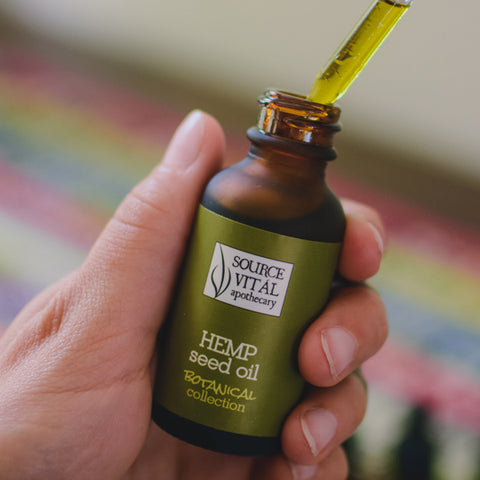 What is Hemp Seed Oil?
Hemp Seed Oil is a botanical oil that can be traced back 10,000 years from China and Taiwan. It comes from the cannabis sativa varietal and is raised without any substances associated with impairing mental processes, specifically THC (tetrahydrocannabinol.) Hemp seed oil has many benefits to promote your best skin, on your face and body.
Our Hemp Seed Oil is sourced from Canada and is lightweight, organic, and cold pressed. By sourcing a cold pressed Hemp Seed Oil, we can ensure that the desirable properties found within the oil remain intact and active. These includes various omegas, minerals, and antioxidants.
What can Hemp Seed Oil do for your skin?
Hemp Seed Oil can be used by most skin types. It is extremely beneficial in those with oily or acne prone skin, sensitive skin, and skin experiencing first or advance signs of aging.
Oily or Acne Prone Skin
Hemp Seed is an ideal oil for those with oily skin. It has a lightweight consistency and is often referred to as a "dry" oil. It contains about 60% linoleic acid, which helps to reduce pimple-causing sebum in the skin. Its tightening and toning effects can assist in reducing the appearance of large pores, blackheads, whiteheads, and other types of acne.
Sensitive Skin
Hemp seed oil is a great option to those with sensitive skin. It can help soothe redness and irritation and it can offer hydration to thirsty skin. It is high in omega acids 3, 6, and 9 which can help repair the skin barrier and help skin retain moisture. Those same omegas also can help reduce inflammation that can come with sensitivity.
Aging Skin
Whether you are seeing fine lines, or more pronounced wrinkles on the face, Hemp seed oil can also be a welcome addition to your routine. It is rich in antioxidants, which can help prevent further damage to the skin when used. Ultimately, it will help with the appearance of lines and wrinkles by plumping the skin, helping with loss of elasticity and sagging.
How do I incorporate Hemp Seed Oil into my routine?
Use in place of a traditional facial moisturizer for a quick glow on-the-go, without the greasy feel.
We love adding a few drops to our favorite toners, such as Sea Tonic, to aid in balancing the skin- a must for oily skin.
Add a few drops to your favorite lotion, cream or use as a carrier oil for an essential oil to offer your skin an extra boost of hydration and protection. Or choose a body cream already enhanced with Hemp Seed Oil, such as our Nourishing Body Cream.
Apply directly to cuticles to help strengthen and moisturize dry, brittle nails.
Hemp Seed Oil is an extremely versatile oil, with many different uses for a variety of skin types. Whether you are using it in its purist form, or adding it to one of your current products, you will absolutely see the benefits.
What are your favorite ways to use Hemp Seed Oil? Let us know in the comments below!
 ABOUT THE AUTHOR
Tr
acey Ellis is a beauty enthusiast with over a decade of experience in the beauty industry. You can find her in the lab, manufacturing Source Vitál Products. Tracey is a New Yorker living in Texas and spends her time cooking and spoiling her miniature husky, Tabasco.

Read More Articles Like This
Shop Products Made with Hemp Seed Oil
---