How to Recycle Your Beauty Products (and Packaging) This Earth Day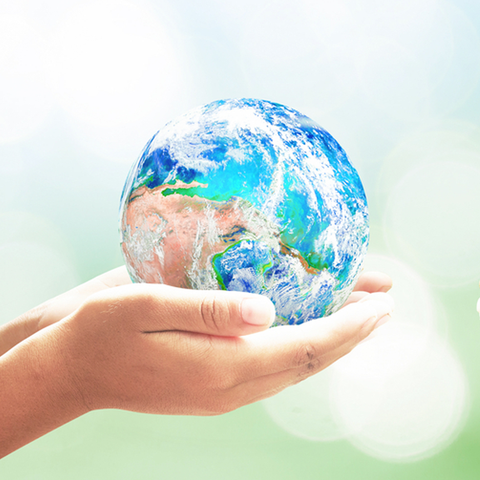 As our beauty cabinets have become full with bottles, tubes and jars from our skin care routines, many are concerned about how full our waste baskets are also getting with all the packaging they come in.
As Earth Day nears, here are a few ideas to help you reduce, reuse and recycle all those empties.
Packaging
As much as many beauty companies would like to reduce the amount of packaging they use, the reality is there is a need to protect products from breaking and spilling as they travel from the manufacturer, to retails shelves and into your bathroom.
Good news, many of those bottles and jars can be recycled. At Source Vitál Apothecary we work hard to source packaging that can be salvaged.
Many Source Vitál products, like our Body Lotions, natural deodorants, and bath salts come in plastic PET bottles and jars (polyethylene terephthalate) or HDPE (high-density polyethylene. These are also known by recycling codes 1 and 2 and can be accepted by many curb-side recycling pick-ups.
For glass bottles, these are some of the best packaging items to recycle. Glass can be recycled over and over without sacrificing the quality of the material. As with plastic bottles, glass is accepted by recycling programs in most large cities.
Tip: To thoroughly prep packaging for recycling, remove all labels and tops. Avoid breaking glass containers. Remove any leftover liquid, but there is no need to cleanse all remaining product that may have accumulated in the bottom of the container.
Boxes and Shipping Materials
The boxes your products come in are usually great sizes to reuse for storage or for wrapping gifts. Flatten them for easy storage, so you have a box anytime you need it!
We want to make sure you get your products without any dents or accidents, so we use packing peanuts to fill and pad our boxes. The peanuts we use at Source Vitál are not your typical Styrofoam, they are made from biodegradable cornstarch. 

Instead of throwing out that packing materials, save peanuts and bubble wrap in a plastic grocery bag and use to store breakable items or when you need to ship anything fragile.
Sturdier boxes, like the ones that we use for skin care kits or the kind that your monthly beauty box comes in, are great for storage of smaller, personal items and help keep you organized. 

Use the lids of boxes, and boxes with shallow sides to "Marie Kondo" your closets and drawers. The smaller boxes work well to keep your underwear/lingerie drawer organized as they are a great size for socks and undergarments. The lids are great to organize high heels on wire shoe racks.
Paint, wrap or decoupage these boxes to create colorful and stylish organizers for your desk or to house your smaller cosmetics and skin care products. No more searching for that favorite lipstick or eyeliner!
Transform your "empties"
Jars (bath salts, moisturizers and body creams) are especially great to reuse! 
Use them to organize your beauty cabinet or to store smaller items that can get lost in your purse.
Jars used for things like facial moisturizers can be great to store bobby pins, paper clips, earring backs, random buttons or safety pins. Make your own portable sewing kit by reusing a jar and adding safety pins, a needle and thread and other items like Hollywood Fashion Tape, so you never have to worry about any wardrobe malfunctions. 
Smaller jars from products like eye creams or samples, are the perfect size to refill and use in your travel bag.
Bigger jars, like the kind that bath salts come in are perfect for making your own beauty products. DIY-ers can use them to mix their own body butters, facial masks or to create their own blend of bath salts.
Just remember, if you make your own products, without any preservative systems they can go bad quickly, so beware of any changes in colors, consistency and smell, as that is a good indication something has gone rancid! Usually you will want to use DIY products (especially those with water-based ingredients) within a week or so. Dry products like bath salts may be safe to use for a longer period. 
A super-easy DIY project is to make your own makeup remover wipes. Use a large jar and fill with cotton rounds. Pour in Micellar Cleansing Water and close the lid tight. The cotton rounds will absorb the Micellar Water and be ready to use anytime you need a swipe. If they get too saturated, you can gently squeeze out any excess liquid back into the jar.
Smaller jars also make for great planters. When growing plants from seed, use the jars as a starter planter and then transport to a larger receptacle once the plant starts to get too big.
Spray paint jars and use to plant herbs or succulents and give out as party favors.
Glass bottles, like the ones we use for our Customized Facial Cocktails make for great bud vases. Use as-is or paint to bring some colorful flowers into your home or office. You can also mount several on a board and hang on the wall to create a beautiful display for air plants.  
Un-used Products 
These days most of us have an abundance of beauty products. Just look to Instagram and you'll see thousands of posts showing beauty cabinet "shelfies" that are packed with skin care, cosmetics and other grooming products.  Add this to gifts with purchase, monthly beauty boxes, samples and those products that just didn't make the cut, and it's easy to accumulate a lot of extra products that aren't actually getting used. Here are a few ways to give new life to your unused products.
Most gentle facial cleansers and shampoos can be reused to wash makeup brushes and sponges. Add a bit of product in your hand and gently swirl your makeup brush in your palm and rinse with water until all the old makeup and debris are gone. 
Unused conditioners, body creams and moisturizers can be used for shaving. The formulas are usually thick and emollient which allows for a smooth and moisturizing shave. 
Some oil serums can double as a hair oil. Especially those formulas made from Argan oil, Coconut oil or Marula. Use a few drops to hydrate or improve the look of split ends. 
Some women's or homeless shelters will take donations of unused deluxe-size samples and travel-size hygiene products like shampoos, conditioners, body wash, moisturizer and facial cleansers. If you have any unopened, consider donating them instead of throwing them away.  
Again, just be mindful about any product that may be more than 2 years old or looks like it is separating. In that case it's best to go ahead and throw it out.  
Hope one of these tips inspires you to reduce your waste, even if it's just a little. Let us know if you have any creative ways to reuse your skin and beauty care containers.
---