Make Your Own Home Surface Cleansers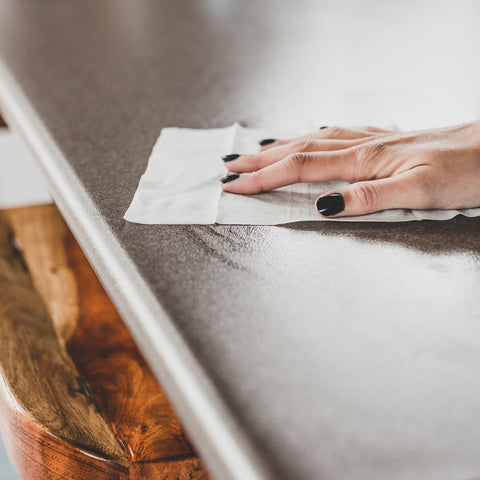 Our Favorite All-Natural DIY Recipes to Clean and Sanitize the Home
As many more of us are staying inside, the importance of ensuring our homes stay clean is becoming increasingly vital to our health. It has also been more difficult to find surface cleaners and sanitizers on store shelves as of late.
Here at Source Vital, we know the importance of using safe, clean, and natural products for you and your family. To help you through this trying time, we have put together some of our favorite recipes that you can make at home.
With minimal ingredients you may already have on-hand, you can create these great cleaning products.
Ingredients Needed for Green Cleaning:
Distilled Water
Distilled White Vinegar
Olive Oil (or another carrier oil)
Pure Essential Oils - we especially love citrus oils for household cleaning
Tools of the Trade:
Spray bottles for mixing cleaning solutions (glass is best, but plastic is fine for diluted essential oils)
Measuring cups or spoons
Mason jars (perfect for storage of liquid or powder cleansers)
Amazing All Purpose Cleaner (For Use on Most Surfaces)
We love this "do-it-all" cleaner for purifying all high-touch surfaces. Think light switches, countertops, doorknobs and handles.
1 cup white vinegar
1 cup distilled water
15 drops Citrus Essential Oil Blend (create your own with your favorites citrus oils or use Source Vital's Citrus blend containing Orange, Neroli, and Bergamot oils)
Add all ingredients to a spray bottle and shake well to combine.
Scent-sational Wood Cutting Board Sanitizer
As many of us are taking this opportunity to eat at home, or test out a new recipe, kitchen cleanliness has become front-of-mind. Especially the surfaces we prepare our meals on.
Use this zesty cleaner to remove odors, sanitize, and condition wood cutting boards and butcher blocks.
Add essential oils with the olive oil in a small glass jar and shake to blend. Using a cotton ball or clean cloth, apply a small amount on the wooden surface and let dry.
Zen Out Yoga Mat Spray
Exercising at home has become the new normal for many of us, and it's crucial to purify our equipment before and after usage.
Add all ingredients to a small spray bottle and shake well to combine. Spray on yoga mats, hand weights, resistance bands, or any other small exercise equipment.
Caution: Always Spot Test First!
With any DIY surface cleaner, it is important to test a small, inconspicuous area to ensure no damage will occur on the entire surface. Undiluted essential oils can damage wood and other delicate surfaces, so take care when handling!
These simple DIY cleaners will have you tossing out the standard harsh chemical cleaners and help keep our homes clean and safe. We know you'll love them!
More Articles Like This:
Relevant Products to Try Now:
---