Source Vitál Employees Reveal Favorite Fall Products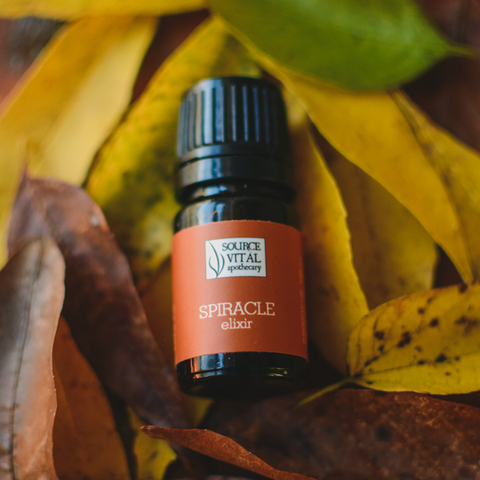 The team at Source Vital has been busy this fall getting ready for the upcoming holiday gifting season, cooler temperatures, and the remainder of the unprecedented year that is 2020.
We've decided to take a brief pause from our busiest time of year, to share what products we are loving for the autumn season.
Evelyn's Fall Favorites


Sales
"My fall favorites have everything to do with being balanced and centered.
There have been some amazing times in 2020 and there have also been some "donkey kicks" to the knee times.
When I think of fall, I think about those items that make me feel warm, cozy and secure.
At the end of a long day, I get a chance to take care of myself by turning the Algae Deep Scrub into a mask while showering. I love the way it tingles and smells. A moment to breathe in the aromas of Peppermint, Lavender, and Geranium.
I think of it as a DEEP BREATH in a bottle.
My second, go to item is the Cedarwood Vetiver Essential Oil Roll-On (which is a similar scent to our new Deozein Cedrus Natural Deodorant).
This scent helps ground me when I get overwhelmed or when I want to drift into sleep with a sense of balance. The woody's scent is my equivalent to a weighted blanket with a cup of hot cocoa in front of a fire, and makes me happy."
Jen's Fall Favorites


Accounting
"I am loving the
Matcha Cool Mask
for my sensitive skin. It leaves me feeling refreshed and hydrated during the drier months.
I also love our
Rose Body Cream
on my hands and feet before bed, and then putting on socks. My feet really feel pampered in the morning and aren't so dry during the cooler months."
Kathy's Fall Favorites

Owner/VP


"I love our Aromatic Algae Extract when I start getting dry from the cooler weather.
Spray after toweling dry after shower or bath, and massage it in for perfect hydration."
Lindsey's Fall Favorites

Marketing/Communications
"For my skin, I start layering in more moisturizing products during the fall.
Right now, I especially love the Marula Botanical Oil. It keeps my skin feeling hydrated throughout the day and gives me a good glow. Plus, it is very versatile – I can use it by itself, with my other serums, or layered with my moisturizing cream at night to give it a bit more oomph.
In the fall I also always have a bottle of Respiratory Body Wash and Spiracle Elixir on hand.
If I'm feeling stuffy or just run down, Respiratory helps remind me to take some deep, cleansing breathes. And Spiracle is my secret weapon for feeling healthy during cold & flu season. I will massage a few drops on my throat and chest, or on the skin just below my nose if I am feeling congested.
This year, I'm also stocking up on Cleaner Hands Spray and Gel – for one there are a lot of really unpleasant smelling hand sanitizers out there, and two I want to make sure to cleanse my hands and surfaces as often as possible."
Michelle's Fall Favorites


Business Development
"Micellar Cleansing Water is my go-to for my morning face wash/cleanse.
My skin gets very sensitive during this time of year with dry and cooler climates. This cleanser keeps my skin clean without having to worry about over-drying and sensitivities, especially with a mild case of eczema.
This is also the perfect time for our 6-week skin care peel, Aroma Peel. I'm currently on week 3, and can already tell a difference in my skin, especially the tone and lack of impurities (blackheads, breakouts, and congestion).
I pick Monday evenings as I know I won't be as exposed to the sun during the week as I am during the weekends. This also helps clean up my sunspots, which usually darken during the summer months."
Paul's Fall Favorites
Owner/CEO
"Winter Wonder Body Wash and our new Deozein Cedrus Natural Deodorant. Both have a woodsy, sprucy, scent that works great for the season. 
Respiratory Essential Oil Blend and Respiratory MultiSpray are also essential products in the fall to promote better breathing when the cooler weather comes."
Somaiyeh's Fall Favorites

Production
"This fall, I love reaching for SV23 Phyto Serum.
It has transformed my skin, and made my complexion brighter, smooth, and gives it a nice glow.
I have received so many compliments from people noticing the change in my skin since I have started using SV23."
Sophia's Fall Favorites

Product Development
"For my skin specifically, (congested, combination, and anti-aging) I use SV23 as a daily oil, paired with Clear Skin Cream, morning and evening.
I love this combo because it helps me keep my acne in check and helps hydrate when the heater comes on.
For body, it is Renew Bath & Body Oil.
This time of year is full of sweets, dairy, and all the things that make me feel crappy in the mornings when I wake up and my stomach is not feeling it's best.
I apply several drops on my abdomen before bed, and rub it and when I wake up too to ease any discomfort."
Tracey's Fall Favorites

Production
"This year, and in particularly this fall, I have been trying to take better care of myself. One of my favorite rituals is to put on a face mask and take a relaxing bath.
My favorite combination is our Analgesic Bath Salts, and Chlorella Hydra-Facial Mask.
Our Analgesic salts are the perfect way to soak away sore, achy muscles and help my body relax.
The Chlorella Hydra Mask is rich and luxurious, and leaves my skin feeling soft and supple. As a bonus, this mask is great to apply on hands to hydrate after excessive hand washing."
We hope you enjoyed finding out a little more about our team and the products we love so much. What are your Source Vital Must-haves? Let us know in the comments!
 Shop Source Vitál Apothecary Staff Fall Favorites
---