Spring Clean with these Happy Oils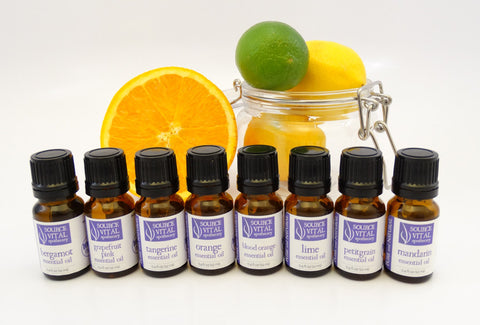 Spring cleaning your home doesn't have to be done with conventional cleaners packed with chemicals. You have other options, greener options (yes, sometimes the grass really is greener on the other side).
We believe in using the power of essential oils and natural botanicals to create solutions in our lives, including home cleaning. Citrus essential oils in particular have qualities that'll clean your home without harmful chemicals getting in the way.
Essential oils in the citrus family also smell great, with no synthetic fragrances to be found! Without chemical cleaners involved, you can be sure that you're cleaning effectively and in a way that is safe for your home and family.
We've rounded up seven of our favorite citrus-y essential oils that'll elevate your mood and brighten your home.


There's a reason why most conventional cleaners are "lemon" scented. We tend to associate the smell of lemon with cleanliness, and it makes sense. Lemon essential oil is ultra versatile and can make a big impact in no time.
The citrusy scent is enough to help make your home smell clean, but this oil has a few tricks up its sleeve, too.  
Combine with water, add to a spray bottle, and use as a kitchen and bathroom surface cleaner.

Remove sticker goo from plastic and glass by rubbing a couple drops onto the surface.

Make crayon marks on walls or floors disappear by applying a couple drops of oil.

Add a couple of drops to your laundry load to bring a fresh scent to your sheets.

Diffuse in a water-based diffuser or vaporizer to improve the scent of a room. Lemon is particularly effective against cigarette smoke.

Try adding a few drops to your AC filter for a clean, fresh scent in your home.


Take the stress away from household cleaning by using Lime essential oil. The scent of Lime can lighten the mood and make tidying up less of a chore.
With similar properties to Lemon essential oil, Lime makes a super green cleaner. Here's a few ways to use it:
Mix the lime oil with water to create a nice, crisp cleaning spray for counter tops.

Put some oil on a cotton pad to help remove grease spots.

Add a few drops into soap for a fresh scent and added cleaning power.


Even better than a morning glass of OJ, Blood Orange essential oil is uplifting and will give you that morning pick me up you need.
Like other citrus oils, Blood Orange has disinfecting properties that aid in household cleaning and more! Try these two tips anytime you want a burst of energy.
Soak a cotton ball in oil and place in a room to naturally deodorize while providing a refreshing and uplifting scent.

Add a few drops of Blood Orange essential oil to a spray bottle of water and use it to repel insects or purify a work surface.

Stress eaters unite. Breathing in the scent of Grapefruit oil can suppress sugar cravings so using it to clean your kitchen is a win/win. Instead of grabbing that bar of chocolate, turn to your Grapefruit concoction and tidy up.
Freshen up the air by adding a few drops to your A/C air filter.

Add a few drops to a spray bottle of water and use as a cleaning surface spray.


It's easy to get wound up when it comes to spring cleaning. If that happens to you, turn to the power of Mandarin essential oil.
Mandarin has the ability to calm and soothe so you can be more productive and at ease while cleaning.
Add a few drops to your aromatherapy diffuser or vaporizer (or a few drops to your A/C filter) to freshen up your room while soothing your mind.

Put a couple of drops of Mandarin oil on a clean, damp towel or washcloth and add to your dryer to freshen linens.


Orange essential oil, also known as Sweet Orange is made from the rinds of oranges. This essential oil is also great for DIY home cleaning and energizing your mood!
Apply some of same techniques listed above like putting the oil to water in a spray bottle or adding a few drops to your A/C filter.
Like many of the citrus oils included above, Tangerine is a perfect oil to use when creating your own DIY home cleaning solution or spray.
Tangerine is particularly powerful in helping improve the mood in cases of nervousness or anxiety. Mother-in-law coming to town? Try cleaning with your DIY Tangerine essential oil to calm the nerves and clean all in one!


How do you use happy citrus oils? Let us know in the comments or tag us in a photo on Instagram using #SourceVital!
---