Your Ultimate Guide to Pre- and Post- Pride Parade Preparations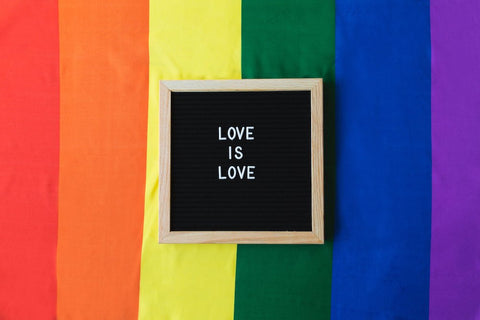 Get ready to embrace the vibrant spirit of the Pride Parade as we march into a month filled with love, acceptance, and celebration. June is Pride Month, and we're thrilled to be your guide for pre- and post-parade preparations that will make your experience truly unforgettable. So, grab your rainbow gear and join us as we prepare to paint the town with pride!
June is a month of profound significance as we honor the LGBTQ+ community's history, resilience, and progress. It's a time to embrace self-expression, love, and acceptance during the parade and throughout the entire month. At Source Vitál Apothecary, we stand shoulder-to-shoulder, celebrating the vibrant diversity that enriches our world.
Let's create an experience that leaves you confident, radiant, and ready to own the parade route! Here's everything you need to have a happy and healthy pride celebration:
Pre-Parade Must-Haves
Deozein Spirit Natural Deodorant
Originally created to show our support for Pride Month in June, the overwhelming demand for it has made Deozein Spirit a permanent addition to our natural deodorant lineup. 
Immerse yourself in the delightful fragrance of exotic florals, spices, and a hint of citrus, ensuring you stay fresh and smell great throughout the parade (and long after!) This unique blend of 100% pure essential oils not only leaves you with a captivating scent but also brings enthusiasm and boosts self-esteem, creating a rich and exotic aromatherapeutic experience. Spirit Natural Deodorant is designed to uplift your heart and soul, providing a euphoric and uplifting sensation.
The carefully crafted blend of ingredients works harmoniously to combat the bacteria responsible for body odor, without interfering with the body's natural detoxification process or temperature regulation. With Spirit Natural Deodorant, you can be assured of long-lasting freshness and the joy of knowing you're using a product that aligns with your values. Love is love, and we're here to support you every step of the way on your journey toward embracing natural, effective, and inclusive personal care.
Aromatherapy Roll-Ons
Need a convenient and compact way to take your aromatherapy on the go? Look no further! Source Vitál Apothecary has you covered with 43 different roll-ons for whenever and wherever you need a dose of aromatherapy the most. 
Choose your Roll-On based on your favorite scent, specific functions, or to meet your unique living needs. Whether you're seeking relaxation, focus, energy, or emotional balance, our roll-ons have got you covered. Each blend is thoughtfully crafted using 100% pure essential oils, carefully selected to provide specific benefits and enhance your overall well-being.
Some of our favorites to keep in your pocket or purse during pride? Our Invigorating Roll-On is perfect for when you can't possibly drink another cup of coffee, but still need a burst of energy. Our Allevia Roll-On is perfect to have on hand for unexpected headaches, or a queasy stomach, so you don't have to leave the fun too soon. Feeling like you overindulged on a few too many drinks or a rich meal? Try our Hangover Roll-On. (And maybe keep that one on hand for the next morning, too.)
First Aid Spray
When it comes to summertime essentials, our First Aid Spray is an absolute must-have. This versatile spray is specifically designed to provide relief from a range of common irritations experienced during the summer season. From rashes and insect bites to burns, bruises, and even sunburns, this fast-acting formula is your go-to companion for all your outdoor adventures.
Experience the soothing and cooling effects of our First Aid Spray as it alleviates discomfort caused by skin irritations. Whether you've encountered pesky bug bites, accidental burns from the grill, or unexpected bruises from outdoor activities, this spray is here to offer quick and effective relief.
Not only does our First Aid Spray work wonders on various skin irritations, but it's convenient spray format also makes it a practical addition to your summer travel bag. Its compact size allows for easy portability, ensuring you have it readily available wherever your summer adventures take you. You'll be sure to be the hero if you bring this multitasking spray along should something unexpected occur along the parade route. 
Post-Parade Remedies
Algae & Aloe Cool Gel
Feeling a bit red and sunburnt post-parade? Reach for our Algae & Aloe Cool Gel. Our specially crafted formula harnesses the power of natural skin soothers, allowing your body to return to a state of calmness and rejuvenating your senses after a long day in the sun or experiencing distressing skin conditions.
Algae & Aloe Cool Gel contains mineral-rich algae extract, renowned for its nourishing properties, super-soothing aloe vera to provide relief, balancing apple cider vinegar, and a carefully selected blend of essential oils known for their ability to soothe irritations and promote a sense of healing.
Indulge in the refreshing sensation of this wonder mask, which acts as a cooling and relaxing spa treatment. From the moment it touches your skin, you'll feel the soothing effects as it helps reduce inflammation, improves the appearance of redness and swelling, and swiftly restores a well-cared-for complexion. (Tip: Keep it in the refrigerator for an extra-cooling sensation!)
Matcha Cool Mask
If you're also feeling as though your face is a bit worse for the wear, you'll want to ensure you have our Matcha Cool Mask. Be sure to give your skin the TLC deserves with our revitalizing leave-on facial mask. It's a harmonious blend of high-quality ingredients designed to replenish, calm, and rejuvenate your skin. Let the refreshing properties of these carefully chosen botanicals and essential oils provide your skin with the ultimate comfort.
This mask features skin-calming Matcha, deeply nourishing algae extracts, hyaluronic acids to lock in essential moisture, and a blend of botanical treasures like Aloe Vera, Elder Flower, Ginseng, and organic Marula Oil. Together, these ingredients work harmoniously to provide your skin with the care and nourishment it craves. All you need to do is apply a thin layer post-skin irritation, no need to rinse off. (Tip: Keep it in the refrigerator for an extra-cooling sensation!)
Micellar Cleansing Water
Before you hit the pillow post-celebration, don't forget to wash your face! As tempting as it might be to hit the hay with a face full of makeup, Micellar Cleansing Water will help you to take the hassle out of cleansing. With our Micellar Cleansing Water, there's no need to rinse your face after use, saving you time and effort in your skincare routine.
The secret behind our Micellar Cleansing Water lies in the thoughtful combination of elements. We start with water sourced from our purification system and infuse it with enriching seaweed extract, packed with vitamins and minerals that nourish and replenish your skin. Additionally, we incorporate soothing Cucumber Extract to reduce the appearance of puffiness, and 100% pure Lavandin Essential Oil to provide a calming and nourishing effect. 
Best of all, Micellar Cleansing Water may help you remove the most stubborn of makeup (or parade-worthy face paint) without excessive pulling or tugging of the skin. This Micellar Cleansing Water delicately yet effectively eliminates impurities, dirt, oil, and makeup from your skin, providing a thorough cleanse, so you can sleep soundly knowing your skin is taken care of. 
We're thrilled to be your trusted companion for a memorable Pride Month celebration. Our curated products will surely enhance your experience from pre-Parade preparations to post-Parade recovery. Celebrate love, inclusivity, and self-expression with your friends at Source Vitál Apothecary. Happy Pride Month!
---