Pop's Culture: What To Get Dad For Father's Day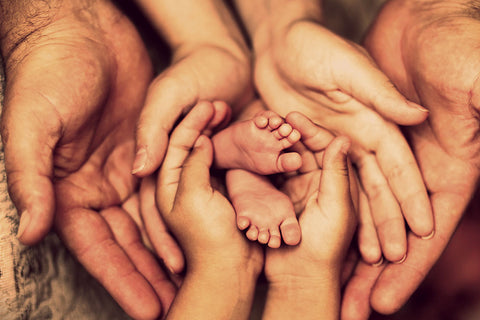 Once again, Father's Day has snuck upon us. So if you haven't checked your calendar lately, Father's Day is Sunday, June 19th. Not to worry though- you still have time to check off your gift list!
Each year, we constantly search for unique ways to celebrate our dads and those that step in to be the dad-like figures in our lives. This year is no different, as we drew inspiration for our gift guide from our dad's favorite hobbies.
Below, you'll find a selection of gifts that cross at the intersection of luxury and utility – perfect for all the men in your life: dad, husband, grandpa, uncle, fur dad, father of your child, and any other paternal figures. 
For the Dad With Superior Taste (Buds)
Is your dad (or dad-like figure) a master of the grill? A budding wine connoisseur? Master Mixologist? Ensure you're taking advantage of your dad's refined palette and affinity for mixing ingredients with a gift that will put his skills to the test. If he is prone to burns and cuts from his concoctions in the kitchen, give him the gift of our First Aid Oil or First Aid Cream to soothe and help the healing process.
Give dad the gift of our Custom Beard Oil, or better yet, bring him into our Houston Beauty Market so he can concoct his own! Using our four-step process he will start by identifying his facial hair goals, then select his specific skin type, add in his favorite scents and finish by choosing his own ingredients to further customize his oil. The options are endless, allowing him to use all his skills in the kitchen to "spice" up his grooming routine. 
For the Well-Traveled Man
If your father-figure has an endless travel bucket list or seems to always be on a plane, train, or in an automobile, give him the gift of good grooming that he can take with him, no matter where his travels may take him.
With our Sir Vitál Travel Kit, he'll have all of his skin and shave must-haves in a sturdy, mesh bag that's convenient to throw in his carry-on. He'll look confident and put together, no matter where his travels may take him. Is Dad more of a minimalist? Choose our Sir Vitál Beard Goals Gift Set with our Sir Vitál Cleanse, as well as our Condition Beard Oil. 
For the Tech-Savvy Dad
Buying a gift for the guy who always seems to have the latest iPhone, video game console, or wearable tech can be seriously intimidating. For the man who's always willing to invest in the latest gadget, show him that he should invest in a little self-care as well. 
If your dad is always in front of a screen, he may be unknowingly exposing his skin to blue light damage, which can cause deep wrinkles, visible fine lines, or hyperpigmentation of the skin. Luckily, there are many ingredients that help defend against blue light, such as algae, turmeric, and shea butter. Give dad the tools to battle the blue light with our Sir Vital Clean Shave Gift Set, which contains our Sir Vitál Cleanse, Sir Vitál Shave, and Sir Vitál Soothe Products. For an extra layer of defense, give him Beauty By Earth Mineral Sunscreen SPF 20. 
To read more about blue light damage and your skin, click here. 
For the DIY Dad
Is your dad's second home the lumber aisle at Lowe's? Addicted to HGTV? Or maybe he's the first one you call when you have a leaky faucet? For the DIY dad, give him a gift that will allow him to flex his do-it-yourself skills or a gift to pamper him after a long day of landscaping. 
If your father-figure is always on the hunt for his next DIY project, turn his attention to our Make Your Own Mask Kit. This kit allows him to put those handyman skills to use while crafting something that he can use after a long day of tinkering with tools. Talk about a win-win.  If his hands could use a little TLC after completing his many projects, give him the gift of our Cleanse and Care for Your Hands Kit. Our Cleaner Hands Spray allows him to stay cleansed on the go, while our Cleaner Hands Wash ensures his hands don't get dry after hand washing and are cared for afterward with our Lemongrass Mani-Pedi Cream.
For the True Sportsman
If your dad is an avid golfer, fisherman, camper, or just lives an active lifestyle, we have gifts to help him recover from his latest workout or adventure. Whether he's an experienced athlete, or just starting out at the gym, help him achieve his peak performance with the essentials in our Active Athlete Kit. It contains our customer-favorite Sports Balm, along with other must-haves, like our After Workout Multispray. 
Help him channel his deep love for nature into a more natural wellness routine by starting him out with our Sir Vitál Manifest Natural Deodorant. The grounding, woodsy, scent will transport him to his favorite campground in the forest, while the natural mineral salts and algae extracts help prevent odors without all the harmful chemicals. For that grounding feeling on the go, check out our Sir Vitál Evolve Roll-On Fragrance.  
For more Father's Day gift ideas click here to browse our curated collection dedicated to showing dad how much you love and appreciate him.
Happy Father's Day to all the men we look up to!
---