How to Protect Your Skin from Blue Light Damage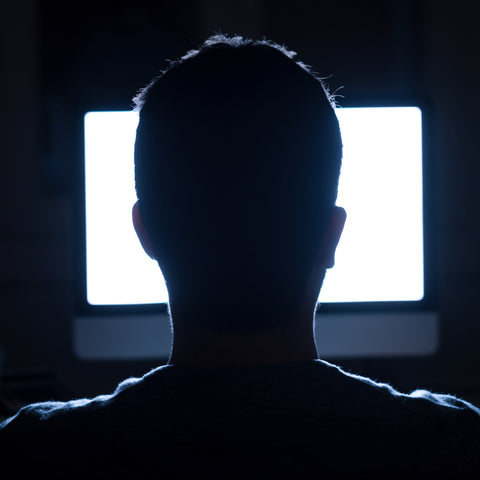 Screens are a constant participant in our modern lives. Especially in the age of COVID-19 when many of our social – and work – interactions have gone digital. The implications of all this extra screen time are sure to be researched and studied for years to come.
One emerging concern is how the blue light emitted from electronics can impact our skin. We know about the harmful effects of the sun's rays, but we don't often consider what the light from our computers, smartphones, televisions and tablets are doing to our skin.
Blue Light & Your Skin
HEVL (High Energy Visibility Light,) or blue light is generally emitted from the devices we use every day. This blue light can penetrate deeper into the skin than other forms of light and cause free radical damage that impacts the appearance of the skin.
Like everything, not all blue light is bad. Some high-tech facial treatments actually use blue light to improve some skin issues such as acne. However, the kind of blue light we are talking about here is a little different in two ways:
Exposure – we are exposed to it for much longer amounts of time (generally more than 8 hours a day), and
Proximity – we spend that time in close proximity to the screen(s) producing the blue light.
Think about how close you face is to your screens, then think about how often you are working on your computer, texting, scrolling through social media or watching a video on you phone. It's probably a lot!
While there is no true risk of your skin getting burned by blue light, or an association with cancer like UV rays, some research has shown that eight hours in front of the screen can equal about 20 minutes of sun exposure. And that exposure can take its toll on the appearance of the skin.
The blue light is essentially a free radical that can break down healthy cells, lead to inflammation and interfere with the collagen and elastin that keeps our skin looking young and healthy.
Blue light damage on the skin may include photoaging such as:
Visible fine lines
Deep wrinkles
Noticeable discoloration, hyperpigmentation or melasma (especially in those with darker skin tones)
So, now some good news. Many of the skin care practices that we rely on to protect skin against harmful UV rays will also work to prevent skin damage from blue light exposure.
Preventing Blue Light Damage
With so much time spent indoors during the pandemic, and even less actual face time with friends, family and coworkers, many have opted for simpler skin care and beauty routines. Why pack on the sunscreen and serums if you are working from home?
Simple answer: our skin still needs protection from a host of environmental pollutants – even the sunlight from the windows in your home can have an impact.
One of the best lines of defense you can take against skin-damaging blue light (and UVA/UVB) is to continue using your daily broad-spectrum sunscreen. Formulas designed to physically block sun rays can also provide a barrier against HVE light, even though they are not specifically formulated for that purpose.
To keep your skin looking youthful incorporating a daily arsenal of antioxidant-rich skin care is also a must. Antioxidants help protect the skin by neutralizing free radicals from environmental aggressors like UV, blue light, and pollution.
Think of an apple that's been left on the counter all day long. It probably looks brown and unappetizing. That's because it's been left out in the elements without any protection. Generally speaking, using antioxidants guards your skin cells from oxidizing stress (like what causes the browning of apples) that can actually degrade DNA and other important cellular structures, leading to visible skin damage like premature aging.
While eating foods that are rich in antioxidants like berries, avocados and even dark chocolate can help fight off free radicals internally, you also want to look for skin care products made with antioxidant rich vitamins, minerals and fatty acids.
Ingredients That Protect Against Blue Light Damage
In addition to neutralizing oxidative stress on the skin, antioxidant-rich ingredients also contain many properties like Vitamin C to brighten, Vitamin A to repair and Vitamin E that help to improve the visible appearance of the skin.
Natural botanical ingredients are excellent options for you to include in your daily defense against free radical damage. These following ingredients are some of our favorites to help combat both outdoor and indoor skin stressors, and particularly help protect and improve the appearance of skin subjected to a nearly endless supply of blue light-emitting devices.
Algae
A Superfood for the body and the skin, marine algae is arguably the most nutrient-rich organism on the planet, packed with nourishing vitamins, minerals, trace elements, omega fatty acids, and phytohormones, that are easily absorb by the body.
Algae benefits include increasing hydration of the skin, promoting a look and feel of detoxification, cleansing, brightening, diminishing the signs of inflammation, and improving the appearance of skin tone.
A good source of key antioxidants like Vitamins C, E and A, beta carotene (in Red algae), and omega fatty acids, using products made with high concentrations of algae extracts will not only help to fight off free radicals it will also serve to promote a healthy, glowing complexion on the daily.
Want to know more about the benefits of algae? Click here to read our knowledge center article, ˆ.
Rosehip Seed Oil
Among botanical oils, Rosehip Seed Oil gets a lot of hype for its ability to improve the look of aging skin. Part of those legendary benefits come from the high concentrations of antioxidants found in Rosehip Oil. Rich in Vitamins A, C and E, and beta carotene, Rosehip is especially good at caring for skin that shows signs of photoaging like dark spots and uneven skin tone.
Rosehip oil is absorbed quickly into the deep layers of the skin. Since we know Blue light is able to penetrate deep into the skin, Rosehip is a great option to ensure you're getting the antioxidant protection where it is needed the most. This also ensures the skin stays hydrated and plumped, which will diminish the appearance of fine lines.
Matcha Green Tea
Made from pulverized green tea leaves, Matcha contains a high level of polyphenols, which are excellent at reducing the effects of free radicals on the skin. Additionally, Matcha is great at improving the look and feel of inflammation, which can help soothe redness, boost the appearance of a more youthful complexion, and prevent further cellular damage.
Turmeric
Curcumin, a compound found in turmeric, is a powerful anti-inflammatory. Applying Turmeric (in skin care) to skin can help offset signs of environmental damage and, to some extent may reduce the skin-damaging effects from UVB light. Additionally, turmeric is also purifying and hydrating.
Cocoa Butter
This moisturizing powerhouse is full of essential fatty acids, Vitamin E, and free-radical neutralizing polyphenols. Cocoa Butter as also excellent at protecting and deeply nourishing the skin.
Shea Butter
Rich in vitamins A and E, Shea Butter is chock full of antioxidants. This skin-loving ingredient is incredibly smoothing and hydrating, particularly in drier skin types. While it should not be used in place of a broad-spectrum sunscreen, Shea Butter does provide a low level of protection against UV light.
Anti-Blue Light Skin Care Routine
The goal of your anti-blue light skin care routine is to use products filled with free radical fighting antioxidants that will help brighten and improve the appearance of blue light damage such as visible fine line, wrinkles, dark spots, and lackluster skin.
Morning Skin Care Routine:
Step 1: Cleanse.
Wake up the skin and give your brain a boost with the cool and tingly Algae Deep Cleanse. This algae-rich cleansing paste is like a nourishing green smoothie for the skin. It is literally packed with natural antioxidant ingredients like a duo of red and brown algae extracts, natural Vitamin E, Hemp Seed, Apricot Seed and Abyssinian oils, with Bentonite and Kaolin clay for deep cleaning.
Step2: Care.
Follow cleansing by misting the skin with a non-drying toner like Aromatic Emulsion Balance and massaging in 3-4 pumps of our popular Algae Serum.

Considered gold in a bottle, Algae Serum is one of the most important products you can use daily to protect against blue light and other environmental damage. Made with high concentrations of brown (laminaria) algae extract and other well-known free radical fighters like Aloe Vera, Cucumber and Green Tea, as well as Hyaluronic Acid, this serum hydrates, prevents the feeling of inflammation and protects against premature aging.
Step 3: Hydrate & Protect.
Incorporating a protective serum is an easy way to boost skin's defense from free radicals. MerGel Multipurpose Facial Lotion is a triple threat- this versatile product can be used a serum, a moisturizer, or as a leave-on mask treatment. MerGel contains Matcha Green Tea, Green Tea Extract, and Chlorella Oil – all excellent antioxidants.
Those with normal skin types may be able to end their morning routine here – after applying a safe and clean non-nano physical sunscreen.
For those with oily or acne-prone skin, topping off your routine with Clear Skin Cream is a perfect fit. Turmeric gives this cream it's beautiful hue, but is also antioxidant-rich, and helps keep the skin feeling clean and pure – excellent for those suffering with pores that are easily congested. You'll also find green tea and prickly pear oil in this product, more antioxidant sources.
The combo or MerGel and Clear Skin Cream is the ultimate antioxidant present for your skin. And it won't feel too heavy or sticky.
More on the dry side? Instead of Clear Skin Cream, try out Max Moisture Cream. Shea butter, cocoa, and mango butters offer a boost of hydration and skin protection from the elements.
Step 4: Sunscreen.
For a natural sunscreen you will want to opt for a physical sunscreen that uses minerals to physically block light from penetrating the skin.
Beauty By Earth has a non-nano mineral facial sunscreen in SPF 20 that is made with skin-loving ingredients like Aloe Vera Leaf extract and natural Vitamin E. It wears nicely on the skin and as an added bonus, it is also environmentally friendly.
Do be aware that with a low SPF factor it is a good idea to reapply during the day or purchase a powder sunscreen that makes it easy for SPF touch ups.
Evening Skin Care Routine:
Step 1: Double Cleanse.
Cleansing your skin at night before bed is critical. The leftover dirt, oil, grime and makeup of the day can act like free radicals on the skin by settling into pores, causing inflammation (breakouts) and interfering with the skin's ability to heal and rejuvenate.
We love a quick and easy double cleansing method using Micellar Cleansing Water followed by Lemon Gel Cleanser. The Micellar Water gently removes makeup and grime without stripping the skin. Lemon Gel Cleanser further works to breakdown impurities and deep clean pores.
Specially formulated for oily, acne-prone and easily congested skin, it is filled with ingredients that cleanse without upsetting the skin's pH balance and prevent the look and feel of inflammation. With a healthy dose of Fucus algae, Elder Flower extract, Turmeric and Matcha this is a great choice for neutralizing free radicals.
Those with more dry, sensitive or mature skin can use our milky Lavender or Geranium Cleansers. You will still get antioxidant protection from our lovely Lavender and Geranium essential oils as well as calming and soothing properties of Aloe Vera.
Step 2: Care.
Similar to the morning routine, your second step will help to restore a sense of calm to the skin after cleansing and provide your biggest antioxidant boost.
For the evening we suggest adding 3-4 drops of Rosehip Seed Botanical Oil with 2-3 pumps of Algae Serum. This cocktail deeply hydrates the skin and work on improving skin concerns such as discolorations and lack of vitality.
Rosehip Seed Oil may feel a bit too heavy for those with oily to combination skin. In that case you can apply the MerGel Multipurpose Facial Lotion you used in the AM regimen.
Step 3: Hydrate & Protect.
Before you head off to dream land give your skin more antioxidant support and hydration with Age Defying Day & Night Cream.
Featuring about a dozen antioxidant powerhouses like Brown Algae, Rosehip Seed Oil, Grape Seed Oil, and Green Tea this facial cream will protect against the signs of aging, support the body's natural regenerative efforts, and hydrate without feeling heavy. Precious Rose, Jasmine and Neroli essential oils give this a luxurious, comforting aroma that's perfect to help you relax after a long day.
Again, if you have ultra-dry skin you can opt for the Maximum Moisture Cream for deep hydration and extra protection against moisture loss while you sleep.
Step 4: BONUS
SV23 Phyto Serum takes any skin care regimen to the next level. Made with 23 of our best botanical ingredients this face oil instant brightens the appearance of the skin, improves the look or redness and inflammation, visibly plumps fine lines and wrinkles, and promotes a healthy, even-toned complexion. Plus, every ingredient included in SV23 is a powerful antioxidant.
You can sub SV23 for a serum in Step 3, use as your moisturizer in Step 4, or simply add it as a part of your serum cocktail. Either way your skin will thank you!
Extras – But Essential!
Once or twice a week, depending on your skin, it is important to use an exfoliant that will help remove dry, dead skin cells and smooth out the appearance of the skin.
Our cult favorite, Silt Scrub, is a great option for those trying to prevent or correct blue light damage. Colloidal freshwater silt contains high levels of humic acids which act like a natural, gentle alpha hydroxy acid (AHA). Many skin care experts suggest using AHAs as a way to repair and correct discoloration caused by sun exposure. Silt Scrub softens and promotes a more even look to the skin without stripping skin of essential moisture or disturbing the skin barrier.
Once a week, treat yours skin to a Silt Scrub facial. You can use it in the shower or incorporate it into your morning or evening beauty ritual after the cleansing step. Be gentle! You only need a light touch when exfoliating – your skin isn't a dirty pot or pan – don't scrub it like it is.
Masking is a great way to quickly infuse the skin with hydration and nourishing ingredients. For a quick weekly treatment, our Matcha Cool Mask offers a soothing, cooling skin care option. Matcha Green Tea Extract and Marula Oil offer free-radical fighting powers to keep skin comforted and soothed.
Alternatively, this mask can be left on overnight as a sleeping mask, revealing more plumped, revitalized-looking skin in the morning.
Or try it during the day while you are working (alone) in front of your computer. Just apply generously, leave on for 15-20 minutes then rub in any excess for a serum like finish. The refreshing, cooling feel of the Matcha Cool Mask will also perk you up when you are feeling sleepy and unfocused.
Also, don't forget the delicate eye area! Not only is it important to moisturize, but excessive screen time can contribute to squinting, resulting in fine lines, puffiness, and dark circles around the eye area.
Our skin around the eyes is incredibly delicate, choose Cucumber Rose Eye cream for a lightweight option that targets puffiness and tired-looking eyes or Jasmine Fine Line Cream for a more moisturizing product that helps soften the look of crow's feet.
Other Tactics to Reduce Blue Light Skin Damage
Of course, a great skin care routine will keep your skin looking great but here are a few other things you can do to protect your skin against excessive exposure to blue light.
Set screens (smartphones, tablets, computers, etc.) to low light or night settings.
Limit screen time by reading books versus kindle/digital versions or setting time limits on social media scrolling (note, this is also good for mental health!).
Use hands-free options when talking on the phone (this will also prevent acne from the transfer of bacteria from your phone to your face).
Watch movies and TV shows on TV screens instead of tablets or smartphones that are viewed closer to the face.
What are your skin-protecting tips to help combat the screen glare of the electronics? Let us know in the comments below!
Shop Anti-Blue Light Products
---