Essential Oil Spotlight: Sandalwood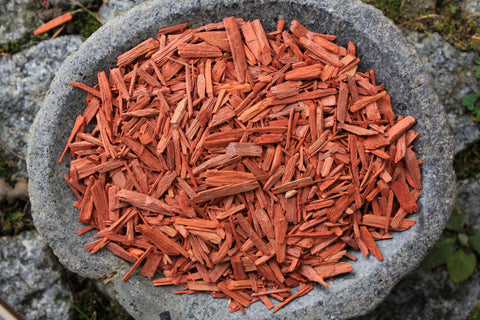 If you've picked up any candle, incense, or perfume in the last few years, you've likely already encountered the warm sweet, and slightly woody scent of sandalwood. Sandalwood Essential Oil has been around for centuries, and can now be found in additional wellness products, such as facial moisturizers and massage oils.
Sandalwood Essential Oil doesn't just possess an amazing scent, however. Using Sandalwood Essential Oil products can also positively affect overall well-being, healthier-looking skin, and many other surprising benefits. Here's all you need to know about this special essential oil.
What is Sandalwood Essential Oil?
Sandalwood Essential Oil is native to India and is extracted from a precious evergreen tree that can grow up to 9 meters high. Sandalwood Essential Oil has been used for both medicinal and cosmetic benefits for over 4,000 years and was even used in the embalming process in Ancient Egyptian times. It was also believed to have been used in the bathing rituals of Hindu Gods.
To receive the most benefits from this essential oil, the tree must grow for at least 40–80 years before the roots may be harvested. Older, more mature sandalwood trees typically produce an essential oil with a stronger smell, that looks like liquid gold. In the past, Sandalwood trees were almost depleted to extinction in India, so additional countries, such as Australia, started producing sandalwood essential oil as well.
At Source Vitál, we offer two kinds of Sandalwood Essential Oils, Sandalwood Australiana (santalum spicatum) and Sandalwood Mysore (santalum album.)
Benefits of Sandalwood Essential Oil
Promotes Relaxation
Sandalwood contains properties that can help calm the mind and body. It's often sought after to use at bedtime or before meditation. In aromatherapy practices, it may also be used to help lessen feelings of stress, anxiety, and depression.
For a more restful night of sleep, try diffusing our Tranquil Essential Oil Blend an hour or two before bed. This calming blend contains Sandalwood, Lavender, and Blue Tansy essential oils that can help reduce feelings of stress and tension. For a boost of calm on the go, try our Tranquil Inhaler.
Calms and Soothes
Not only does Sandalwood Essential Oil calm the mind, but it can also help to calm the skin. Sandalwood contains anti-inflammatory properties that may help reduce redness, flakiness, or other mild skin irritations.
Our Soothing Cream instantly lends a cool, calming feel to even the most sensitive skin types. With continued use over time, this cream will boost the skin's ability to retain moisture and fight the discomfort of inflammation. Ingredients such as Sandalwood Essential Oil, Mango Butter, and Shea Butter offer a calming, balanced feel to irritated skin.
Helps Fight Signs of Aging
Sandalwood Essential Oil contains high levels of antioxidants, which can help fight damage caused by free radicals, such as pollution and UVA/UVB rays. Sandalwood Essential Oil may help to replenish moisture in the skin as well, making skin appear more youthful and plump.
Our SV23 Facial Oil is designed to penetrate deep into your skin and provide the nourishment and hydration that's needed for your skin to function properly, and look and feel it's very best. Additionally, SV23 protects the visible signs of aging, while diminishing the look of current fine lines and wrinkles. This facial serum also provides daily protection from pollution and environmental damage. You'll find 23 of the most effective and powerful botanicals known to nature in this formula, including Sandalwood Essential Oil.
Mild Astringent Properties
When you hear the word "astringent" you may have horrible flashbacks to stinging, burning, alcohol-laden toners. Astringent means it causes the tightening of soft tissue, such as our skin, therefore soothing, and reducing the appearance of pores. Because of these astringent properties, you may find Sandalwood as a key ingredient in aftershaves.
Soothe and hydrate post-shave irritations (like ingrown hairs) with this lightweight yet effective after-shave, Sir Vitál Soothe. Along with Sandalwood Essential Oil, you'll find other skin-loving ingredients such as laminaria algae, hemp seed oil, and Lavandin Essential Oil. You can expect your skin to feel soft and smooth while being protected against redness, and the environment, and leave you feeling ready to face the day.
How do you use Sandalwood in your wellness routine? Let us know in the comments!
---