Combat "Maskne" With a Fool-Proof Skin Care Plan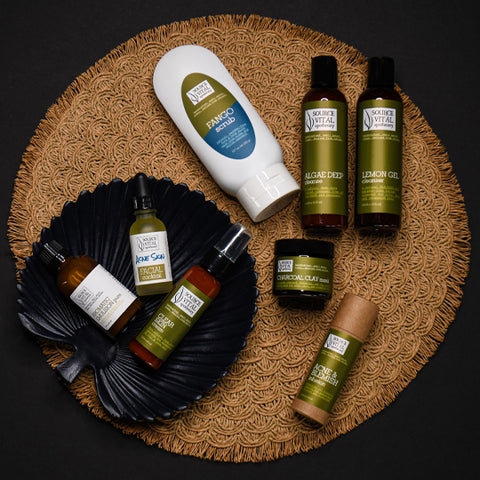 How to Prevent and Improve Breakouts From Wearing Face Masks
For a few months now, you've likely been wearing a face covering to help curb the spread of COVID-19. You are also probably finding that due to the warm, moist, environment under your facial covering, you may be experiencing the dreaded "mask-acne," or "maskne."
From whiteheads, to blackheads, and everything in between, maskne is no fun. The good news, there are some proactive measures you can take to give your skin a fighting chance against breakouts and irritation. Like a mask - we've got you covered.
Below, find your ultimate Source Vitál "maskne" skin care routine.
Step 1: Cleanse
Arguably one of the most crucial steps in your skin-clearing arsenal, cleansing is necessary while mask-wearing. A morning cleanse, prior to putting on your mask helps to eliminate dirt, oil, and product residue from your slumber, and an evening cleanse, after mask wearing will wash the day away, including the buildup that occurs underneath your mask.
Our favorite blemish-fighting wash is our Lemon Gel Cleanser. This cleanser is supercharged with essential oils such as Copaiba Balsam, which improves the appearance of acne and scarring, and of course, Lemon, which offers cleansing and softening benefits. You'll also find powerhouse ingredients such as turmeric, and matcha powders, which calm inflammation, and provide a powerful source of antioxidants.
For cleansing on the go, our Micellar Cleansing Water is ideal – no sink needed. One quick swipe with a cotton pad is an easy way to wipe away the daily grime and refresh the skin in between traditional cleanses. Bonus- This non- greasy formula comes in a travel size, perfect for your handbag or briefcase. 
Step 2: Tone, Treat, Scrub & Mask
"Maskne" management encompasses several steps in your skincare regimen, including toning, exfoliation, masking, and spot treatments. Toning and spot treatments will be a part of your daily skin care regimen, while using a facial mask, and exfoliating are used more sporadically, usually once or twice a week.
Toner
Toners sometimes can get overlooked, as it may seem as an unnecessary step in your regimen. The reality is toning provides multiple benefits. It can help remove additional dirt and oil that may have missed by washing your face, restores your skin's natural pH balance after cleansing, and preps the skin for any additional serums, moisturizers and other skin care products.
Aromatic Emulsion Pure is one of our best-sellers for a reason – the essential oil blend (Lavender, Lemon, and Rosemary) can help diminish the appearance of blackheads, as well as other acne conditions. Apply with a cotton pad, or cleansed hands, concentrating on congestion-prone areas such as the nose, around the mouth, and jawline.
Exfoliate
An instant gratification step – typically, you'll see brighter, smoother skin in a matter of a minute or two. We recommend exfoliating once or twice per week, after cleansing.
Select a scrub that is gentle, with fine particles that won't cause additional irritation. A great option to prevent mask breakouts is Fango Scrub. It contains Dead Sea Mud, which gently cleanses and purifies the skin, and Red Algae which polishes the skin to promote clarity and a more even skin tone. As an added bonus, this scrub can also be used on the body, and is a great scrub for the shower.
Mask
One of the most indulgent (and my personal favorite) steps is using a facial mask once or twice a week. In 15 to 20 minutes, you'll see masking provides quick rewards.
Our Charcoal Clay mask is congested skin's best friend. Bentonite and French green clays, which gently exfoliate, combined with coconut-derived activated charcoal, known for its impurity-reducing properties is a great way to improve the look of existing acne and prevent more breakouts. Apply a thin layer of the mask to the face and neck, focusing on areas of congestion with cleansed hands or try a brush to give your masking session a for a spa-like feel. Remove with a warm, wet towel to reveal more clarified skin.
Spot Treat
Spot treatments are an easy way to zap existing breakouts – at home and on-the go. A small amount goes a long way, as these treatments are loaded with active ingredients.
Acne & Blemish infusion contains an effective blend of natural aromatic oils known to promote a sense of balance to the skin and improve the appearance of skin. Carrot seed, Tea Tree, and Ravensara Leaf essential oils purify and promote a sense of balance to acne-prone skin. Apply one drop to active breakouts, a few times a day or all over the face, for larger congested areas.
The best part- The small bottle is also great to toss in your purse or gym bag to apply throughout the day.
Step 3: Moisturize
Finally, you will want to hydrate the skin and lock in the skin care you've applied to your face. Additionally, moisturizing will help to create a barrier between your skin and your facial covering, preventing further irritation.
Selecting a lightweight, yet hydrating facial cream is ideal, as heavier moisturizers may exacerbate skin congestion. Clear Skin cream is a great cherry on top to your skin-clearing regimen. Willow bark extract, a natural alternative to salicylic acid, as well as hemp and watermelon seed oils help to keep pores clean. Apply morning and evening to the face and neck. Don't forget behind your ears-an area prone to irritation due to wearing facial coverings.
Additional Tips for Clear Skin 
Here are some additional tips to keep your skin looking clear and healthy while wearing a protective facial mask.
Select a facial covering made of breathable, natural fabrics, like cotton. If your mask is not reusable, ensure you are washing daily to prevent a buildup of bacteria.


Reduce or eliminate makeup usage under your facial covering, which may also help reduce breakouts.
With this skincare regimen, you'll be sure to see a reduction in the dreaded "maskne." What are your favorite "maskne-fighting" tips? Drop us a line in the comments! 
 ABOUT THE AUTHOR
Tr
acey Ellis is a beauty enthusiast with over a decade of experience in the beauty industry. You can find her in the lab, manufacturing Source Vitál Products. Tracey is a New Yorker living in Texas and spends her time cooking and spoiling her miniature husky, Tabasco.
More Articles Like This
Shop Products for Acne-Prone Skin
---