How to Care for Your Skin While Wearing Masks and PPE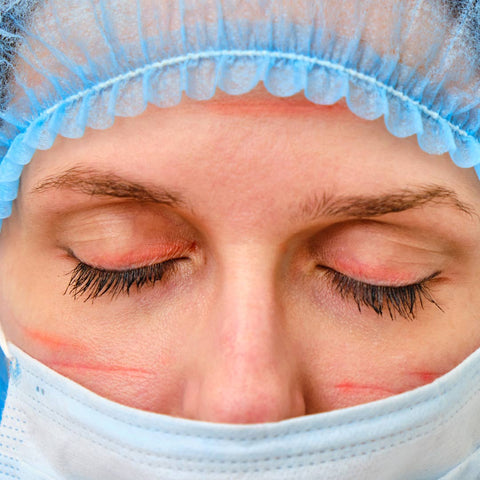 How to Change Up Your Skin Care Routine When Covering Your Face
The CDC's current public health advisory recommends that everyone wear a cloth face covering in public to help flatten the curve for COVID-19. Whether your mask is a DIY project or official PPE (personal protection equipment), you're likely to discover some of the potential, uncomfortable side effects of keeping your mouth and nose covered for an extended period of time.
Any fabric covering can cause friction and irritation resulting in skin concerns such as rashes, sensitivity, chafing, and even breakouts. This irritation is due to a build-up of makeup, sweat, oil, and dirt that can thrive in a hot and humid environment underneath your mask.
Below are a few ways to help nurture and care for your skin while wearing a mask.
Wash Your Face Before and After Wearing Your Mask
After cleansing your hands, you'll want to ensure that you wash your face and neck thoroughly with a gentle cleanser.
This is the time to use a calming formula to not disrupt the outer skin layer, which could cause more inflammation. We love our Lavender Cleanser for its creamy, milky texture, ability to remove excess oil and makeup, all while leaving skin hydrated and supple.
Treat Skin Concerns
After cleansing, ensure you are tackling skin concerns with a powerful, yet comforting skin care products that are created to care for specific concerns.
Our line of concentrated Face Infusions are perfect for this. With 8 formulas to choose from, you can pick and choose the formula or formulas that are right for your current skin condition. For best results, pair with our gentle Sea Tonic for easy application.
While you can use the Infusions to improve the look of fine lines, wrinkles, uneven skin tone and more, for now we are going to concentrate on solutions to ease the feeling of inflammation, either from heightened sensitivity or breakouts.
For Dry, Sensitive Skin:

For skin that is experiencing redness and sensitivity, consider using the Soothing Infusion.
This infusion pairs Lavender, Chamomile, and Blue Tansy essential oils. This helps calm the feeling of inflammation and diminish the look of redness, while gently hydrating and strengthening the skin.
For best results, combine 6-7 drops with our Sea Tonic and apply to the skin morning and night.
For Acne Breakouts & Blemishes:

For breakouts, clogged pores and skin congestion, we recommend using Acne and Blemish Infusion, as a daily spot treatment or full-face for more severe breakouts.
This blend of Tea Tree, Carrot Seed, and Juniper Needle essential oils promote cleaning and purification while lending a sense of balance for oilier complexion. It also improves the appearance of acne without any harsh drying agents that can further irritate the skin.
This infusion can also be combined with our Sea Tonic or used alone as a spot treatment on problematic areas.
Create a Barrier of Protection
After treating skin concerns, it is crucial to create a barrier to hydrate and protect your skin from further damage.
One of our favorite options is the Mergel Multipurpose Facial Lotion. Mergel contains actives such as Sea buckthorn oil, and Green Tea extract. This promotes the appearance of skin clarity, protects against free radical damage, and provides a boost to the skin's natural regenerative properties.
As a great multitasking product, it can be used as a serum, followed by a moisturizer or oil, a primer before makeup, as a sleeping facial mask – when applied in a thicker layer and worn overnight, or as a standalone product.
Extra Credit- Add In A Mask For Even More Benefits
In addition to your daily skincare routine, it can be beneficial to use a cooling mask to soothe and feed the skin and ensure your skin remains its best.
Matcha Cool Mask is the perfect low-maintenance option for maximum benefits. Our revitalizing leave-on facial mask contains comforting ingredients such as Elderflower extract, a powerful antioxidant, and Organic Matcha, which helps reduce the appearance of inflammation.
Apply a thin layer to a clean face in the evening or whenever your skin needs an extra boost of calm. No need to rinse off after application. For added cooling effect, we love using this mask straight from the refrigerator, which can also help to calm nerves and lighten the heaviness of anxiety.
The biggest goal when your skin is under the stress of wearing masks and other PPE is to keep things simple, with gentle, soothing formulas that help to your precious skin barrier stay intact – and better able to withstand the annoyance of that essential gear.


 ABOUT THE AUTHOR
Tr
acey Ellis is a beauty enthusiast with over a decade of experience in the beauty industry. You can find her in the lab, manufacturing Source Vitál Products. Tracey is a New Yorker living in Texas and spends her time cooking and spoiling her miniature husky, Tabasco.
---