Best Essential Oils for Acne Prone Skin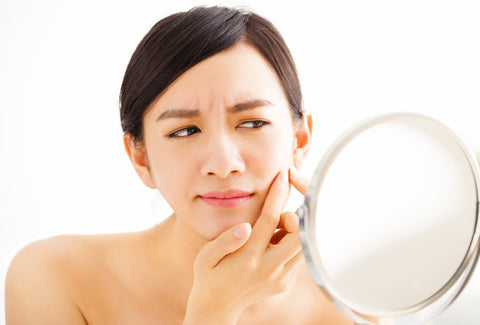 The causes of acne can vary widely from person to person. Causes can include bacteria, clogged pores and excess oil production. Other triggers including diet, hormones, stress and medications can also contribute to acne. While using oils on acne prone skin my seem counter-intuitive, it can reap many benefits for those suffering with hard-to-treat breakouts.
The problem with many acne management programs comes from using ingredients that are too harsh on skin that is already inflamed and weakened. Essential oils contain powerful components that naturally rid the skin of bacteria and germs that lead to inflammation. They are a great alternative if you're looking to avoid harsh ingredients that are in many over the counter options. Here's a breakdown of some of our favorite pimple fighters.
Tea Tree is one of the single best essential oils for acne because of its powerful purifying and germ-busting properties.
As the name suggests, this oil is derived from the tea tree plant, native to Australia. It works to soothe the look and feel of inflammation from bacterial or fungal infections and supports the body's natural healing process. Tea Tree is used in many over the counter products and is especially good for use on breakouts on the chest and back.
To use as a treatment to improve the appearance of acne, we recommend adding 2-3 drops of Tea Tree essential oil to a cotton swab and applying directly to the affected area. It can cause dryness and irritation if used in excess, so take care to use it sparingly on sensitive skin types.
This is a little known essential oil that is a master at helping to improve the appearance of acne and congested skin. With many properties similar to Tea Tree, Ravensara Leaf oil soothes the look of inflammation, boosts the body's natural healing processes, purifies and balances the feel of oily skin.
Forget those harsh, drying over-the-counter acne treatments, using Tea Tree and Ravensara together is a gentler, more effective way to get the look of clear skin.  
All citrus oils, especially Lemon and Bergamot, are gifted at reducing the look of excessive oil. Just like citrus-scented kitchen cleaners cut oil and grease, these oils offer a similar function on your skin.
Another benefit is the appearance of smaller pores. Keeping pores cleans contributes to a healthier, more balanced complexion and less breakouts.
Citrus essential oils can cause sensitivity to the sun, so use at night or top with a sunscreen.
The biggest benefit of Lavender essential oil for skin with active breakouts is its ability to bring about a feeling of calm to inflammation.

Lavender essential oil is one of the most popular essential oils, having been used across cultures for thousands of years. Not only does it have a pleasant scent, but it has many practical benefits as well, including cleansing and purification. It soothes the skin, and can help improve the appearance of acne scarring and dry spots.
If you find that your acne seems to be triggered by stress, lavender oil may be your best option, as it also helps to ease stress and promote relaxation.
Preventing acne before it pops up is where Clary Sage comes into play. This oil helps to decrease sebum production and keeps pores from clogging and turning into pimples.
Clary sage is extracted from the clary sage herb, and was originally found in Southern France, Italy and Syria. Now cultivated worldwide, clary sage reduces the look and feel of skin inflammation and helps to regulate oil production on the skin. Its antibacterial properties can prohibit the growth of bacteria, while it's calming scent aids in relieving feelings of stress and anxiety.
When acne skin is weakened and inflamed, Juniper Berry can help to soothe damaged skin and promote skin healing. Historical use of the juniper berry date back to ancient Egypt. With natural antibacterial and antiseptic properties, Juniper Berry essential oil is a very popular natural alternative for combatting skin irritations.
We recommend using one to two drops mixed with a carrier oil as a light toner or moisturizer after washing your face.
Scarring can be a big challenge for those dealing with acne prone skin. The two best ways to keep from having spots and discoloration from active breakouts is to stop them before they happen and to strengthen the skin to be better able to heal naturally. This is where Lemongrass essential oil stands out.
Lemongrass contains vitamins A and E, which help the skin to begin the process of rebuilding new cells for a complexion that appears brighter and smoother. This oil also contains powerful purifying properties that protect the skin from the germs that cause inflammation.
Redness is another annoying issue. Rosemary essential oil helps to give the complexion a look of balance, thereby calming down redness from active breakouts. It also reduces the feeling of greasy skin and stimulates both the mind and body for a feeling of rejuvenation.
Caution
When adding essential oils to your skin care routine, remember to use them sparingly, and always do a patch test first to see if you have any adverse reactions and always dilute (except for Lavender and Tea Tree) in a carrier oil, lotion or cream. Additionally, take care to avoid excess sun exposure when using essential oils, as the UV rays may make your skin more sensitive.
Best Carrier Oils for Acne Prone Skin
All of these essential oils, except Lavender and Tea Tree, should not be used directly on the skin. They are just too potent and could burn or irritate the skin. However, when diluted in a vitamin-rich botanical carrier oil, we are able to appreciate the benefits of essential oils. Carrier oils also allow the properties to go deeper in the skin for a more effective result.
There are lots of great carrier oils that are appropriate for use on oily skin but some can be too heavy and clog pores. Here are a few of our favorite botanical oils that provide the most benefits for oily skin.
Dubbed "nature's most perfectly balanced oil" for a reason, Hemp Seed Oil contains an ideal balance of essential fatty acids to give a nourished, moisturized feel to skin. Additionally, it helps to soothe inflammation and improve the appearance of blackheads, whiteheads and other acne.
Mix a few drops of essential oils with Hemp Seed Oil to make your own natural acne product.
Tamanu, or Foraha, Oil is well suited to most skin types, but is especially beneficial when incorporated into regimens for oily and acne-prone skin types.
Oil for acne prone skin? Yes! This oil helps to give oily skin a balanced feel, and diminishes the look of blemishes and acne scars. Lightly hydrating, Tamanu is an effective emollient that absorbs quickly, without leaving behind any greasy residue.
Packed with essential fatty acids, regular use of this oil promotes a healthy, rejuvenating complexion and helps to reduce the feeling of inflammation on the skin.
Everyone's skin is different, so some trial and error may be needed to figure out the solution that's a best fit. If you are pregnant, epileptic, have cancer, have liver issues, or any other serious illness, we strongly suggest you consult a medical professional prior to using essential oils.
---