How to Incorporate Botanical Oils Into your Skin Care Regimen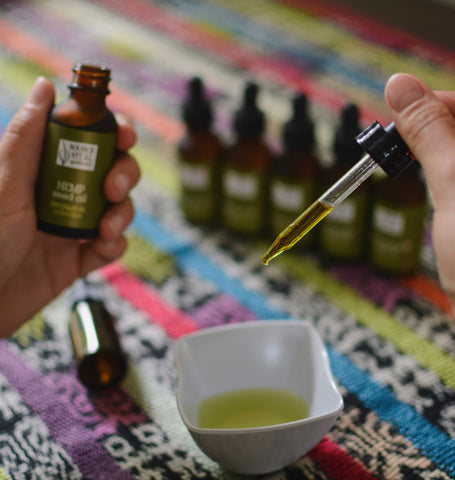 There's so much more to botanical oils than meets the eye! Botanical oils are most commonly referred to as carrier oils but that fails to really explain their fabulous uses and benefits for the skin and body.
Botanical oils are plant-based oils that provide some amazing therapeutic properties thanks to the rich amounts of essential fatty acids and natural nutrients that they contain. Unfortunately, botanical oils often get overlooked as most of the focus is on the more potent and aromatic essential oils that they are usually paired with.
We love essential oils, but for many skin care novices, essential oils can be a bit overwhelming. Botanical oils, on the other hand are super easy to use and effective.
If you're already an avid beauty DIYer or interested in beginning your natural skin care journey, our freshly launched Botanical Oil Collection is perfect for you. We're over-the-moon excited about the countless ways you can elevate and customize your skin care regimen with the Botanical Oil collection.
Below are some tips and tricks for how you can enjoy this lovely botanical collection in the comfort of your home: 
Oil Cleansing Method
Oil Cleansing Method (OCM) is the process of using oil to dissolve and remove dirt on the skin. One of the most basic principles of chemistry is that "like dissolves like". Meaning, use good high-quality oil to get rid of the bad oil! OCM provides a great way to dissolve sebum/oil from your face that can cause breakouts, irritation and greasy-looking skin by using another oil, similar in composition that can care and nourish the skin and actually help the body to natural balance the look and feel of oil production.
If you are new to oil cleansing, it may take a couple of tries to figure out what blend of oils works best for you and your skin type. It might be better to create your cleansing oil blend on a "wash-by-wash" basis before you mix up a whole bottle of oil that's not quite right. It's much easier to have a trial run with a small batch first, if you notice your skin feels to dry or too oily, play around with changing up the ratios until it feels right.
We suggest keeping it simple and only using high quality botanical ingredients. If you're not quite sure where to start here are a few recipes to get you going.
Dry Skin Cleansing Oil Blend
1 part Rosehip Seed Oil
2 parts Jojoba Gold Oil
1 part Castor Oil
Amber glass bottle
Mix 1-part Rosehip Seed Oil, 2-parts Jojoba Oil and 1-part Castor Oil together in an amber glass. Rosehip Seed Oil is extremely nutritious for dry and inflamed skin. It is very calming and contains a high dose of antioxidants such as vitamins C and E, which help to decrease environmental damage and soothe the skin.
Jojoba Gold Oil is chock full of nutrients and antioxidants like vitamins E and B. It is easily absorbed and deeply penetrates to soothe and soften your skin.
Castor Oil is great purify and protect the skin from toxins and grime that can damage and irritate the skin. For some Castor Oil can be a bit drying so, depending on how dry your skin is you might choose to use a smaller ratio of this oil or completely omit it all together.
Normal/Combination Skin Oil Cleansing Blend
1 part Castor Oil
3 parts Argan Oil
Amber glass bottle 
Take 1-part Castor Oil, 3-parts Argan Oil, and mix together in an amber glass. 
Argan Oil works well on all skin types. It absorbs easily and is non-comedogenic, which means it won't clog cause breakouts.
Oily Skin Oil Cleansing Blend
1 part Castor Oil
2 parts Hemp Seed Oil
Amber glass bottle 
Mix 1-part Castor oil and 2-parts Hemp Seed Oil together in an amber glass.
Hemp Seed Oil is probably the BEST botanical oil to use for oily skin. It is referred to as the "nature's most perfectly balanced oil" is light weight and contains a high amount of linoleic acid, which helps to thin out thick pimple-causing sebum. Hemp Seed Oil contains around 60% of linoleic acid and it's considered a "dry" oil so it is a perfect match for more oily skin types.
Note: These ratios and oil combinations are NOT set in stone, but they're a great starting point. Figure out what works best for YOUR unique skin and go from there!
How to use the Oil Cleansing Method
Gently massage the oil mixture onto your face for at least 1 minute. It is best to do this on dry skin, so that the water doesn't start reacting the oils.
Fill your sink with comfortably-hot water. Splash your face with the warm water about 20-30 times to stimulate blood flow and oxygenate the skin.
Drain the sink and run cold water through the tap. Splash your face 5-10 times with the cold water. The hot-cold technique is great at giving you a rosey, healthy glow!
Gently wipe away any excess oil with a washcloth.
Note: this method is great for breaking down oil-based makeup and eye makeup. It is also the perfect first-step when double cleansing.
Natural Eye Serum for Dark Circles & Puffiness
If you're wondering how to improve the look of dark circles under your eyes and general puffiness, then you'll be thrilled to learn about this super simple DIY that's a favorite among some at Source Vitál.
Try making your very own natural eye serum using botanical oils that will nourish and moisturize the skin under the eyes, therefore reducing the look of dark circles and puffiness.
The main ingredient is Watermelon Seed Oil, which is packed with Vitamin E, an essential fat-soluble vitamin and other properties that promote the look of young well-rested eyes.
1 part Rosehip Seed Oil
2 parts Watermelon Seed Oil
Amber glass bottle with a dropper 
Mix 1-part Rosehip Seed Oil and 2-parts Watermelon Seed oil in a amber glass bottle.
How to Use Your DIY Natural Eye Serum
Gently apply a few drops under the eyes every night before you go to sleep.
Be careful to apply the serum along the orbital bone so that it doesn't get into your eye!
 Note: this is best used at night or those times when you aren't using makeup.
Hair and Scalp Hydration Potion
Using botanical oils on your hair and scalp is a great way to boost your hair health. Not only can botanical oils improve the health of your hair by keeping it hydrated and conditioned, but they also provide your scalp with nutrients to help soothe and protect from skin from annoying issues like dandruff.
Argan oil is the perfect hair oil. It contains a high concentration of vitamins A and E, is chock full of antioxidants and omega-6 fatty acids – it really is a-must have for any at-home DIY scalp treatment.
1 part Argan Oil (approximately ½ ounce)
1 part Hemp Seed Oil (approximately ½ ounce)
Optional: 8 drops of Rosemary Essential Oil and 8 drop Lavender Essential Oil
2 ounce amber glass bottle 
Add 1/2 ounce of Argan Oil and 1/2 ounce of Hemp Seed Oil to an amber glass bottle that holds at least two ounces of liquid and mix together. For an optional boost, add eight drops of Rosemary Essential Oil and eight drops of Lavender Essential Oil. The Rosemary and Lavender help to stimulate the scalp and encourage healthy blood flow.
How to Use Your Botanical Scalp Oil
Add a few drops of the oil mixture to your palms, warming it for a few seconds before combing it throughout your hair with your fingers.
Once you have evenly distributed the oil blend through the ends of your hair, add another drop to your fingertips and massage into the scalp.
If you're in need of a little extra conditioning, add a few extra drops to your hair and scalp.
Do not wash out immediately! Wrap your hair in a shower cap and leave on overnight. Rinse thoroughly in the morning.
Ageless Complexion Serum For Fine Lines and Wrinkles
If you are looking for a simple and natural way of taking care of your face while preventing the appearance of fine lines and wrinkles, you are going to love this easy DIY ageless complexion serum! This recipe calls for two botanical oils that reduce the look and feel of inflammation and are loaded with antioxidants and vitamins that protect the skin from free radical damage.
1 part Watermelon Seed Oil (approximately 1/4 ounce)
1 part Rosehip Seed Oil (approximately 1/4 ounce)
10 drops Vitamin E Oil
2 ounce amber glass bottle
Simply mix 1/4 ounce of Watermelon Seed Oil, 1/4 ounce of Rosehip seed oil, and 10 drops of Vitamin E oil into a two-ounce amber glass bottle.
How to Use Your Ageless Complexion Serum
Apply a few drops in the evening to your fine lines and wrinkles.
You can use this by itself or pat on top of a hydrating night cream.
DIY Guide to Customize Your Current Skin Care Products
Use this guide to take your skin care products up a notch These tips are a great way to transition your skin care regimen from one season to the next or anytime you want a little boost of natural nourishment.
Facial Cleanser – Add a few drops of Argan Oil to your facial cleanser for a deeper clean and to help remove makeup.
Facial Mask – Several drops of Rosehip Seed Oil added to your favorite mask provides an effective dose of hydration.
Facial Tone – Add Hemp Seed Oil to your toner to promote moisture and the look of balance and harmony to problematic skin.
Facial moisturizer – Help balance the look of oily skin by adding a few drops of Watermelon Seed Oil to your favorite facial moisturizer.
Body Moisturize – Add a few drops of Avocado Oil to your body lotion for extra hydration without the greasy feel.
Shampoo/Conditioner – Avoid the look of dry, brittle hair by adding a few drops of Marula Oil to your shampoo or.
Do you have any interesting ways you love to use botanical oils? Let us know in the comments section below.
---