Back to School In the Time of COVID - Healthy Essentials for Teachers Students and Parents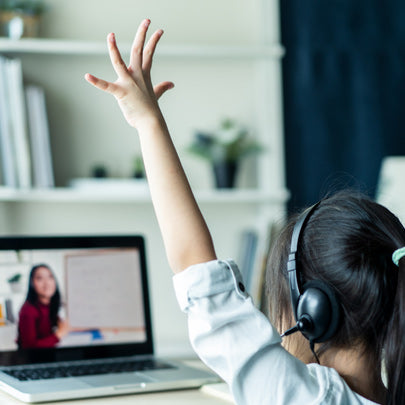 Usually back-to-school is a time of excitement and anticipation. Unfortunately, with COVID-19 many are feeling nervous, uncertain and even scared about heading back to the classroom. 
No matter if it is in-person school or distance learning we are all facing new challenges, and taking care of the mind, body and spirit has never been more important. Here we share customized recommendations for teachers, students and parents to help make back-to-school a little less stressful.
For Everyone
Cleaner Hands Spray & Cleaner Hands Gel
No surprise, hand sanitizer tops this year's school supplies list. Even at home, where it is easier to wash hands, it's a good idea to keep a bottle handy to periodically clean hands throughout the day.
Both of our natural alternatives to conventional hand sanitizers are formulated with 68.5% and 64% alcohol, which exceeds the CDC's recommended amount to avoid the spread of germs, and our special blend of purifying essential oils. 
Cleaner Hands Spray is a great option to use for cleansing hands and wiping down hard surfaces, like desks and other classroom supplies. The gel formula gently conditions the hands as it protects against germs.
Be aware the FDA has issued warnings for hand sanitizers that do not contain the proper amounts of alcohol needed to sanitize the hands, some that contain harmful ingredients and others that make misleading claims (such as protects against germs for up to 24 hours). As with all your personal care products, make sure you are purchasing from a reputable source.  
For Teachers
First of all, a big thank you to all the educators who have stuck by students throughout this pandemic. We appreciate all you do for our children. 
As teachers prepare for this most unconventional back-to-school our focus here is all about health and wellness, with a little skin care mixed in. 
Stress Busters
Self-care is just as much of an essential item as a no. 2 pencil. Stress and anxiety are a huge part of daily life right now. While there is no one right way to manage stress, there are little things you can do each day to remind yourself to take a moment to stop, breathe and be mindful about the tension that you are carrying.
Aromatherapy is an easy way to introduce some stress management techniques into your daily routine - especially when it is pre-blended into a convenient rollerball.
Stash our Stress Relief Essential Oil Roll-On in your desk (at school and at home) or in your work bag. During bathroom breaks, in between Zoom lessons, swipe this rollerball on your wrists, just above your heart and behind your ears, or simply roll into the palm of your hands, cup them a few inches in front of your nose and mouth and take several deep breaths.  
Made with calming Lavender, Petitgrain and Marjoram essential oils, this blend has a bright, green edge that helps calm the feeling of nervous tension and revives the spirits when you're feeling the weight of the world on your shoulders.
If possible, after anointing your pulse points, get up from the desk and take a walk for just a few minutes to get the blood flowing and allow your brain a chance to rest. 
Stress Relief is one of our most popular oil blends and is also available as a body wash, bath & body oil, and diffuser blend. 
Deep Breathers
Teachers are on the front lines of cold and flu season in a normal school year, this year being proactive about staying healthy has new importance. 

To diminish the discomfort of symptoms associated with cold, flu and allergies, Breathe Easy is a natural elixir that encourages deep, cleansing breaths even with the sniffles or chest congestion. Featuring Eucalyptus, Pine, Lavender, Peppermint, and Inula Graveolens essential oils, blended in high quality carrier oils, Breathe Easy can be added directly on the skin without the need to dilute. 
Use on the chest when feeling congested, add a few drops to a warm bath water to create a feeling of chest opening and encourage good respiratory health, or add a drop under a stuffy nose. The fresh, camphorous aromatherapy scent also works to revive the spirits if you are feeling run down.
Our entire collection of respiratory products are must-haves to get you through the fall season. Choose from the natural elixir, Breathe Essential Oil Roll-On, Respiratory Body Wash, Respiratory Aromatherapy Inhaler, Respiratory MultiSpray, and diffuser blend.
"Maskne" Defense
For teachers headed back to the classroom, wearing protective facial coverings will be another new this year. 
While face masks can help control the spread of COVID-19 they could cause irritations to the skin. Breakouts commonly referred to as "maskne" or mask acne around the mouth, jawline and lower cheeks are common for many who have to wear face masks for extended periods of time.
Adding in some weekly at-home self-care sessions with the Charcoal Clay Mask can help cleanse the pores from congestion and promote a clearer complexion.
For more details about how to protect your skin from "mask face" click here to read our blog with skin care tips and product recommendations. 
We haven't forgotten our teachers who need to shave each day or several times a week. Many health officials suggest shaving beards and keeping them well groomed as a way to avoid germs during this time. 
Start your morning with Sir Vitál SHAVE Natural Shaving Cream. This light weight shave product melts into the skin, softens facial hair and provides a smooth glide for razors to help prevent nicks and get a close shave. 
Made with all-natural Shea Butter, Mango Butter, Aloe Vera, and a blend of comforting essential oils with a soothing outdoorsy sent, you might even look forward to your morning shave.
For Students
Our recipe for a successful school year is all about a healthy mind, a healthy daily routine and a good night's sleep. School from home or in a classroom, these products will help support your student at any grade level.
Homework Helpers
Face it, focus is really hard for all of us right now. There is a lot resting on our shoulders and countless opportunities to get distracted. Setting up a daily routine that incorporates short breaks and some strategic aromatherapy is one method to help keep the brain feeling fresh and ready to learn throughout the day.
Mental Clarity Essential Oil Roll-On fights brain fog and lack of concentration. Keep the rollerball at your students desk (when schooling from home or with permission from your school) and teach them how to roll in on their wrists and take a few deep breaths when they are getting antsy. 
This helps them feel like they are in control of their emotions and gives them an interactive way to reset the creative juices. 
This blend is safe for school age children and is also great for parents and teachers to stay focused while working from home. Wild-crafted Frankincense leads you into a focused meditative state, Peppermint invigorates, and Helichrysum (also known as Immortelle) is calming and grounding for the mind.
Mental Clarity is also available in a dropper bottle, for those who want to use it on larger parts of the body - like applying on the chest, on temples or behind the neck.
Teen & Pre-Teen Grooming
Hygiene is an essential part of a healthy routine, and something some teens and pre-teens can't be bothered to care about. 
With school from home, or alternating in-school days and at-home days, keeping your student on a routine will help give some much-needed structure.
We've developed a special Teen Skin Care Kit with products that work to improve the most challenging aspects of adolescent skin such as the tendency to get clogged, congested pores as the body pumps out hormones that can lead to oily skin.
The other consideration, is we've tried to streamline their daily skin care into 3 easy to use steps and once-a week face mask. Cleanse the face, tone and protect with a special Teenage face serum, moisturize with a lightweight moisturizer that improves the look of blemishes, and use the Charcoal Clay face mask once a week to deep cleanse the skin.
Parents, you might share the face mask with your teen for a family facial night. Make taking care of yourself fun and they are likely to stay on top of it.  
Another grooming must-have is a safe and natural deodorant. Deozein Natural Deodorant in a spray or roll-on formula is safe to use on the whole family. Made without potentially dangerous aluminums, irritating baking soda or other harsh ingredients, start your kid on something that will allow their bodies to breathe and sweat while keeping them from getting stinky.
Sweet Dreams
School-age kids need a good night's sleep to help rest their minds and growing bodies from a day full of lessons and activity.
One way to help them drift off to sleep is to develop a nighttime ritual that subconsciously signals their mind and body it's time to calm down.
Lavender Essential Oil has been well researched for its ability to soothe and calm. It's also an oil that is safe for use on children of all ages. 
Create a relaxing bedtime routine that includes Lavender Body Wash, made from 90% organic ingredients and French Lavender Essential Oil to cleanse away the dirt of the day followed by Lavender Body Lotion that hydrates the most sensitive skin types while providing the lovely lavender aromatherapy scent that coaxes the body into a feeling of tranquility.
For an added healthy boost, add a few drops of Spiracle Natural Elixir to the chest, throat and nose area before bed to promote respiratory wellness. Spiracle is safe to use on younger children, and is made with Inula Graveolens, an essential oil known as "mother mucolic" for it's ability to improve the feeling of mucus build-up in the nasal cavities and upper respiratory system.
For Parents
Survival is the name of the game for the many parents who have been juggling the responsibilities of work, child care and distance learning. Our back-to-school essentials for parents are all about promoting a healthy environment and providing some natural products to help them manage the chaos in a healthy manner.
Healthy Home Essentials
One way to promote a healthy-feeling home environment is to diffuse high quality essential oils in work and study areas. The scent will work to subtly encourage a feeling of calm and infuse the air with good-for you oils. 
The Cleanse Essential Oil Blend is made from a similar blend of essential oils that are used in our natural hand sanitizer. Oils like Clove, Cinnamon, Eucalyptus, and Thyme are purifying and cleansing oils that promote a feeling of good health. The warm yet invigorating aroma will also keep the mind feeling sharp. 
Or consider investing in the Healthy Home Kit, which comes with a useful collection of our most popular natural elixirs (like Breathe Easy), our multipurpose First Aid Spray, four versatile essential oils and a carrier oil to make your own special blends.
From making your own natural cleansers, to caring for minor cuts and bruises, the Healthy Home Kit includes everything you need to keep your family happy and healthy.
Headache & Tension Relief
No parent has time to deal with the discomfort of tension headaches and the discomfort of tight, sore muscles that come from trying to hold it all together.
Merecul MultiLotion is a special product that instantly cools and calms the skin. Use on the back of the neck and on the shoulders when you are feeling anxious or dealing with a pounding headache.
This "miraculous" product has natural menthol, arnica flower and a special combination of essential oils that offer a comforting stimulating effect to the skin and provide a cooling sensation that helps diminish the nagging feeling of headaches and other body aches.
Serenity Now
After the kids go to bed, instead of another glass of wine to take the edge off, try a relaxing aromatherapy bath. Bathing can quickly promote a feeling of relaxation. There is such a thing as healing waters! 
Enhance your bathing experience with Serene Bath Salts. Made with a mix of nourishing, mineral-rich Dead Sea Salts and Pink Himalyan Salts, and our Serene Essential Oil Blend, you will feel like you are transported to a relaxing spa without having to leave your home.
Like an aromatherapy glass of wine that allows your mind and body to gently unravel the stress of the day, a Serene bath is the ultimate self-care to recharge those batteries. 
Wishing all a smooth transition into the school year. Need more holistic wellness recommendations? Reach out on social media at @source_vital or send us an email to sales@sourcevital.com. 
Shop the Back-to-School Collection
---