Five At-Home Spa Treatments Your Body Will Love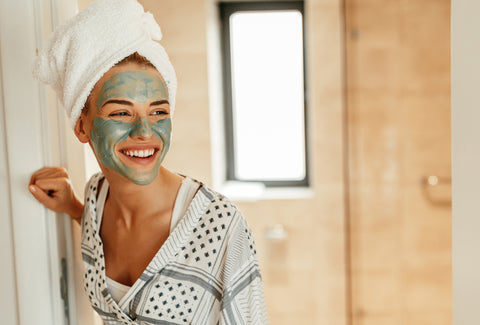 5 Ways to Pamper Yourself in the Comfort of Your Own Home
The lull that exists between the end of the winter holidays and the beginning of spring can leave anyone feeling a little under the weather. To combat those seasonal "blahs," we love to treat ourselves to our favorite at-home spa treatments.
Whether it's for a girls' night in or just because you deserve it, these home spa treatments will have your body feeling relaxed, glowing, and perked-up in no time.
1) At-Home Vichy Shower
Commonly found in spas, Vichy Showers are a traditional method of hydrotherapy that employs alternating bursts of cold and warm water. This treatment promotes health and wellbeing by stimulating the circulatory system, oxygenating the blood, soothing joint pain, relieving sore muscles, and promoting a sense of overall relaxation.  
You can achieve a similar experience in the comfort of your own shower by oscillating between very hot and very cold temperatures for your water. If you have a shower head with different sprayer options, select your favorite setting and let the water pressure add a subtle massage to your at-home Vichy shower.
 2) Aromatherapy Bath
While bath bombs may be fun and pretty, too many of them can leave the skin feeling dry and irritated. Instead, you should treat yourself to the holistic benefits of an aromatherapy bath. We recommend the following recipe of high-quality ingredients and therapeutic essential oils for a luxurious, aromatic bath:
Soak in your body in warm, but not scalding, water for approximately 20 minutes, 1-3 times per week. Experiment with different essential oils to find a combination you love!
3) Body Mask
Masks aren't just for your face! During the winter months, it can be easy to neglect the skin below the neck, as you typically cover it up against the cold. But winter is the ideal time to take care of your skin so it's ready for the warmth and sun of the summer months.
Body masking is fairly straightforward. Simply apply your preferred mask product on your whole body, or just focus on the areas you'd like to treat. The kind of mask you use depends on the desired effect.
For soft, exfoliated skin, we recommend our Silt Body Scrub. After you apply it, just let it dry down completely before gently sloughing off in the bath or shower. For irritated skin you want to soothe, try our Algae & Aloe Cool Gel.
If you prefer a seaweed or powdered mask (like our Algae Powder Blend), you have a little more prep work to do. For a full body mask, we recommend mixing 6 rounded tablespoons with about 10 tablespoons of hot water. Mix until you have a paste and keep warm until you're ready to apply it. Just before you're ready to apply the mask, mix in the essential oil or bath oil of your choice.
(also, check out our series on The Unwrapped Body Wrap - Part 1 and Part 2)
 4) Deep Hydration
Now that you've soaked and masked, take the time to really nourish your skin by moisturizing in layers -- from the neck to your toes.
Begin with a therapeutic hydrating mist, such as our  Aromatic Algae Extract. The high content of alginic acid (from algae) is highly nourishing, like superfood for the skin. It's excellent for those suffering with major skin irritations like eczema or psoriasis.
Follow up with the body oil of your choice, then lock everything in with a rich body balm or cream. By using different formulas and textures and applying in layers, your skin will feel like it is wrapped in a protective blanket for hours.
5) DIY Hand Treatment
Our hands experience a lot of wear and tear on a daily basis. Keep your digits looking and feeling supple with a fun and effective hand treatment. You'll need the following:
1 small mixing bowl
A thick hand cream
2 drops Tea Tree Essential Oil
4 drops of your favorite essential oil (we suggest Lavender, Rose, Geranium, Clary Sage, or Marjoram)
1 tablespoon carrier oil
1 tablespoon avocado
1/4 avocado
In you mixing bowl, combine all ingredients. Slather onto your hands, top with disposable gloves, and let the mixture work its magic while you relax.
Whatever treatment you choose to take care of your body this winter, we hope these easy treatments inspire you and leave you feeling relaxed, renewed, and pampered – without ever booking time at your favorite spa!
---