Unwrapped Body Wrap Part 2: The Right Body Mask for You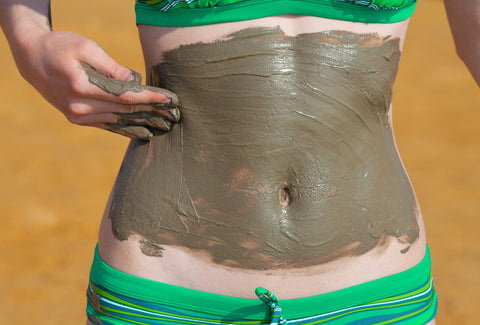 Summer is on our heels, so now's the time to get your body ready for shorts, sundresses and yes, even bathing suits. In addition to exercising and eating right there are some holistic treatments that can also get you summer ready. If you haven't been so good in those departments these self-care treats will still make you feel more comfortable in your skin.
The Unwrapped Body Wrap
Recently we introduced the unwrapped body wrap method. It's basically a simpler, cleaner and much easier version of an at-home body wrap. If you missed that blog, you can catch up by clicking here.
Essentially, this technique involves pampering the body with a therapeutic body mask (or poultice) and a relaxing bath. Today we will look at three different types of body masks that promise spa-quality results, all in the comfort of your own home.
Why "Unwrap"
The skin is our body's largest organ and first line of defense. Every day it takes a beating from the environment, sun, wind, over work, illness and stress. Giving our body an extra boost that kick starts our own natural healing and rejuvenation process is the least we can do.
Benefits of the Unwrapped Body Wrap:
Replaces lost nutrients
Smooths away rough, dead skin
Soothes feelings of inflammation
Using natural ingredients like seaweed, 100% pure essential oils and whole plant botanicals serve as food for the body and its extraordinary systems, providing it the essential nutrients for optimal health.
Types of Body Masks & Poultice
Before you start the Unwrapped Body Wrap technique it is important to determine the goal of the treatment.
Do you want to relax?
Are you experiencing any discomfort, like a sunburn or rash?
Starting a diet or trying to get healthy?
Want to rejuvenate the skin?
The answers to these questions will help you decide what type of body wrap you want. Typically, the poultice will offer one of the following benefits: exfoliation and softening, soothing and calming, or purification and detox.
Your individual goal will determine what products you will use in your treatment.
Exfoliation & Softening
Ideal for skin that looks dull, rough and in need of a boost.
We recommend using colloidal freshwater silt, aka "mud" to remove impurities, calm the feeling of inflammation, hydrate and activate the skin's natural renewal process.
Our Silt Body Mask has reached cult status among our long-time clients. Use it straight from the bottle and try adding in some of your favorite essential oils for a truly aromatherapeutic experience.
Citrus oils like Lemon, Orange, Petitgrain and Bergamot are especially good at giving skin a clarified look and softening the skin.
Soothing & Calming
For a body and mind in need of a comforting touch.
Aloe Vera is key here for its delicate cooling and hydrating benefits. After a sunburn, irritated skin from seasonal allergies, a really stressful week, this treatment can encourage feelings of healing and relaxation.
Try our Cool Body Mask for a premixed formula. Essential oils like soothing Chamomile, Tanacetum Annuum, Lavender and Geranium are a perfect complement to this ritual.
Purification & Detox
This can be the most aggressive type of body treatment. Women who are pregnant should avoid detox treatments or consult their doctor prior to engaging in these therapies.
The goal here is to eliminate the toxins that have accumulated in the body. Coughing, congestion and upset stomach can be the temporary symptoms as the body rids itself of unhealthy toxins.
Seaweeds are the key players here. They aid in the removal of unwanted material and replace vital nutrients to the cells. Our Algae Powder Blend is a great choice as it contains both brown and red algae for renewal, remineralization and hydration.
We also recommend using our Renew Bath & Body Oil for this treatment. The active combination of Cinnamon, Rosemary, Peppermint and Sage essential oils is very effective. You will feel them go to work.
If you are getting over an illness you may consider using Eucalyptus and Tea Tree essential oils to encourage deep breathing and purify the air.
Source Vitál Apothecary Tip: Add in some Dead Sea Salts into the bath with any of these masks for even greater benefits.
Finishing Touches
If using a pre-formulated mask—one that is ready to use out of the container, such as our Cool Body Mask or Silt Body Mask—there is little preparation required.  Just place the recommended amount of product in a medium size bowl for easy access.
For a warm effect, warm the product up just a bit by placing it in a bowl or pan of hot water.
If using a seaweed or powdered mask, such as our Algae Powder Blend follow these simple steps:
Place the recommended amount in a medium size bowl – usually 6 rounded tablespoons of powder will work for a full body mask.
Carefully add hot water to the mixture until it becomes the consistency of thin pancake batter.
Expert Tip: Keep mix warm while you complete the first few steps if the Unwrapped Body Wrap method such as dry brush and anointment. Review all the steps here

.

Add a few drops of the essential oil or bath oil of your choice just before you're ready to apply mix to the body and don't forget to completely combine all the ingredients.
It's ok to mix and match to get the results you want. We've tried to make it easier for you with our professional-grade products but feel free to play around and make your own concoctions. Just make sure you always dilute your essential oils and read the labels of the ingredients to ensure your safety.
Enjoy and please share with us any tips or tricks you learn along the way.
---