Why You Should Be Adding Eucalyptus Essential Oil to Your Fall Wellness Routine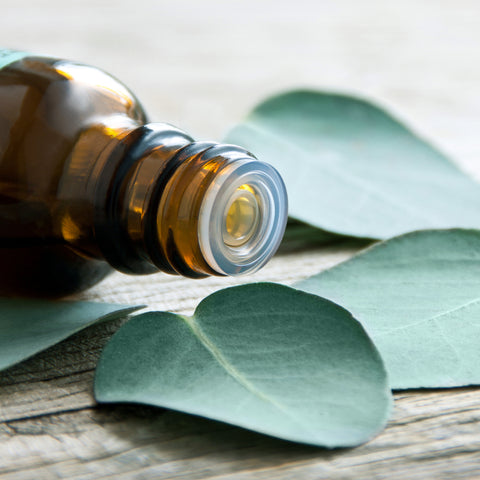 The sought-after Eucalyptus plant, first used by the Aborigines in Australia in their healing practices, continues to be a universal favorite essential oil that should be in everyone's arsenal. 
This multi-tasking essential oil is steam distilled from either the fresh or dried leaves, and young twigs, resulting in a final product who's aroma is fresh, strong, and camphor-like. 
Eucalyptus essential oil
can be utilized year-round, but we find ourselves reaching for it more often when the cooler temperatures arrive. 
Below are a few reasons why Eucalyptus essential oil should be in your autumn wellness routine. 
Decreases Feeling of Inflammation
Cooler temps may mean you're eager to get outside and participate in all the fall activities we know and love. Between lifting heavy pumpkins for carving, and reaching high up for the most perfect apple, you may find yourself with soreness, aches, or pains at the end of the day.
Eucalyptus essential oil has been know to decrease inflammation, and help make muscles feel less sore and relaxed. 
After a long day at the pumpkin patch or a day in the yard picking up leaves, sink in to a warm bath and add in our
Analgesic Bath & Body Oil.
Eucalyptus, peppermint, and birch essential oils make this product a must-have for any body aches and pains. This dependable oil can be applied directly to the body in the affected areas or sprinkled directly in to your bath for an indulging  aromatic experience.
Supports Healthy Respiratory Function
With fall temperatures approaching, unfortunately, that also means that cold & flu season is around the corner as well. 
Eucalyptus has been used in decongestants and cough aids for years. Help stave off stuffiness, congestion, and other respiratory issues by incorporating Eucalyptus essential oil in to your cold-fighting arsenal. 
To support healthy breathing and provide some much-needed relief, ensure that our
Breathe Easy Natural Elixir
is in your medicine cabinet. Apply 4-5 drops to the sinuses, or 5-7 drops of the chest to provide temporary congestion relief. Looking for something more on-the-go, try our Breathe Essential Oil Roll-on. Simple yet effective way to inhale big and facilitate deep clear breathing. To aid in a better night sleep, massage into chest to help breathe better and deeper.
Another must-have for cold and flu season? Our
Cleaner Hands Spray
. Eucalyptus, along with many other purifying and protecting essential oils well documented for their ability to support the body's natural immunity responses. Cleaner Hands is a necessity for healthy living in helping keep your hands and surfaces clean. 
Assists in Balancing Your Throat Chakra
The changing of seasons can sometimes throw us out of whack, so it's a good idea to focus on realigning our chakras with the Autumnal Equinox.
Chakra 5, or the throat chakra, is linked with the throat, thyroid, neck, jaw, and mouth. It governs feelings of self-expression, communication, and personal truth, and influences our ability to hear and understand. 
Our throat chakra is one that can be guided in to equilibrium with a combination of essential oils, including Eucalyptus essential oil with our
Chakra 5 essential oil blend
. This pure essential oil blend can be diffused or diluted for application with our Chakra "Good Vibes" carrier oil. 
Need a quick boost of confidence to communicate effectively? Our
Chakra 5 Roll-on
can be applied directly, and kept in a handbag, or desk drawer. 
When the throat chakra is out of balance we may feel out of control, unable to listen to others, have a fear of speaking, and can even lack purpose in our lives. Another great way to incorporate balancing your Chakra 5 is with our Chakra Bath Salts. Let us help you stay balanced, especially when celebrating the upcoming holidays, where tensions can run high around the dinner table. 
Fight Fatigue
When we turn the clocks back, we may all be sighing with relief that we're gaining an hour of sleep. However, many of us will take some time to adjust to the sun setting earlier, leaving us feeling sluggish and not well-rested in the slightest.
Eucalyptus essential oil is also considered to be stimulating to the senses, helping our bodies to wake up, and be more alert. 
Like an aromatherapy cup of coffee, our
Invigorating body wash
is the perfect way to start the day and shake off the cobwebs. Peppermint, Eucalyptus, Rosemary, and Pine Scotch Essential Oils are blended beautifully to help banish fatigue, sluggishness, and encourage some beneficial deep breathing. 
How will you use Eucalyptus essential oil this fall? Leave your thoughts in the comments below!
---