We're Seeing Green for St. Paddy's Day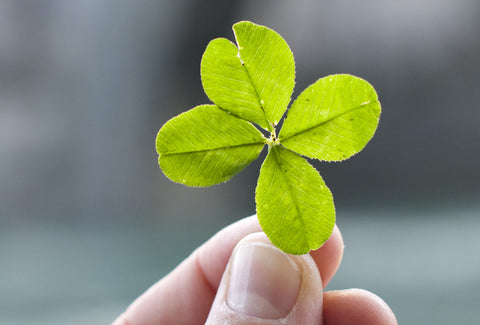 Saint Patrick's Day is right around the corner and that has us seeing green even more than usual.
This year, instead of overdoing it on green beer, go the healthier route by indulging in some of our favorite green products. While all of our products are natural (and therefore we like to call them "green"), these five feature green colored ingredients or are actually a green hue!
This is one of our all-time favorite natural remedies. Filled to the brim with pure essential oils including Lavender, Peppermint and special Tanacetum Annuum that give it a deep green color, this natural elixir is perfect for taking the sting out of itches, bites and rashes. And, with spring break around corner, keep a bottle handy of the spray version to soothe sunburns, too!
You'll know right away how natural this facial cleanser is because of its crisp lemony scent and light, greenish tint. If this gift for the senses doesn't have you sold, get excited about the fact that this cleanser is ideal for most skin types. Normal, oily, congested, acne-prone, you name it, Lemon Gel will cleanse it! This product is great for wiping away dirt, grime and makeup, so if you do hit up those late St. Paddy's day parties, make sure to use this produce before bed!
Get lucky with this green product. Our Algae Deep Cleanse is as green as they come featuring a triple dose of algae and natural botanicals. And those greens boast big benefits for your skin. This unique blend purifies for skin that feels revitalized and in perfect harmony. Its refreshing tingling sensation will make you feel so wide awake you can skip that Irish coffee.
The minty fresh scent of Eucalyptus oil is a crowd pleaser, and for good reason. This multi-functional essential oil smells fresh and doubles as a household cleaner (just add water). Eucalyptus essential oil is also ideal for sore muscle, so go on and soak those sore feet!
Featuring a dynamic combination of natural essential oils — Rosemary, Thyme, Lavender and Lemon — these sprays are safe and healthy to use at home. After all, there's no better way to celebrate being green than by ditching the synthetic fragrances for good and getting your fresh pick me up the natural way!
How are you celebrating St. Paddy's Day? Our suggestion: Treat yourself to some green products and say hello to happier skin and a better mood.
---