Take the Natural Deodorant Challenge in Support of National Breast Cancer Awareness Month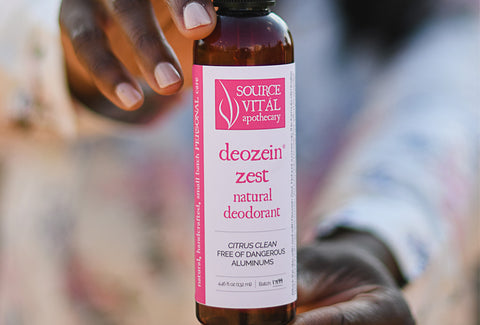 As a part of our holistic philosophy at Source Vitál Apothecary, we believe the benefits of natural deodorant are vitally important to our overall wellness. 

Natural deodorants do not:
Clog pores
Inhibit the body's natural detoxification efforts
Contain potentially harmful ingredients or
Cause the underarm area of shirts to yellow
Considering the amount of deodorant we use over the years and its proximity to major organs and lymph nodes, the reasons to switch from a traditional chemical-heavy antiperspirant start to add up. That's why National Breast Cancer Awareness Month is the perfect time to toss out your conventional deodorant and make the switch to a safe, natural deodorant, free from harmful aluminums and other potentially dangerous ingredients.
Going natural is easy and relatively painless. You will need to give your body some time to make the adjustment and get used to the way a natural deodorant feels. Within a few short weeks you will start to feel lighter, like the body can breathe easier.
Still not convinced? Check out our blog post about the Six Unexpected Benefits of Switching to a Natural Deodorant from one of our favorite health and  fitness gurus.


Take the #NaturalDeodorantChallenge
This month we're launching our first-ever natural deodorant challenge. The challenge has two main goals: get people excited about trying a natural deodorant and supporting the efforts of The Rose, a local Houston non-profit organization committed to saving lives through quality breast health services, advocacy and access to care for all. 
Too many of us have felt the effects of breast cancer and the sad reality is that all women are at risk for developing breast cancer. That's why it is so crucial to continue to raise awareness about the importance of screenings and diagnostics.
How to Join the #NaturalDeodorantChallenge

Make the switch! Throw out your old, conventional antiperspirant deodorant
Brag on social media: Instagram, Facebook, Twitter or YouTube
(must have a public social media account)
Post to social media with:
Photo or video showing you throwing away old deodorant bottles
Photo or video showing off your new natural deodorant
Photo or video putting on your deodorant
Whatever other creative ideas you can come up with!
Use #NaturalDeodorantChallenge in your post
Be entered to win prizes! Each social media post will count as a separate entry
No purchase necessary
Or you can sign up to take the challenge by clicking here.

By making the switch and posting on social media you'll be entered for the chance to win:
Weekly drawings: A year supply of Deozein Natural Deodorant 
Grand prize: Source Vitál Apothecary product gift basket + $250 Source Vitál gift card + $1,000 donation in winner's name (or the name of a loved one) to The Rose 
*Winners will be selected at random.
Giving Back ~ We're Donating $5 to The Rose for Each Deozein Sold
Simultaneous to the #NaturalDeodorantChallenge Source Vital Apothecary will donate $5 to The Rose for each bottle of Deozein sold during the month of October. 
Deozein Natural Deodorant is available in easy-to-use spray or roll-on formulas and comes in three natural scents: original woodsy scent (our best-seller), citrus-mint Zest and the brand new crisp, lightly floral Fresh. For October we have turned the labels pink in honor of The Rose and National Breast Cancer Awareness Month. You can get your pink Deozein and support The Rose click here. 
We hope to make a big splash with this campaign and do our part to make sure every woman has access to quality breast care health. Please join us! Every woman deserves quality breast care health. Together, we can get a step closer to beating cancer. 
Thanks for your support!
---