6 Unexpected Benefits of Switching to Natural Deodorant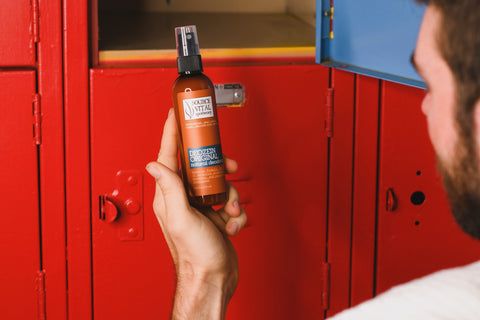 Natural deodorant always sounded like a good idea, but the thought of making the switch was really intimidating. I teach yoga, run marathons and am generally quite a sweaty person. Although I knew natural deodorant was better for me, I had a lot of fear around making the switch.
When I actually took the plunge a few months ago, it was surprisingly seamless. One day I tossed my old Dove stick into the garbage and sprayed on some Deozein instead. It took a little getting used to, but I adjusted quickly and will never go back. Over the three months since I made the decision to switch, I've noticed some pretty cool shifts in how I feel (and smell).
1. Deozein® can go anywhere - not just underarms.
I'm sure you've noticed by now, but you sweat in more places than your armpits. The revelation for me came from realizing that I could use my natural deodorant in more places than my underarms. I use it on my feet and anywhere else I feel especially stinky. I love that it not only takes on the odor, but also that the essential oil formulation feels really cooling and fresh!
2. It's not your sweat that stains.

Raise your hand if you've thrown out more white tees and tanks than you care to admit due to yellow underarm stains. The aluminum in antiperspirants is the culprit of those nasty stains. When I made the switch, I didn't realize that I'd also be lengthening the lifespan of my favorite whites.
3. Sweating is natural.
I have noticed that I am sweating a little more than when I was an antiperspirant user, but honestly, I'm enjoying it! I now realize the natural benefits of sweating and how sweat is literally designed to cool you off. As an avid marathon runner, I spend a lot of time running outdoors. By allowing by body to sweat more naturally, I can better gauge how much water I'm losing so I can replenish with water and electrolytes.
4. My B-O is less present.
This one truly shocked me. Since making the switch, I don't smell anymore! I always thought that sweat was what made me stinky after workouts, but it turns out it's actually bacteria.
Deozein works to prevent that bacteria from forming in the first place, which means that B-O I used to be embarrassed of is pretty much non-existent now! Traditional deodorants just mask the smell while antiperspirants prevent you from sweating.
The added bonus is that my sweat doesn't make my clothes stink either, which is a big deal. I spend a lot of time going from workout to workout, so this has created some ease in my lifestyle (and the amount of laundry I have to do!).
5. Less underarm irritation.
I have really sensitive skin which is why I love Source Vital products in the first place. In the past, I've struggled with underarm irritation after shaving, chaffing during workouts, and clogged pores. Since switching to Source Vital's Deozein Zest, I've noticed that my skin is softer and less irritated. I've even found that when I shave, it lasts longer and I don't get that nasty razor burn anymore.
6. No more annoying white marks.
Back in my drugstore deodorant days, every time I would wear black, I'd end up with white streaks from deodorant all along my dress or top. That hasn't happened since! I use both the roll-on and spray version of Deozein, depending on my mood, but both are clear and never mark my clothing!  
If you're considering making the switch from drugstore deodorant or antiperspirant to a natural deodorant, I highly recommend it. In fact, I wish I'd made the switch sooner!
Source Vitál Apothecary has two different scents of its Deozein Natural Deodorant — Zest (my personal fave), and Original. Deozein Zest is a citrusy scent while the Original features patchouli and is more woodsy. Fresh is the scent that Source Vitál Apothecary is most known for. Walk into their showroom and take a deep breath, that's Fresh, clean, natural and slightly floral. Both natural deodorant scents come in a spray or roll-on!
---
1 comment
---
---