Summer Swaps for Your Skin Care Routine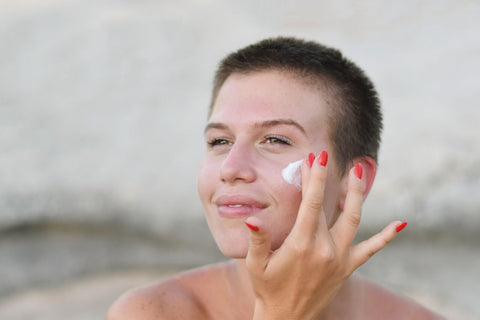 Editing Your Routine for the Season
Most of us update our wardrobes each season, but have you ever thought about doing the same with your skin care routine? Summer is a great time to refresh your regimen by making a few key product swaps that can deliver glowing, healthy skin from deskside to beachside.
Cleanser
If your skin tends to be on the oily side – or you notice that you get a bit shinier when it's hot outside – summer is a great time to switch from a cream cleanser to a gel cleanser. While gentle cream cleansers are great at soothing and hydrating (which is important when dry winter winds dry out your skin), gel cleansers can break through oil, sweat, and grime more effectively. Our Lemon Gel Cleanser helps to reduce oil and combat acne without stripping your skin of necessary moisture. 
If you're tempted to reach for a foaming cleanser to cut back on oil, we would not recommend doing so. While such cleansers do help reduce surface oil, they can strip away the good stuff in your skin, making you even oilier as your skin tries to compensate. Foaming cleansers are also some of the biggest offenders when it comes to the inclusion of SLS/SLES, the stuff that creates that "foaming" effect. Your best bet is balancing gel.
Multiple Steps – Keep it easy breezy!
We enjoy the ritual of completing a comprehensive multi-step skincare routine, and maybe you do too! There's something so very relaxing about the process, especially once you've got the products and steps down. But, that may seem a little too stuffy during the summer. If you want to simplify your routine and get straight to the fun that awaits this summer (or you know, your kids don't permit you that time), swapping out your mains with multi-taskers is a must.
Rather than using a toner, moisturizer, treatment, and serum opt for a one-and-done product like our Customized Facial Cocktail. Perfect for a lazy day at home, to throw into your carry-on for travel, or even for everyday maintenance, you can tailor these serums to your skin's specific needs. With that skin care peace of mind, it's easy to simplify your routine on days when you need to get out the door and not worry about multiple steps.

Summertime Cocktail Swap
For the summer we suggest switching up your custom facial serum to a formula that's light but packed with vitamins.

We love a summer skin cocktail made with:
Oil Control Infusion
Prickly Pear Oil
Watermelon Seed Oil
This combo keeps the skin feeling balanced and promotes a brighter, glowing complexion. You'll look like you've just come back from an amazing vacation, if if you haven't had the chance to get away!
Moisturizer – Lighten up (but don't forget your sunscreen!)
You probably aren't wearing a sweater in August, right? (At least not in Texas!) The same thing goes with your moisturizer. Summer is the perfect time to bench your heavy, more emollient cream for a lighter lotion or hydrating serum, especially if you have oily or combination skin. A moisturizer that provides light hydration and helps combat oil, like our Clear Skin Cream, is ideal. While those comforting creams help soothe and nourish skin during the cooler, drier winter months, they can leave your skin feeling overloaded and suffocated once the heat and humidity return. 
Sun Protection
While you may be able to get away with wearing SPF 15 on your face during the fall, winter, and spring, but summer is not the time to skimp on SPF. We recommend wearing SPG 30 or higher on both your body and face throughout the summer, even on cloudy days. You may not see the effects of sun damage immediately, but your skin will pay the price down the road! Opt for a physical sunscreen that is all-natural and reef safe, like our Sunshade 30.
Body Care
Body creams feel luxurious and hydrating, they can also leave you feeling a bit sticky when it's hot outside. Shelve your body butter this summer and use a fast-absorbing lotion like our Lemongrass Body Lotion. For soft, smooth skin, exfoliate with our hydrating Lemongrass Body Scrub and follow up with the Lemongrass lotion. 
Deodorant
During your average summer, deodorant is critical (at least, it is to most of us in Texas!). But if you're still using a harsh, aluminum-filled conventional deodorant, what are you doing? More importantly, the days of ineffective natural deodorants are no more, thanks to our best-selling, all-natural Deozein. Formulated with pure essential oils, natural mineral salts, and seaweed extract, Deozein keeps odor-causing bacteria at bay, ensuring that your armpits smell fresh all summer.
Strategic Placement
One final tip: Take the time to really assess your skin's needs before you start slapping on products. Though it can be a tough habit to break, you don't need to always use the same skin care routine, and not every product is really needed to be applied all over the face.
For example, if you experience dry patches around your jaw and near your cheeks, feel free to use a heavier moisturizer in those areas, while opting for a light moisturizer or serum in the parts of your face that are more balanced. It's all about customization – get creative!
Whether you're looking to try something new, or simply streamline your skin care routine, we hope you find these suggestions for summer swaps helpful as we move into the season of sun, sand, and relaxation.
---